---
To: Brad's Gramma; ohioWfan; DrDeb; GretchenM; NordP; Wolfstar; Fudd Fan; GOP-Pat; SoCalPol; ...
FREEPER OLD GLORY ALERT -- THURSDAY, APRIL 6, 2006! EAGLES UP!
139
posted on
04/03/2006 12:24:56 AM PDT
by
STARWISE
(They (Rats) think of this WOT as Bush's war, not America's war-RichardMiniter, respected OBL author:)
---
To: STARWISE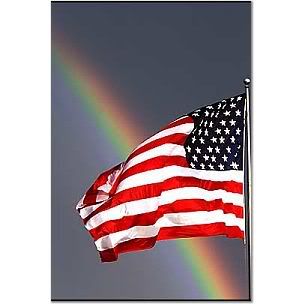 140
posted on
04/03/2006 12:38:55 AM PDT
by
BigSkyFreeper
(There is no alternative to the GOP except varying degrees of insanity.)
---
To: STARWISE
Yep, yep, on my calendar.
It will show when I do my updates tonight.
---
To: STARWISE
The large computer company I am currently employeed would have an HR cow.

My corp is pro-gay, lesbian, Bisexual, transgender and pro-globalization.

If I were to carry around a flag as if I were displaying it, I probably would not have a job very long.

Sad isn't it!

---
To: STARWISE
flag has been in the office since the day I started working here.
186
posted on
04/03/2006 6:18:29 AM PDT
by
ziggy_dlo
(freedom security:give up a little of either, you deserve neither liberalcracks)
---
FreeRepublic.com is powered by software copyright 2000-2008 John Robinson