---
To: eyespysomething
Saddam Chemical Weapons training.
---
To: jveritas; Chena; Valin; M. Thatcher; DocRock; Calpernia; Madame Dufarge; Txsleuth; Peach; ...
Thank jveritas!
1999 Document Chemical Platoons Applied Training In Chemical Lab to Detect Nerve Agents, VX Agents..,
Release/Translation of Classified PreWar Docs ping. If you want to be added or removed to the ping list, please Freepmail me.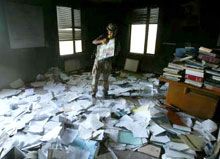 Please add the keyword prewardocs to any articles pertaining to this subject.
Operation Iraqi Freedom Documents
Documents from the Harmony Database
20
posted on
04/10/2006 11:43:50 AM PDT
by
eyespysomething
(American liberals like everything about the struggle for freedom except the struggle.)
---
To: jveritas
BRAVO BUMP for your efforts to uncover the truth!
80
posted on
04/10/2006 9:28:38 PM PDT
by
JulieRNR21
(Katherine Harris is 'In It to Win It' .....Go here: http://www.electharris.org/)
---
FreeRepublic.com is powered by software copyright 2000-2008 John Robinson