---
WEEK 19 - Olney, MD., 5-06-06: Operation Infinite FReep, MOONBATS - INCOMPETENT & SILENT
May 10,2006 | trooprally


Posted on 05/10/2006 9:19:17 PM PDT by trooprally

It was a "Most Excellent" FReep today, except for the wind (gusts 20+ MPH) that picked up an hour before and stopped about two hours afterwards. There were 6 FReepers in attendance. They were the regulars Cindy_True_Supporter, Lurker Bill, [Mrs] Trooprally and myself, with iMacMan stopping by between boat excursions on the Chesapeake Bay and first timer Fraxinus. Pics are by [Mrs] T and by iMacMan (iMM).

The moonbats had 11 for a while with 10 staying for the duration. They must be reading our reports because they now show up and stay the same time we do. Because of the two banners and MOAB2 that need to be erected, we get there early so that they are up by our starting time, 3PM.

The red banner was not put up today because of the wind. It has been re-sewn to allow for stronger 1" PVC supports to be used, but we have not had time to make the new supports. Next week. At Walter Reed last night, Concretebob was able to get us six, five foot long No. 6 (3/4") rebar to hold the supports. With the wind, they came in handy. The #4 (1/2") rebars we previously used swayed in the wind. You can see from the pictures BELOW of the blue banner that had the #6 rebar held their own while the banner billowed out. LEFT: That's iMacMan with Fraxinus in the back ground. RIGHT: Cindy_True_Supporter Pic by [Mrs] T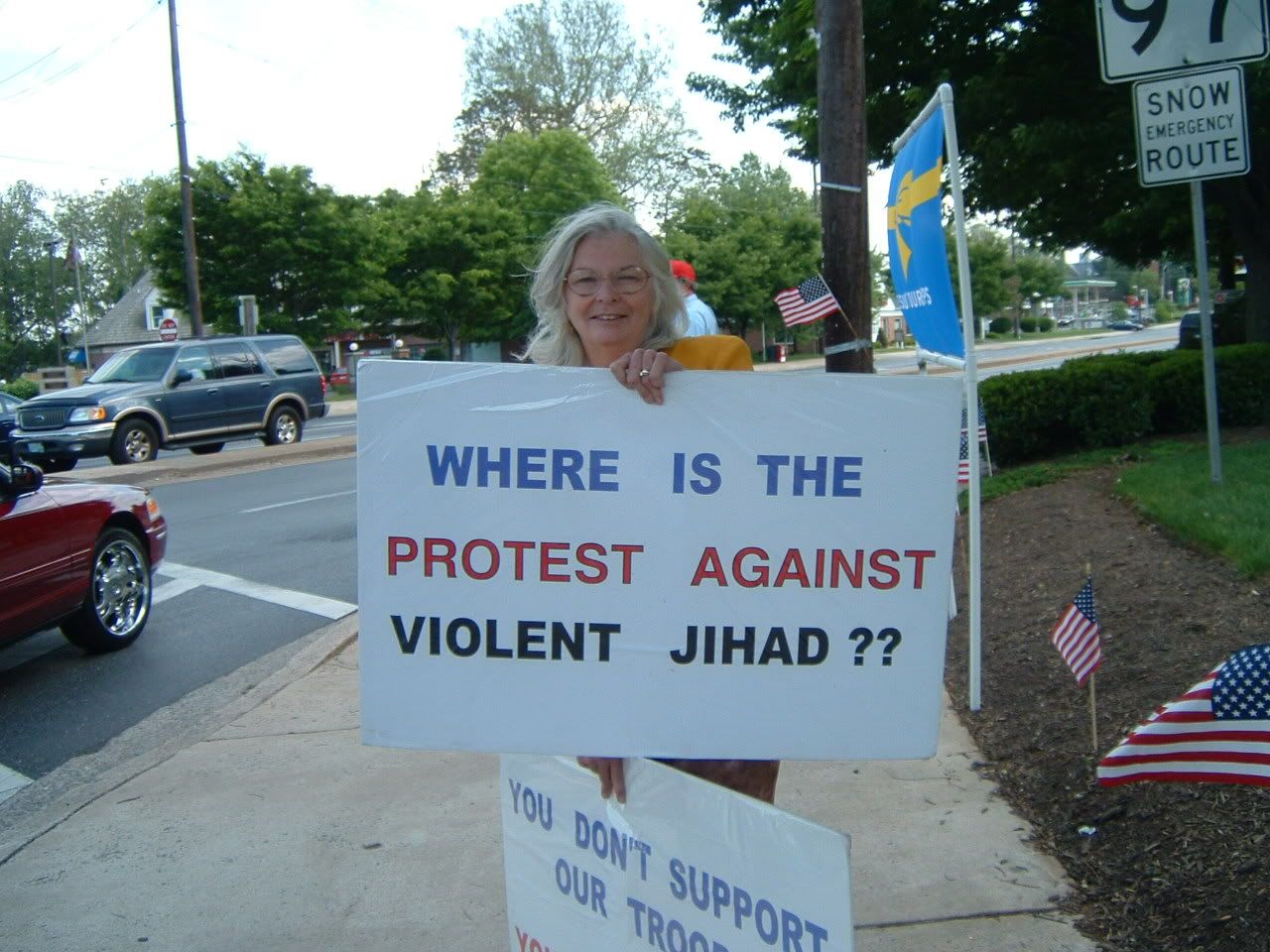 BELOW LEFT: Better pic of Fraxinus, first timer in Olney. RIGHT: Pic of yours truely. Pics by [Mrs] T
BELOW: Pic of Lurker Bill. Pic by [Mrs] T
THIS IS IN COMPARISON TO THE INCOMPETENT MOONBATS. All pics are by iMM. Looking at these pics it is no wonder that the moonbats can't get their power point presentations working without FReeper help.
BELOW: Signs being blown apart.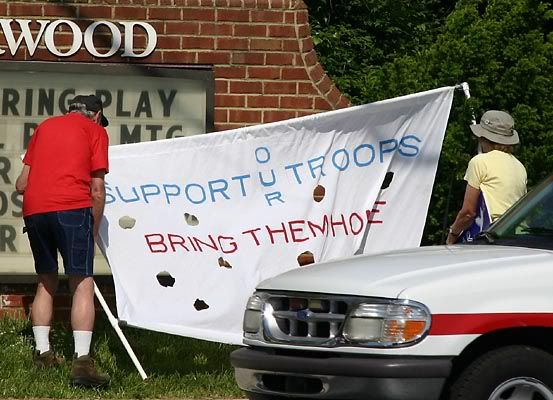 BELOW: Moonbats in disarray, fixing their sign.
BELOW: Best side of one moonbat.
BELOW: Moonbat taking pictures for the first time of their group. I hope she has better luck posting them than Code Pink and their power point presentations.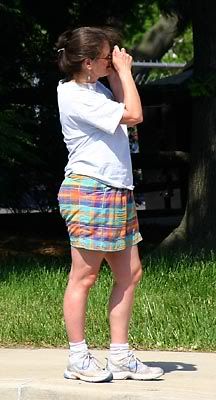 BELOW LEFT: Moonbat losing sign in wind. BELOW RIGHT: Moving sign to keep wind from blowing it - with NO luck.
BELOW: Moonbat in red shirt counting ants, right hand indicates at least he can count to 4.
BELOW: Proof that this moonbat has no idea what she's sitting out there for. Chief Grumpy on the right.
BELOW: Not sure what this moonbat is doing.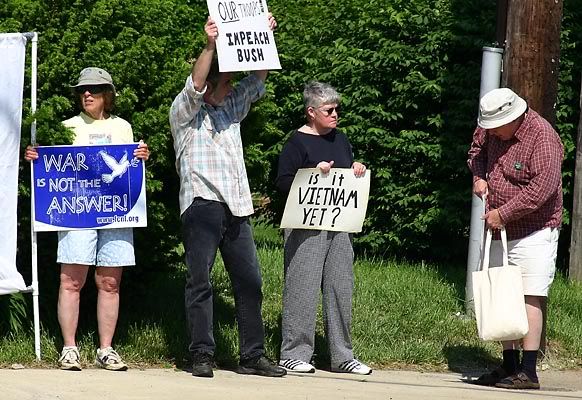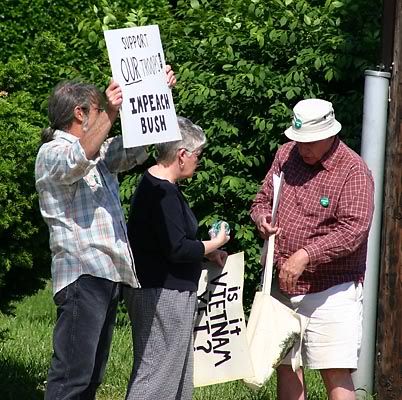 NOW THE "SILENT" AND LACK OF CARING ABOUT THE VIOLENT MOONBAT IN THEIR MIDST. All pics are by iMM.
Backing up a bit about last week. I did give the police pictures of Barking Waveman, Olney Week 18 AAR accosting the jogger. I did not receive a call from the sergeant about the incident. But there was a more visible presence of the police as they were constantly driving by.
Since the police didn't stop by, I decided to harass them myself. I took copies of the pictures I sent to the police and went over to talk to the one I believed was in charge of the moonbats. I believe she also represents MOBilizing Mothers, the old Mothers Opposing Bush (MOB). Bush won in '04 (HeeHeeHee) so they had to change their name, but I digress.
BELOW LEFT: Pic of moonbat ignoring me. RIGHT: Pic of me talking to their Comrade Leader, pointing towards Barking Waveman. I questioned how they can claim to be peaceful while being violent. SILENCE!! I told her their group is now associated with a violent person. SILENCE!!! The one I talked to ignored me and refused my offer of the pictures. But as I was leaving she said "Thanks for Sharing".
BELOW: The moonbats also have a lack of caring about the ONLY flag they bring to their antitroop protest.
BELOW: Disheartened moonbats leaving.
AND iMM'S GREAT PICS OF SUPPORTERS: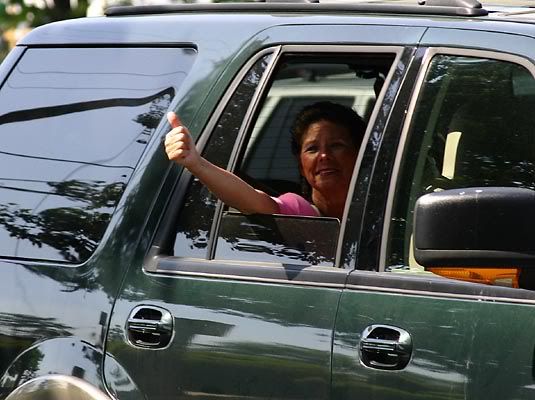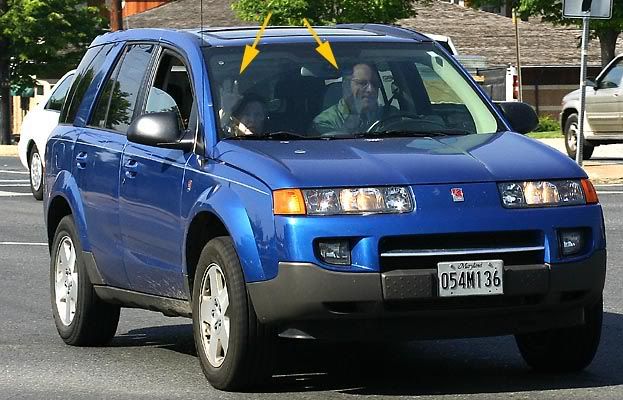 REMEMBER

Next Saturday, same place, Georgia Avenue, MD Rte. 97 and MD Rte. 108 in Olney, MD

Same time, 3 PM to 4:30 PM
As always, the D.C. Chapter's rules for protesting will be in effect. Briefly, they are: No violence, no profanity, no racism, no provocations, obey the law and treat all law enforcement officers with respect.

---
TOPICS: Activism/Chapters
KEYWORDS: codepink; freep; grumpies; infinite; mobilizingmothers; moonbats; operationinfinite; peaceactionmc; peaceniks; quakers
---
---
---
---
---
---
---
---
---
---
---
---
---
---
---
---
---
---
---
---
---
---
---
---
---
---
---
---
---
---
---
---
---
---