---
To: joan
Don't forget...
KLA Terrorist Supported Kerry!

Here is a low quality, 10 minute edit of only 4 MB for the Bandwidth Challenged: Click on the image.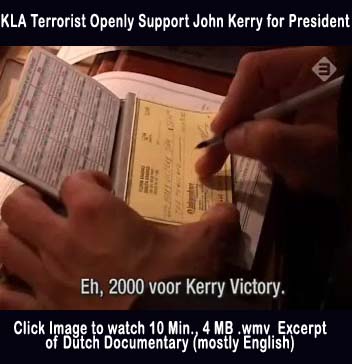 References:

http://scotlandonsunday.scotsman.com/international.cfm?id=1244732004


Here is the website with the video:
http://www.vpro.nl/programma/tegenlicht/afleveringen/18793157/

And here is the direct link to the documentary:
http://cgi.omroep.nl/cgi-bin/streams?/tv/vpro/tegenlicht/bb.20040905.asf?title=Bekijk

The documentary is mostly in English with Dutch subtitles. After the first few minutes, almost all of the film is in English.

Here is a Washington Times article saying there is a direct connection with Osama Bin Laden.
http://groups.google.com/groups?hl=en&lr=&threadm=00b601be9768%24b3082140%243c5b9ac2%40nikst&rnum=6&prev=/groups%3Fq%3Dmay%2B4%2B1999%2Bwashington%2Btimes%2Bosama%26hl%3Den%26lr%3D%26sa%3DN


And here is the fund race link showing the donation on the video:
http://www.fundrace.org/neighbors.php?search=1&type=name&lname=Krasniqi&fname=Florin



13
posted on
05/17/2006 9:12:53 PM PDT
by
DocRock
(I keep this on my homepage for future reference...)
---
To: DocRock
Excellent set of links, Doc! (Although the Scotsman story confused the names of "John" & "Jim" Belushi.)

What the video doesn't tell you, but the book by Stacy Sullivan ("Be Not Afraid for You Have Sons in America")on the same subject does say, is that Florin Krasniqi was an "illegal alien" from Kosovo who snuck into the US via Mexico in the trunk of Cadillac.

Supposedly, since the film "The Brooklyn Connection" ran on PBS, Kraniqi is "under investigation" by US authorities. Yeah, right. With friend in places as high he has, we all know where that "investigation" is going!
---
To: DocRock
WOW!! kerry sure had "diverse" supporters.... gun runners, white slavers, child porn dealers, killers of Christian Serbs, drug dealers, bin laden lovin' ALBANIAN mussies....
Isn't politics amazing???

34
posted on
05/21/2006 12:51:02 PM PDT
by
Lion in Winter
(islamics are not religious, just set on on mass murder of non-muslims!!)
---
FreeRepublic.com is powered by software copyright 2000-2008 John Robinson