---
HAIRY CODEPINKOS GET BURMA-SHAVED: Walter Reed FReep, Week 65, 7/14/06
DC Chapter, Free Republic | July 19, 2006 | Albion Wilde


Posted on 07/19/2006 4:09:03 PM PDT by Albion Wilde

Photos by [Mrs] Trooprally and Plea Deal.





WASHINGTON, DC, July 14, 2006--We couldn't help but notice, as daylight stays later during the summer months, that many of the southbound cars passing the DC Chapter's support-the-troops rally every Friday night at Walter Reed not only honk their horns for us, they also see the Code Pink anti-war "vigil" down the street, assume they are with us and honk for them, too.

From the other direction, most drivers passing the Pinkos first don't beep for them, but beep loudly for us -- drivers from every walk of life and of every ethnicity and color. Now that we have shamed the Pinkos into the appearance of supporting the troops, their signs are a garbled mess of contradictory messages "for" the troops but against the war and the administration. The hairy, unwashed Code Pinkos started their "peace vigil" at the gates of Walter Reed Army Medical Center 65 weeks ago, and trumpeted it on their web site. When we threw them off the gates 25 weeks ago and took over all four corners where the soldiers, their families and caregivers enter and leave Walter Reed, Code Pink did not have the good PR sense to announce a new location -- say, near the White House or the Capitol, where war policy is made. No, they accepted their ignominious demotion and just stopped writing about it on their web site. Of cars that do beep, about nine-tenths beep for us. So it was high time Code Pink's unearned honks from confused drivers whizzing by would come to a stop.

This week, when Pinko Allison Yorra drove by, she arrogantly flipped the bird at the nearest FReepers, only to turn the corner and face a humiliating "Burma-Shave" jingle already in place between our FReep and her "vigil":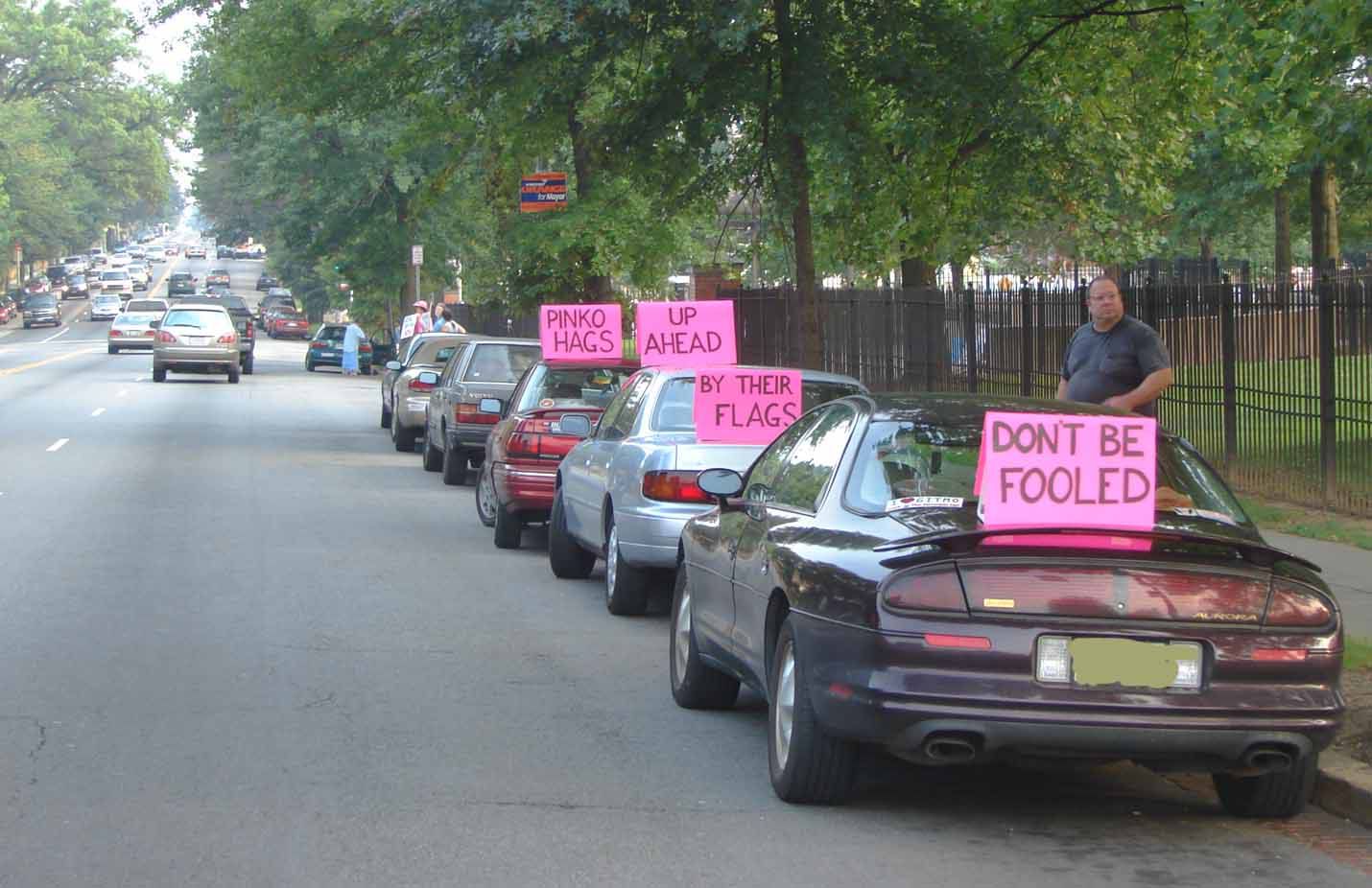 The signs read from NEAREST to FARTHEST, the way cars see them as they drive through our rally towards the Pinko camp. In the distance, the Code Pink Mad Hatters are visible. FReeper GunsAreOK (right).
See Georgia Avenue as we see it -- click here to enlarge photo.
There's nothing like a successful advertising campaign, especially in America. Worked like magic! Unwanted beeps disappeared with a simple, easy-to-assemble solution! (Some assembly required.) Kristinn, tgslTakoma and BufordP brainstormed this campaign. (For an animated history of the famous "Burma-Shave" sign campaign, click here.)
Every week, soldiers stop by to talk with FReepers. Here, the red-haired soldier in the black shirt, the guy behind the large banner and the guy at right in the blue-and-white stripes talk to [Mr] Trooprally, red cap, Freeping_In_Silence (back to camera) and Zophiel. Facing the street (left) are Jimmy Valentine's Brother and bmwcyle (seated).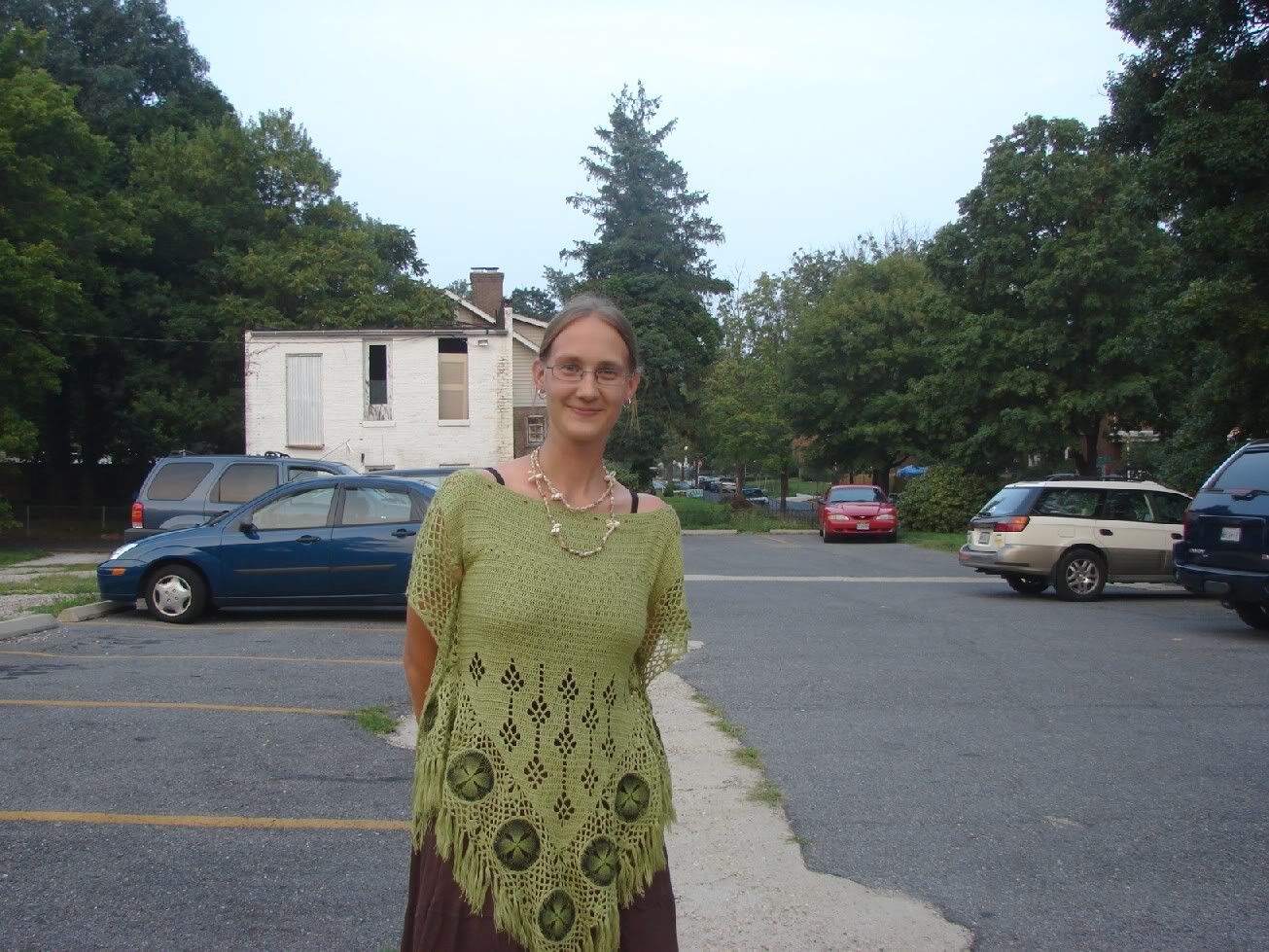 An enlisted man and his wife, who is pictured above, stopped by as they exited the base. Stationed at Fort Bragg, they had come up to visit a wounded friend in Walter Reed. "It's really nice to see all this support," he said, getting a good look at all four corners of our rally, "especially [with] the cowbell idiots down the street. I saw [one of the lefties] with a T-shirt that said 'ARE YOU READY FOR COMMUNISM?' " he continued. "I said, 'That's what lazy have-nots want.' Socialism punishes those with ingenuity and vision and rewards the lazy," he concluded.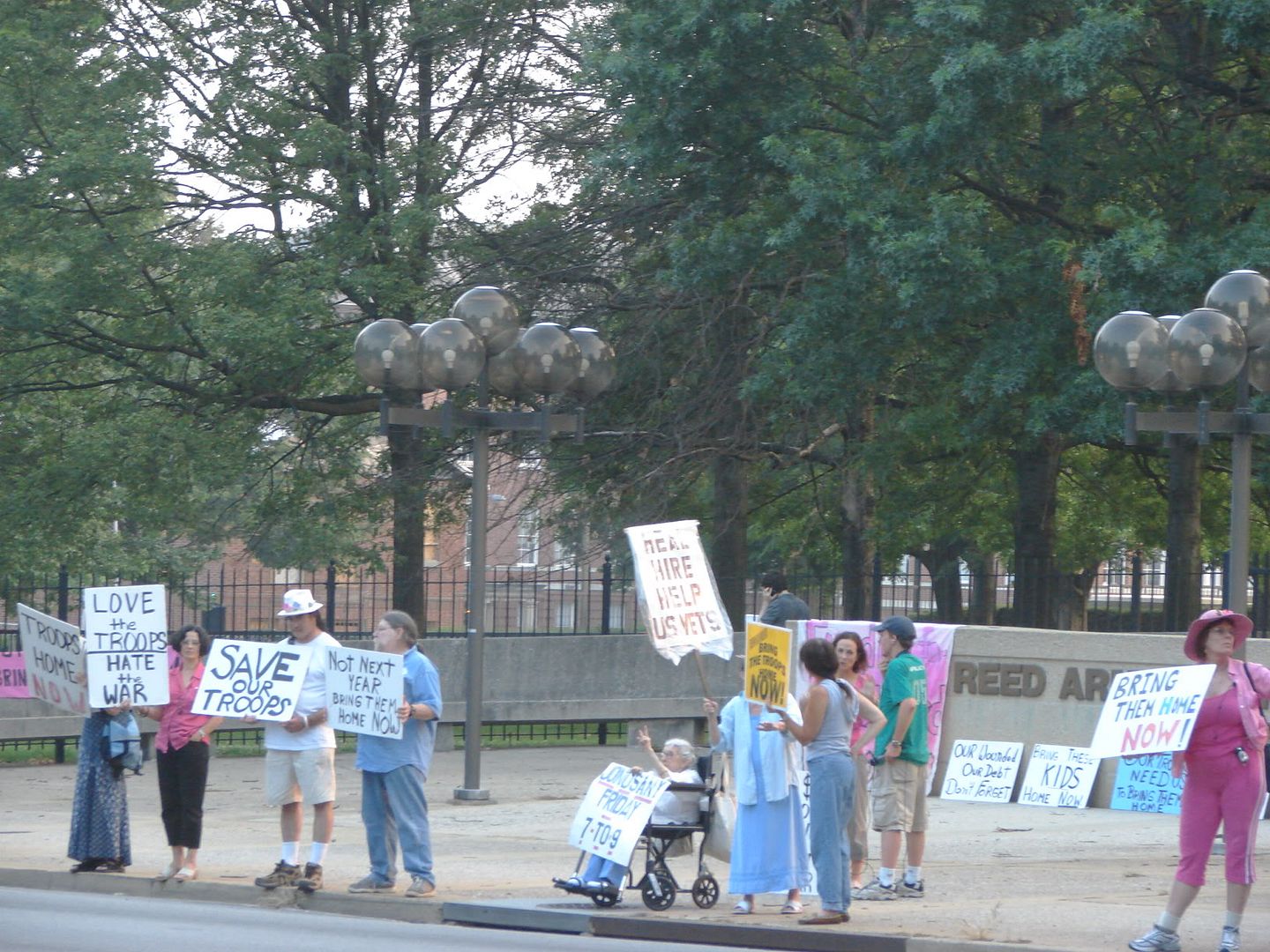 Above, the "cowbell idiots."

Never underestimate the importance of street FReeping to support the troops. An young African-American mother encouraged her daughter to approach Plea Deal and Albion Wilde to ask what we FReepers were doing, and nodded in approval as we explained to the wide-eyed 6-year-old that "the people down the street" were mean to the soldiers in the hospital, so we come out to let the soldiers know we love them and we thank them for fighting for our country.
As a blond woman from Minnesota with her 9-year-old daughter and 5-year-old son was leaving the hospital gates, Kristinn invited them over to share some pizza, cookies and cold water. Her husband, a sergeant with the 101st Airborne, was injured in Iraq on 2 July. "By the 4th he was here," she related. "That's when I arrived." He lost one leg to a bomb and had the other amputated once he arrived. "But that's OK," she offered. "Both injuries were below the knee. He's not paralyzed, has no internal injuries or injury to the face or head. The military is taking great care of us...the Red Cross, and the ladies who make quilts...the first night we were here, my daughter just wrapped herself in one of those quilts," she continued. "The Wounded Warrior program has been awesome -- they're the ones who flew us here. And the Yellow Ribbon Fund -- they are going to give us a loaner car."
Not all patients in Walter Reed are combat veterans. A man who thanked us for what we were doing was the husband of a servicewoman. Their young daughter was being treated in WRAMC for an illness. Routinely, troops leaving the base whoop and holler, give us the high sign, or thrust digital cameras out the window or sunroof of their cars to capture some of our FReep.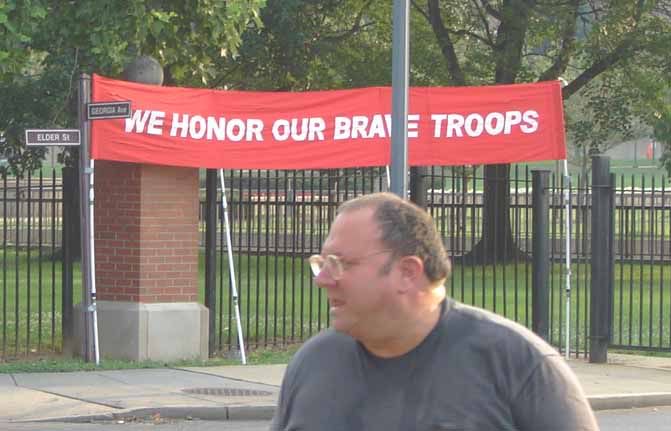 Seeing our four-corner banners and signs, a passing cab driver called out to GunsAreOK "Why didn't you do this when we were in Vietnam?"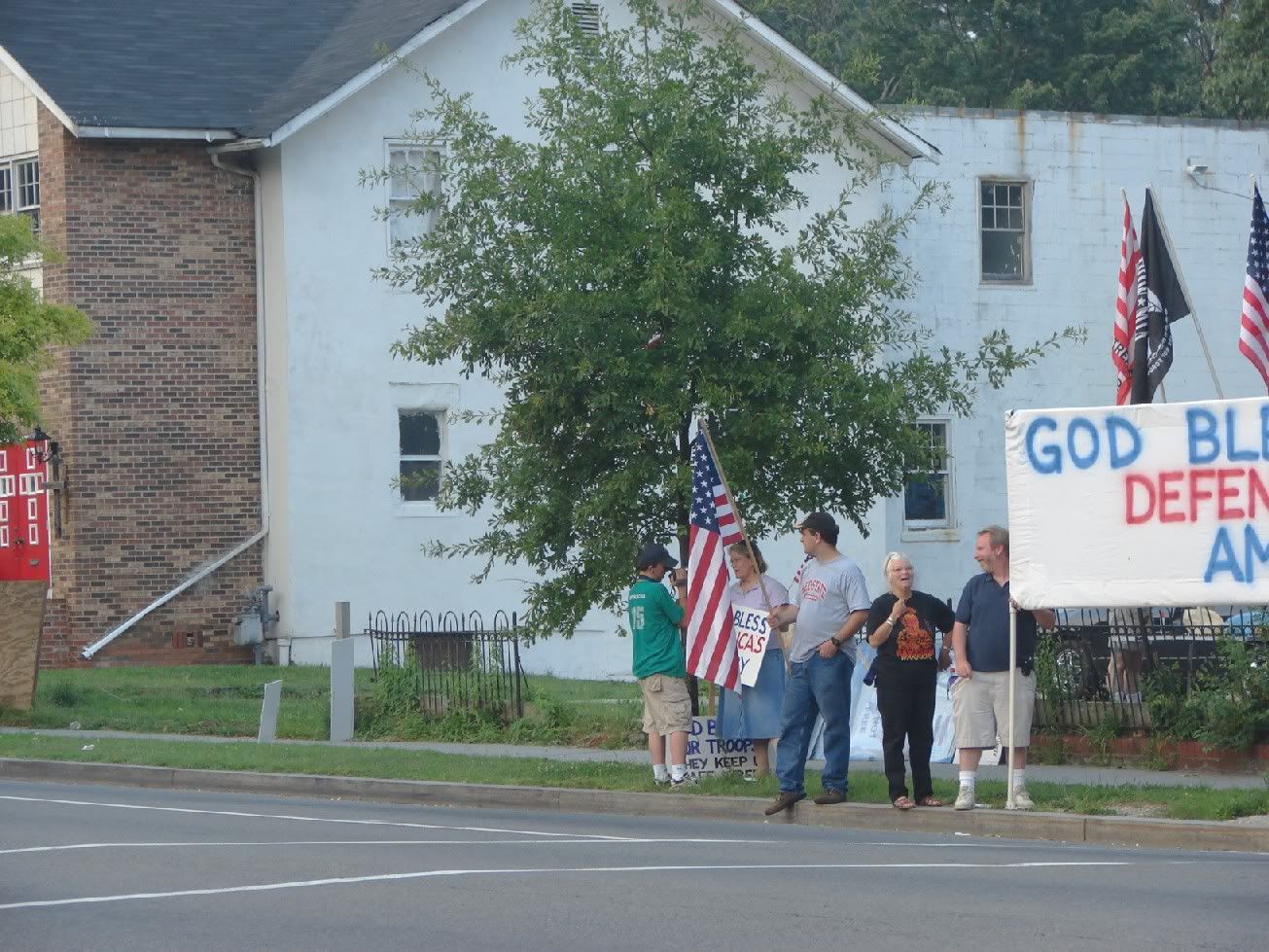 Boston University documentarian, Maica, lurker Ty, Cindy-True-Supporter and Kristinn.
A college freshman with a green Boston University T-shirt wandered among us and also amongst Code Pink. He told us he was given a grant to do a documentary on war protests, and several of us reminded him several times that ours is not a protest, but a demonstration of love, support and affection for our troops. Maica related, "He said he was given enough money to be here for 25 days -- room, board and transportation. He asked me how do I feel about the First Amendment? Lefties always think of everything in terms of feelings. I told him, "Freedom of speech is stronger in the United States than anywhere else in the world, and I've lived in many countries. Nowhere is it as free as in America, except on college campuses. There, you have speech codes," she said, referring to the oppressive, leftist political correctness that has silenced conservative opinion at universities as the Vietnam-obsessed, anti-war Boomer generation has dominated faculties since the 60s.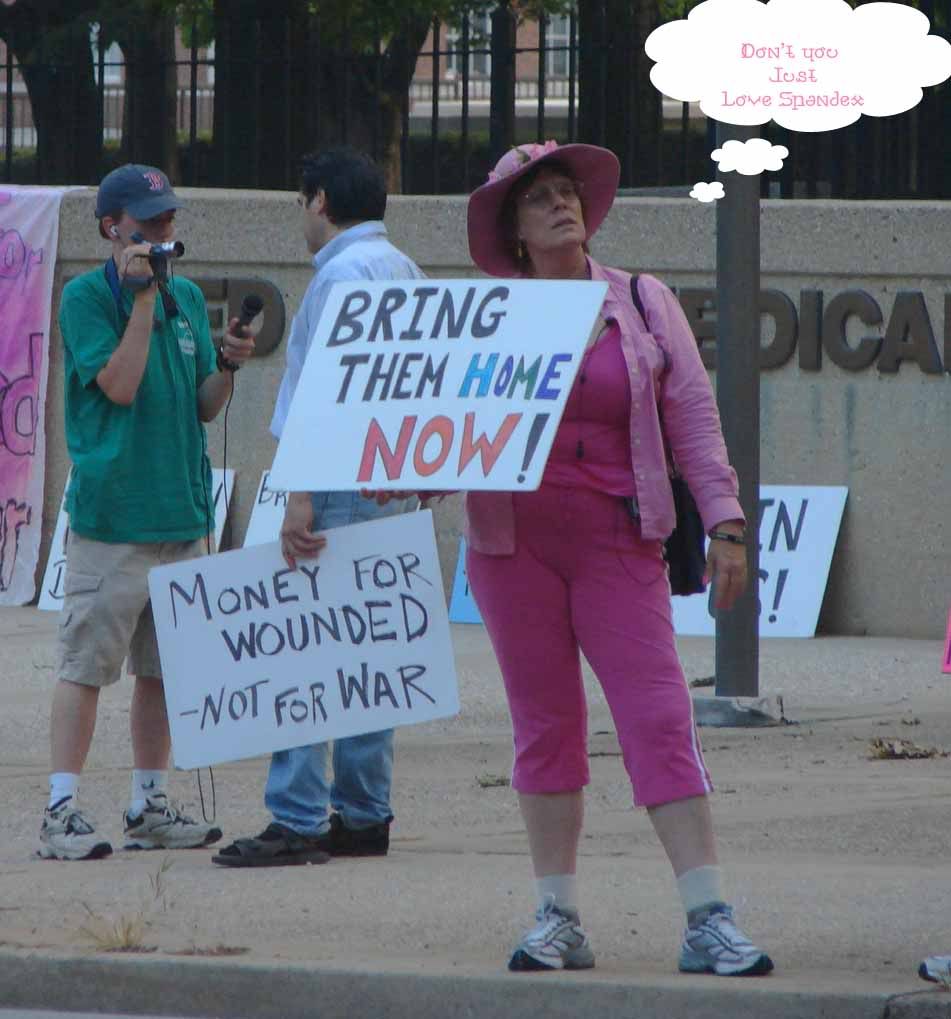 Boston University student (left) interviewing Veterans for Peace pinko Kevin McCarron (center). Large Marge (right), front view.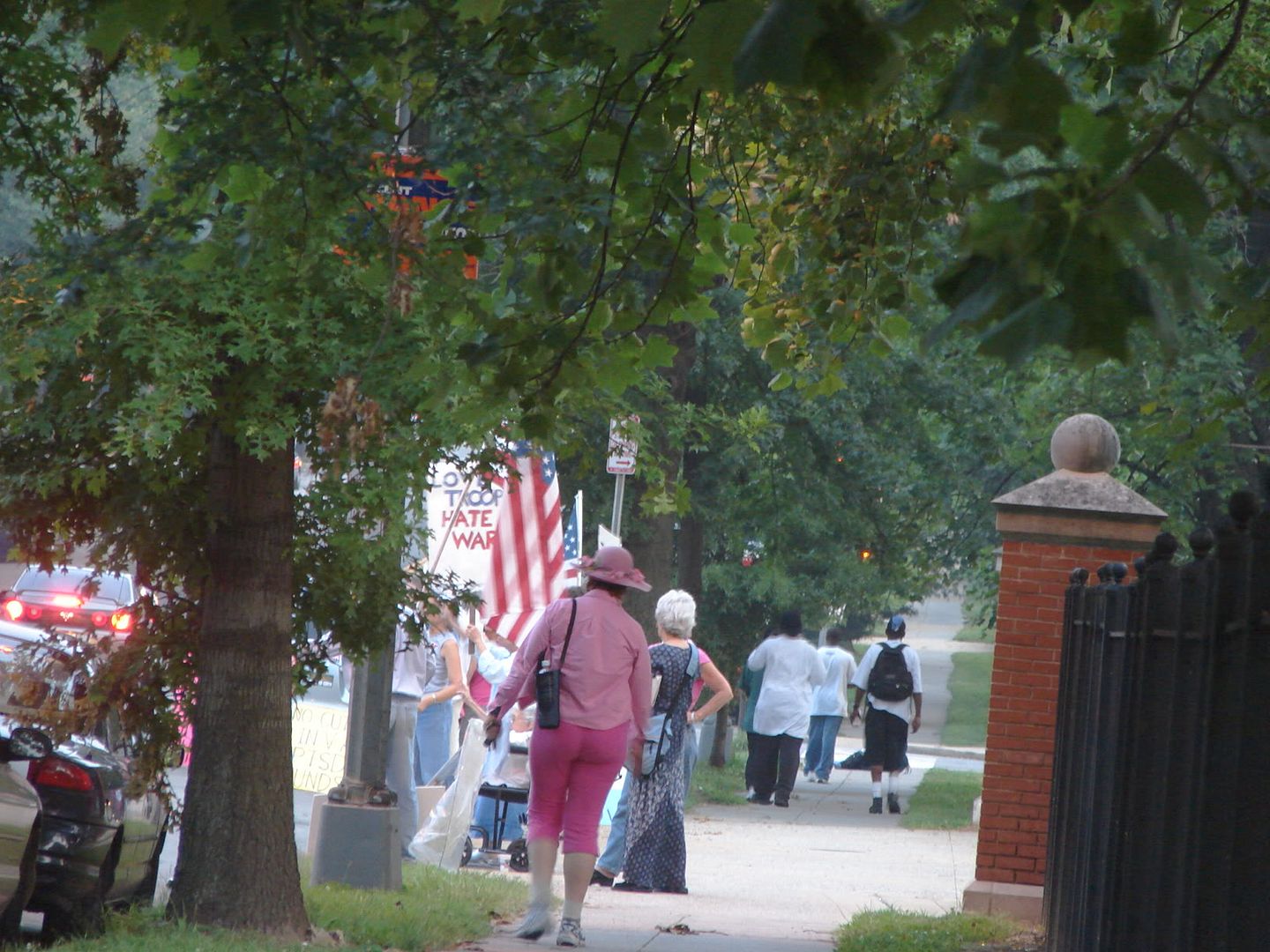 Back view. Without that spandex, those pink pedal pushers would be exploding like an IED.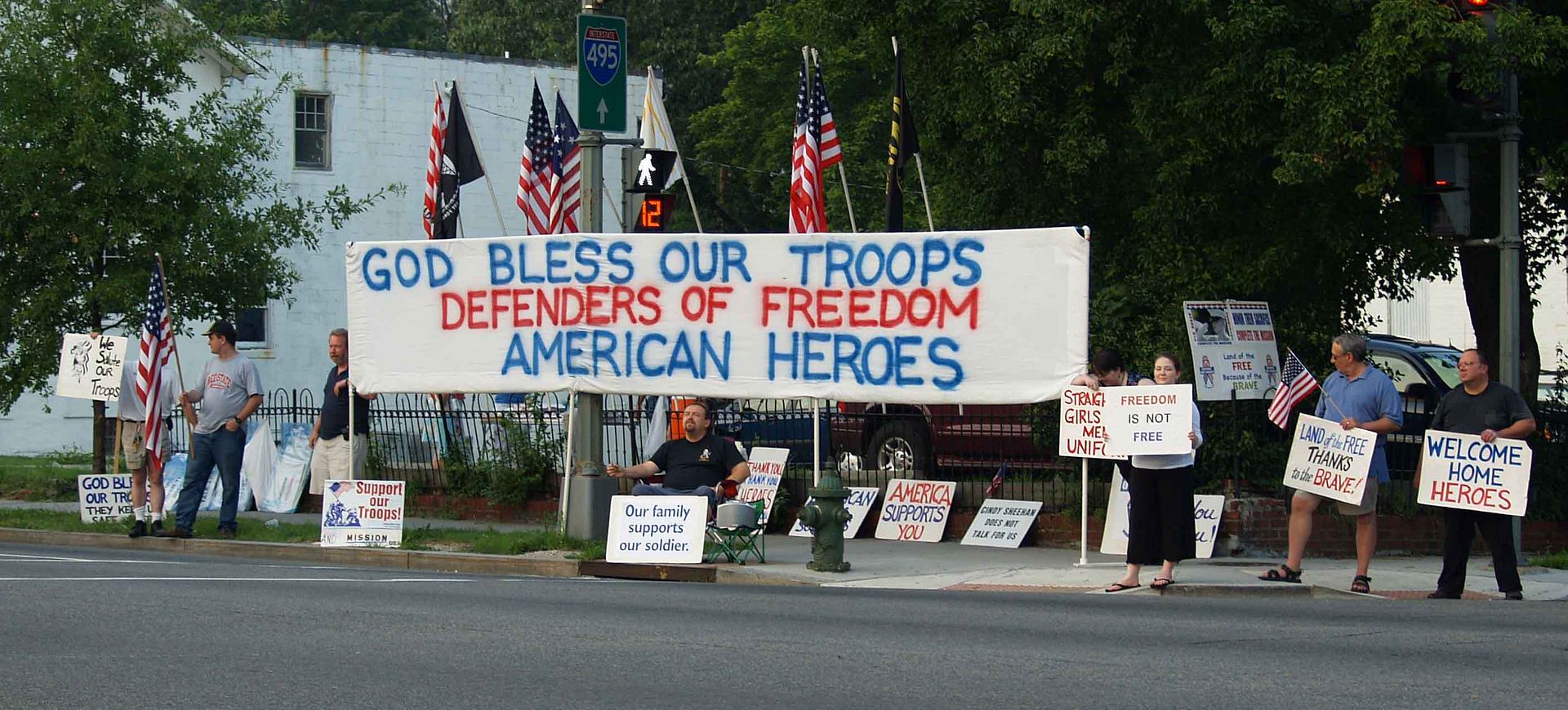 FReepers on the northeast corner, left to right: Fraxinus, lurker Ty, Kristinn, bmwcyle, Zophiel (back), Freeping_In_Silence, Jimmy Valentine's Brother, GunsAreOK.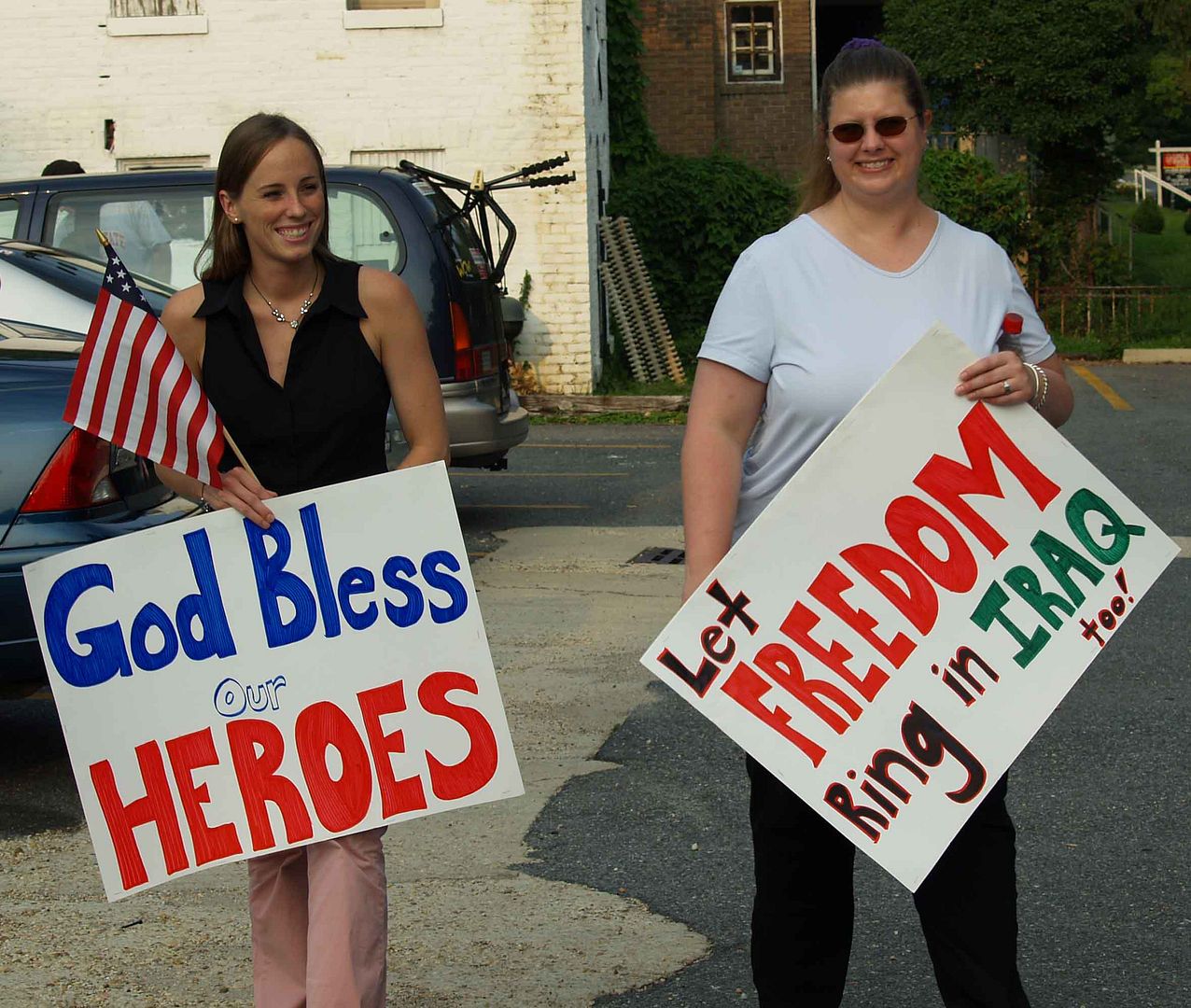 InGodWeTrust1 and Gretchen15.
A soldier, leaving the Walter Reed base for the evening on his motorcycle, waits for the light in front of an array of awesome FReeper women on the southeast corner. Left to right, [Mrs] Trooprally, Apple Blossom's daughter, Apple Blossom, tgslTakoma and Albion Wilde (blue shirt).
FReepers present this evening included Apple Blossom, bmwcyle, daughterofTGSL, BufordP, Cindy-True-Supporter, Fraxinus, Freeping_In_Silence, Gretchen15, GunsAreOK, InGodWeTrust1, Jimmy Valentine's Brother, Just A Nobody, Kristinn, Maica, PleaDeal, tgslTakoma, Trooprally [Mr and Mrs], Trueblackman, Zophiel and myself. Lurkers included Apple Blossom's daughter, Ashley, Bill from MD, bmwcyle's daughter, Gavin, Megan and Ty.
As always, our evening is not complete until several buses return to the Walter Reed base, bringing wounded troops and family members back from errands, entertainments or from dinners donated by appreciative restauranteurs and other grateful Coalition supporters.
In conclusion, the Pinkos were punked again by the pizza-eating, troop-welcoming, mission-supporting, flag-waving DC Chapter FReepers. Kristinn observed that Code Pink's fasting motto appears to be, "It ain't cheatin' if you're Fleetin'." Jimmy Valentine's Brother shouted out to the starving ladies, "What's the matter, you run out of Jamba Juice?" They even quit early, at 8:55. Code Pink leader Gael Murphy was later observed speeding up Georgia Avenue, gripping the wheel, grim-faced .
Starved for attention, starved for a clear conscience as they scarf down the goodies during their phony hunger strike, and now, listening to the near-constant beeping, whistling, cheering and woo-hooing of the passing cars for our demonstration -- not for theirs, they are starved for a honk.
So, hairy, hunger-strikin' Pinko gals, vigil this: You've been shaved. All your beeps are belong to us!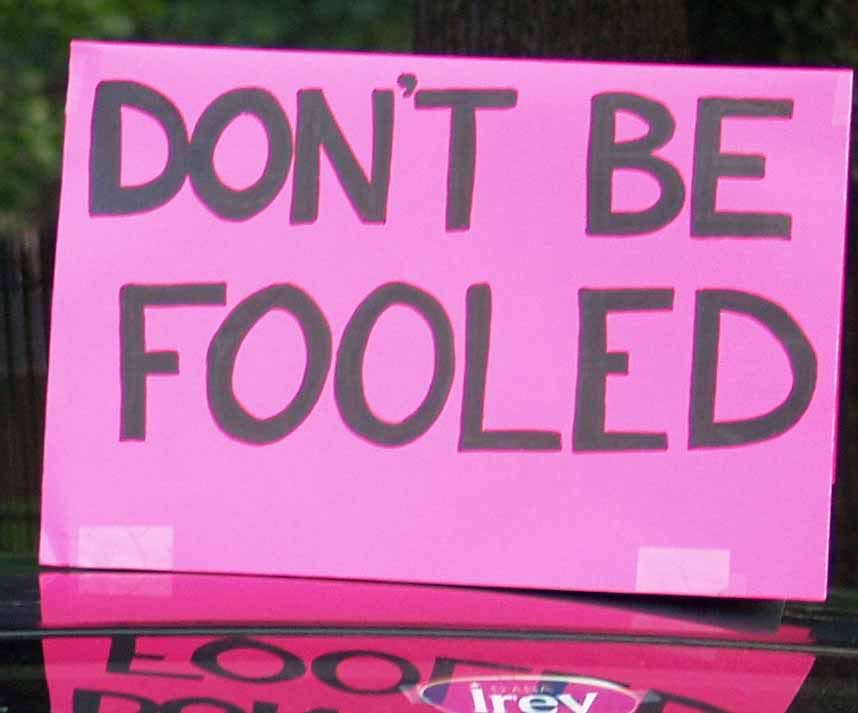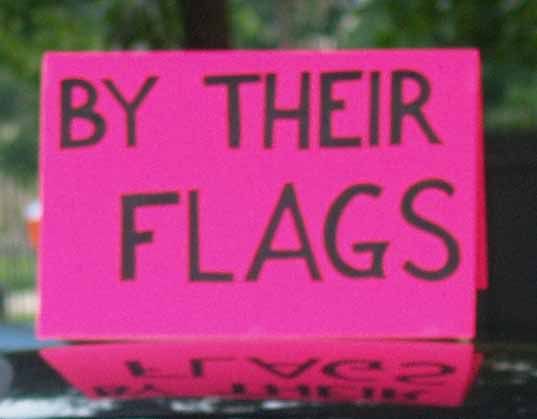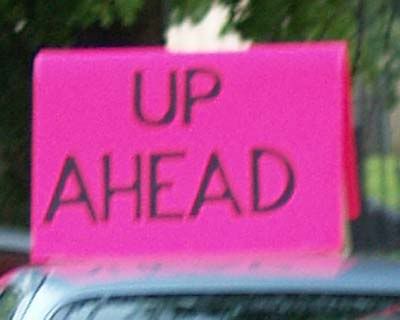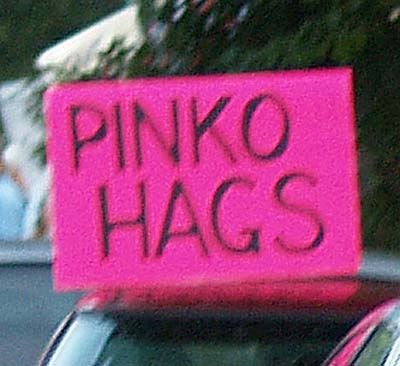 _____________________________________________________
This report would not have been possible without the surpassing photo skills of Plea Deal and [Mrs] Trooprally; and most certainly without [Mr & Mrs] Trooprally's computer, their tech support and their kind hospitality after my laptop crashed. Many thanks!
---
TOPICS: Activism/Chapters
KEYWORDS: aar; burmashave; codepink; dcchapter; freep; rally; supportourtroops; walterreed
---
Navigation: use the links below to view more comments.
first previous 1-20, 21-40, 41-60, 61-80 ... 121-126 next last
---
---
---
---
---
---
---
---
---
---
---
---
---
---
---
---
---
---
---
---
---
Navigation: use the links below to view more comments.
first previous 1-20, 21-40, 41-60, 61-80 ... 121-126 next last
---
---