Honor roll for this week: Lurker Bill, BillF, Cindy-True-Suppoter, and Myself (BufordP)
We arrived around 2:30. Got everything set up. Took about 20 minutes.
This is only my third Olney Freep. Filling in for Mr. and Mrs Trooprally while they were out of town.
While we were making trips back and forth from the cars to the corner with all our gear, people driving by already began honking their horns before we got a single sign in place. They knew why we were there and wanted to show their appreciation.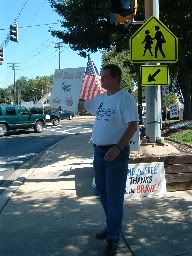 (Not registered. Doesn't lurk.) Lurker Bill
Cindy passed along to us what Mr Trooprally had told her that morning about a chance encounter he had with one of the peaceniks the night before. Going by Cindy's description I believe it was this guy (wearing black shirt). (Trooprally can correct when he gets a chance if I'm wrong.) The regular Olney Freepers refer to him as "the homeless guy". Apparently he and Mr Trooprally didn't have much nice things to say to each other. He told Trooprally they were bad people.
Cindy also said that earlier that morning, around 10:30am, she saw the peacenik Quakers on their corner doing their usual anti-war protest. We couldn't be sure whether they were going to show up at 3pm like they usually do. So we waited ...
And waited...
One of the three new signs I made.
I made three big signs specifically for pi$$ing off the pinko pacifist Quackers. The one shown on the left reads ANTI-AMERICAN PEACENIKS THINK SEDITION IS PATRIOTIC. The other two read ANTI-WAR LIBERALS ROOT FOR THE ENEMY and ANTI-WAR PEACENIKS, FREEDOM'S PARASITES . An added feature I put on each sign to tweak the Quackers was a small flip-side which when flipped up covered the word PEACNIK with QUAKER.
I left these signs with Cindy so she could hand them off to Trooprally to use in the future. So look for these signs in future Olney After-Action-Reports. If you don't see them, give Trooprally a rash of you-know-what!
---
Well, we continued to wait wondering...hoping...the pinkos would show up. Seems they put in their time at 10:30am to throw us off and weren't intending on coming out at 3 o'clock. They didn't want to face us anymore because we're "bad people".
But WAIT! A lone Piece-of-Poop-Nik appears! He must not of gotten the memo.
| | |
| --- | --- |
| Pinko who didn't get the memo, reading book titled Sedition: A Quaker's Story of Patriotism | Quacker is holding up what looks a like a small bumper sticker for the passing motorists to read. Perhaps it reads: "If you can read this, the Marines are looking for a few good snipers." |
He brought along a sign. It's positioned behind him. You can barely see it. It reads GIVE PEACE A CHANCE. I suppose giving peace a chance 911 times isn't enough for him.

Passerby gives Cindy-True-Supporter the ARMY T-Shirt off his back.
A young fellow wearing an ARMY T-shirt came down to our corner and thanked us for what we were doing. I didn't get a chance to talk to him. Cindy talked with for a few minutes. She can fill you in later on the conversation. Anyway, he wanted to leave his shirt with us to display. So we hung it up on the telephone pole. Next time we'll figure out a better way to display it.
After approximately 20-25 minutes, the lone piece-of-poop-nik gave up and left.
We remained until around 4:15. The whole time I don't recall getting any adverse remarks from those passing by. A lot of honking, thumbs-up, and the occasional cheer to show appreciation.
I like Olney. Seems like a nice town ... 'cept fur those few poopyhead America hatin' freedom parasitin' peaceniks!
Afterward we headed for the Olney Tavern. Had dinner and a few beers. Cindy really likes that Dogfish.
Here's just a few pics of the street rods that come out Saturday nights at the tavern to show off. This jeep has a full compliment of armaments including a 50-cal. And a Thompson sitting in the driver seat.