---
To: NorthOf45
I think you make some good points but ambassadorial projection is not what Canada needs. Our nation needs to be able to project power.
I am, all for a flight display team based on a new combat capable aircraft. The Tudor jet was a replacement for the CF-86 Sabre based team, the Golden Hawks which was cut by the liberal POS government in 1964, along with other battle capable regiments such as the Black Watch a few years later.
Later the more liberal soft, touchy feely "Snowbirds" were rolled out for a kinder , gentler display.
I have had the privilege of viewing both teams, and the Tudor based Snow birds disply never could hold a candle to the sky ripping display of the Golden Hawks, in either formation flying or mock low level combat ( not done by the : "Snow Turds".)
Hey, I am all for a Canada Flight Display team as long as it is based on a combat capable airframe, and piloted by the best combat fliers Canada has, from squadrons who fight the airframe. The "Snowturds" are a liberal joke and as les Quebecoise are so fond of saying," Je me souviens!" I remember the difference between the Golden Hawks and the Snow Turds, a softer innoucuous smoke streaming display on a non combat air frame......a liberal joke and icon of social engineering that pulled the fangs out of the maw of the Canadian Military. Thats what the Snow Turds represent.
Now Harper needs to put some money towards a new combat aircraft, and let the best of the best fly IT in a display team, rather than continue the lovey lighty poofter Snow Turd image. Trash them, and their Frenchy farting non combat POS aircraft.LOL.
Bitter I am.
I will never forget what Trudeau did the the CAF, and the "Snow Turds" represent all that is wrong with the CAF thanks to the liberal a$$holes who brought them on, along with the "Golden Centennaires."
Take a look at a Canada's last REAL RCAF Flight display team:
http://en.wikipedia.org/wiki/Golden_Hawks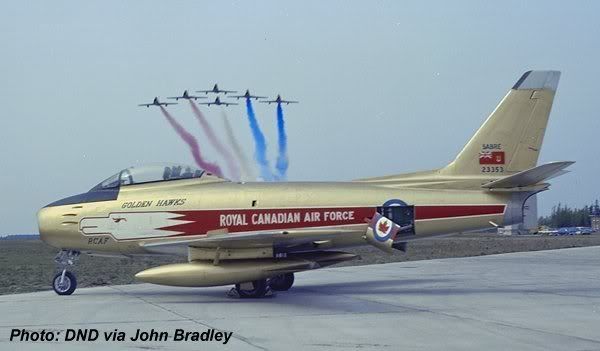 20
posted on
09/01/2006 8:03:15 PM PDT
by
Candor7
(Into Liberal flatulance goes the best hope of the West, and who wants to be a smart feller?)
---
To: Candor7
Thanks for the insight. I'm aware to a degree of what the libs did to our military back then ... it was before my time. I must admit that I didn't even know the Golden Hawks existed. Wow, the liberal haze is thick. Thanks again for the photos and history.
---
FreeRepublic.com is powered by software copyright 2000-2008 John Robinson