---
Walter Reed FReep Week #72, 9-01-06: SUPPORTING THE TROOPS, FREEPING ERNESTO
Sept. 03,2006 | Trooprally


Posted on 09/03/2006 10:08:15 AM PDT by trooprally

Wet & soggy Honor Roll included: Ernesto, Lurker Bill, BillF, (CJ) chcknhawk, Cindy_True-Supporter (CTS), Fraxinus (Frax), Freeping-in Silence, Lurkers George & Ethel and their son Trevor (11 year veteran of the 4th ID, including Iraq, we think), kristinn, TFroatz, tgslTakoma, and trooprally (Mr. & Mrs.). We heard a lot about Trevor and it was a pleasure to finally meet him. (This Honor Roll list includes only those who were on the corners in the rain).

CJ spent 15 minutes with the pinkos. CJ's web site, soldiersperspective, can be viewed here, but as of Sunday AM, he has not posted an article about his visit to Walter Reed.

The "soggiest noodle" award goes to both Kristinn and TFroatz (BELOW). The "coldest feet" award goes to CTS (ALSO BELOW), she wore sandals because the temperatures dropped from the 90s to the 60s in a day and stayed there. The "biggest wimp" award has to go to me for leaving my spot 10 minutes before 9PM. That must be why I was given the "honor" of writing the AAR. I'm also relying on several FReepers reports for this AAR and late Friday night posts on last week's AAR where FReepers were communicating with each other.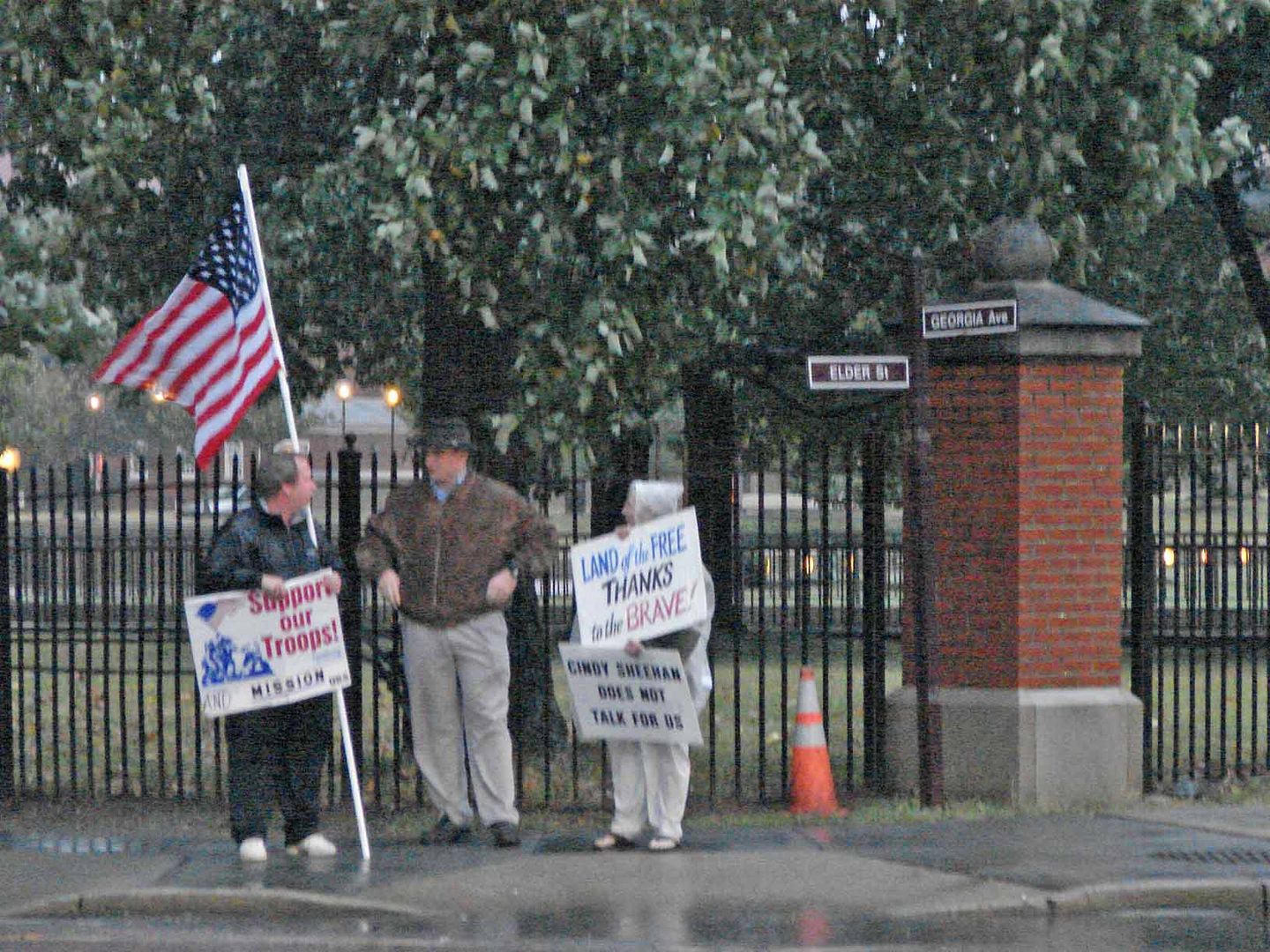 BillF took roll call. Pics were taken by him and [Mrs] Trooprally (BELOW) in her Niagra Falls Maid of the Mist blue plastic rain cover. (This was BillF's only pic that is posted in this Report). It was also hard taking good pics without a tripod and while keeping the cameras dry, as you will see.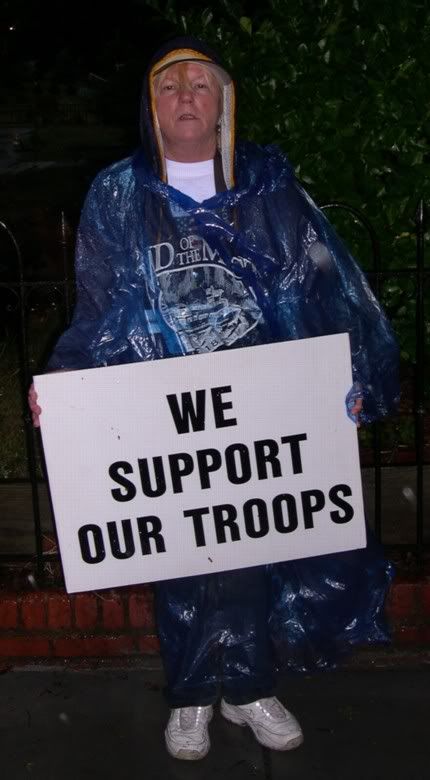 It was a cold and dreary night...; ... things were going bump in the night; ... dancing in the rain...; I must be an idiot!; Is Code Pink gone yet?; ...waves and honks still there...; My lighter's flint is wet, I gotta go get another lighter; were some of the words spoken last night. While there was always the concern of falling branches, future "fish" tales and yarns by the D.C. FReepers/Lurkers will far out weight any immediate danger to us. But I have to say, it was just plain miserable out there.
My cigars were okay, just had to smoke them quickly and don't always face north, but cigarettes were another story. They got wet quicker. Umbrellas were not a problem so long as the top was facing north. tgslTakoma's umbrella flipped once, but quickly got put back. This was during one "brisk" band of wind that also whipped her sign out of her hand. The sign hit Walter Reed's fence flatly and with such force, it sounded like a gun shot, startling both Takoma and [Mrs] T. From the northwest corner, Frax also lost his sign which blew across and into the middle of the lanes, about 60 feet away. Kristinn was closes to the sign and had the green light so he was able to recovered it. A 4" branch from Walter Reed's property broke and blocked the sidewalk about 125 feet north of us. Walter Reed personal had it cleared before we left. A small street light on Walter Reed's property blew over.
With Ernesto moving north, we were on its west side, and the wind was heading south, straight down Georgia Avenue. One could see the bands of rain on the street. For those FReeping the south bound Georgia Avenue traffic, one got pelted in the face. (NOTE: Don't use lotioned kleenix for wiping off your glasses, even if you are gentle and don't use any pressure.)
But to be honest, we were glad that the main part of the storm went through Norfolk, VA, and Annapolis, MD. We only had high winds, horizontal rain and low 60 temperatures. There were a lot of branch ends and leaves blown down but nothing like the other areas along the east coast.
Just A Nobody had to turn around and head back to below Richmond, VA. But she had to find a secondary way home because they closed a high bridge after she crossed over due to wind. And several (200) flooded roads in the Richmond area were closed after she past over them.
3D-Joy just decided not to come. Sensei Ern was a no show. He would have been on his cycle.
While [Mrs] T and I arrived around 6:30, and CTS arrived about 6:45, Lurker Bill (BELOW LEFT) was the first to be out on the corner at about 7. That's CTS and TFroatz in the back ground. We soon followed. The others showed up soon after and braved the weather. Frax and BillF (BELOW RIGHT) car pooled thru traffic and deep puddles on roads.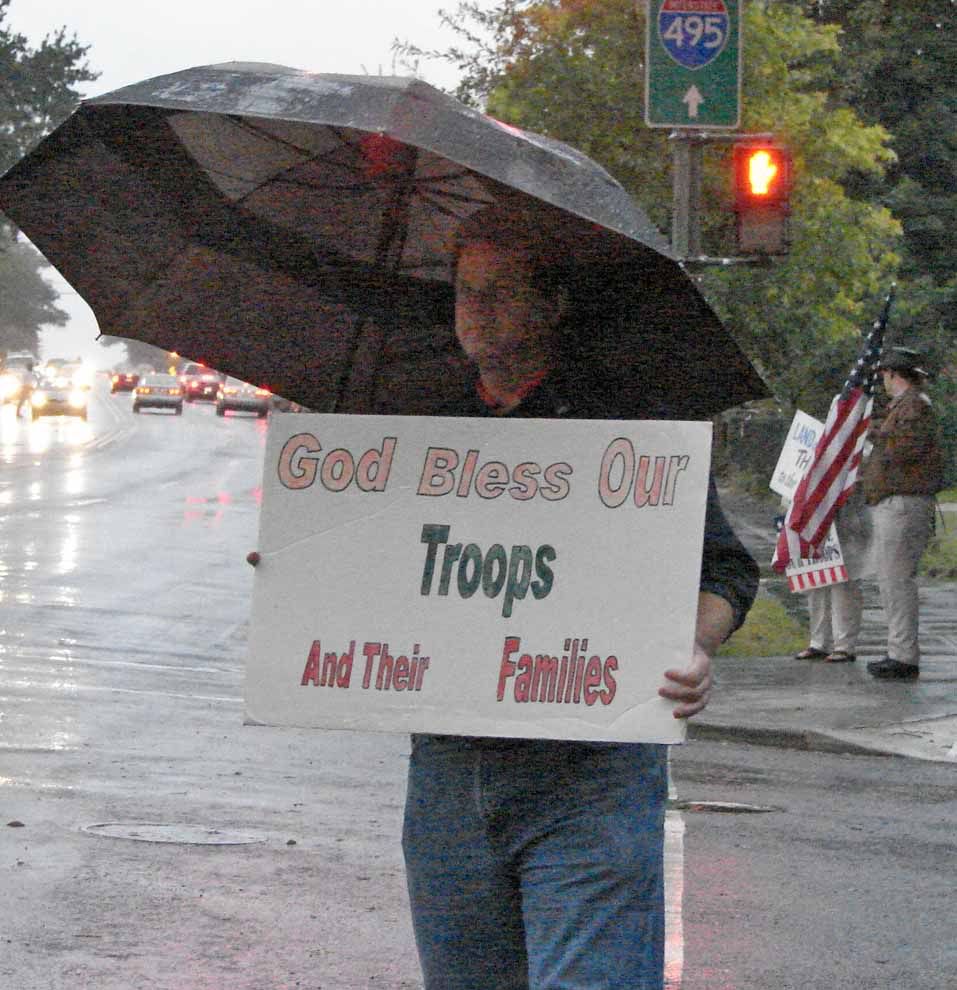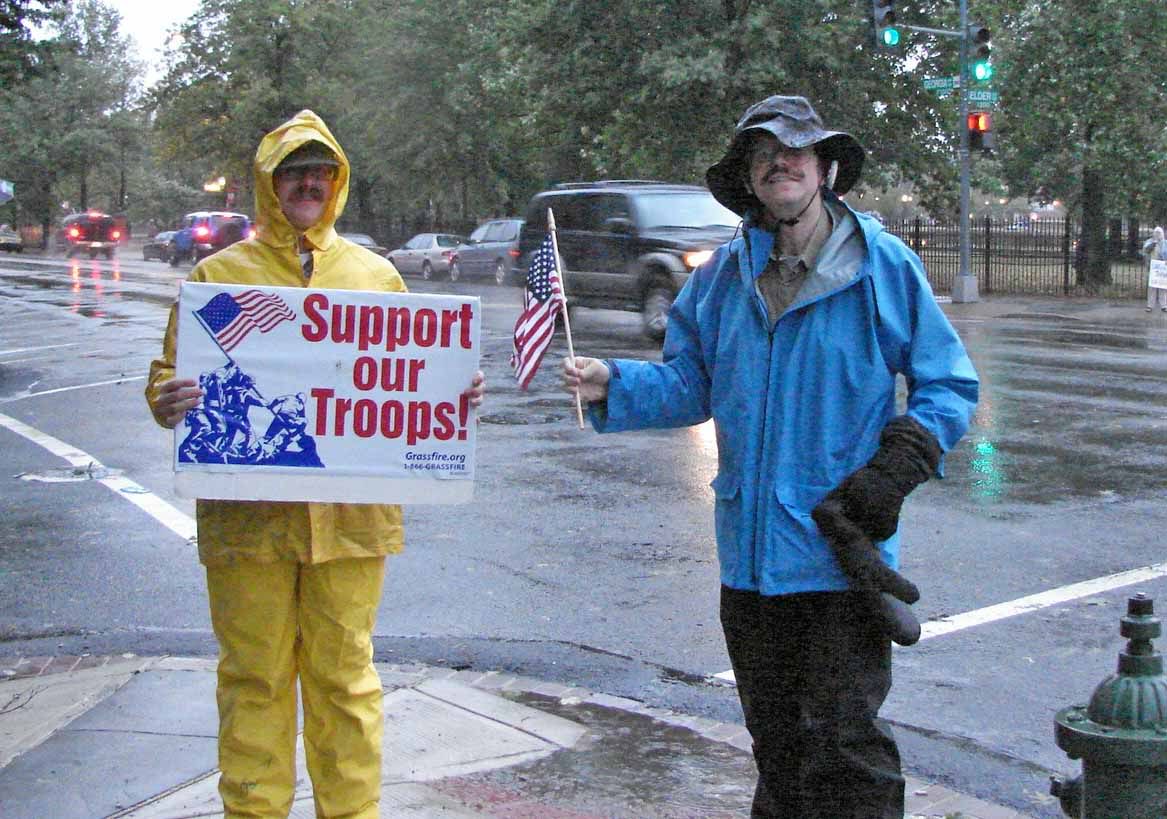 FReeping-In-Silence (BELOW LEFT) with Lurker Bill in background. (BELOW RIGHT) CJ, CTS, TFroatz and BillF.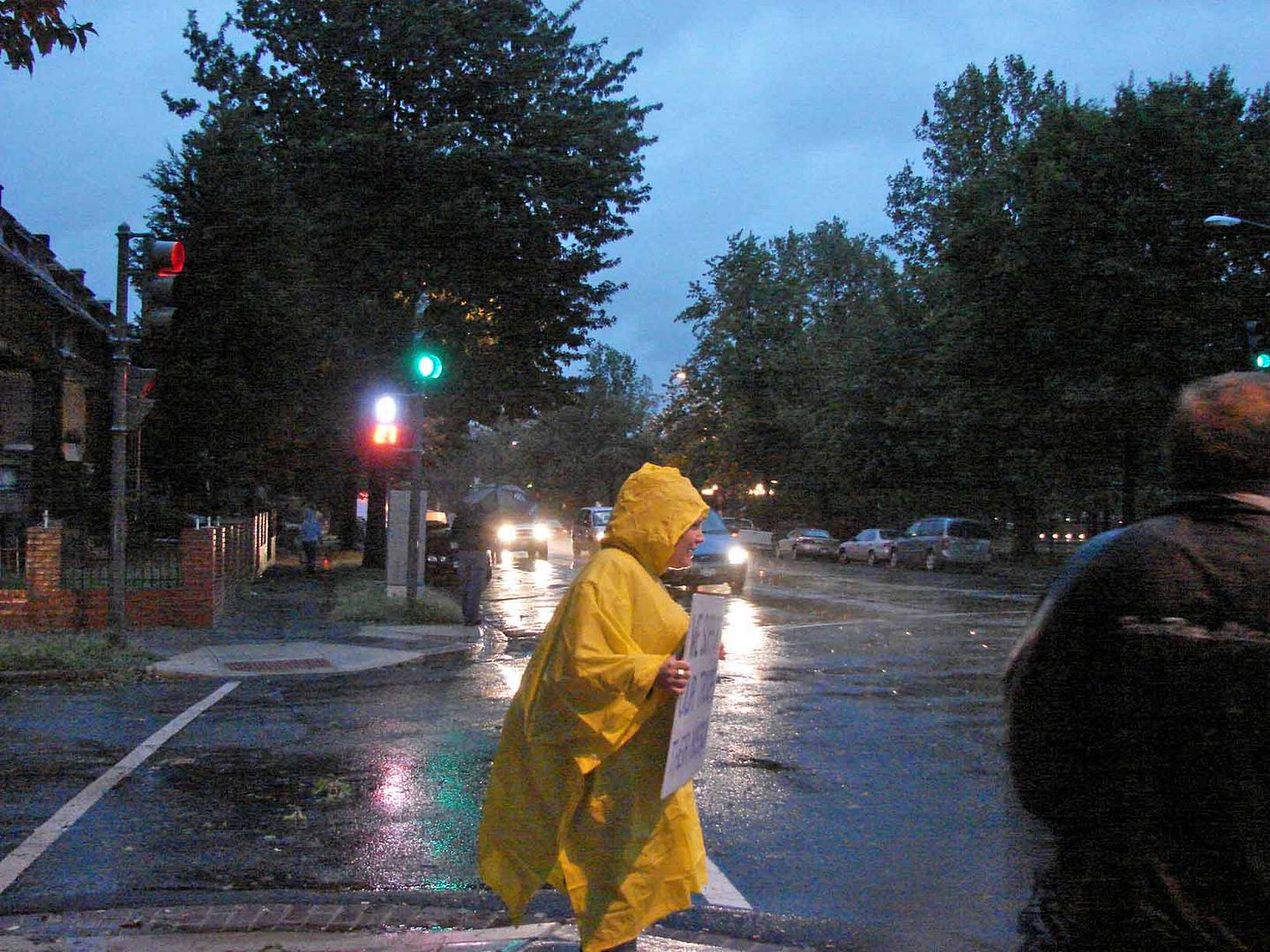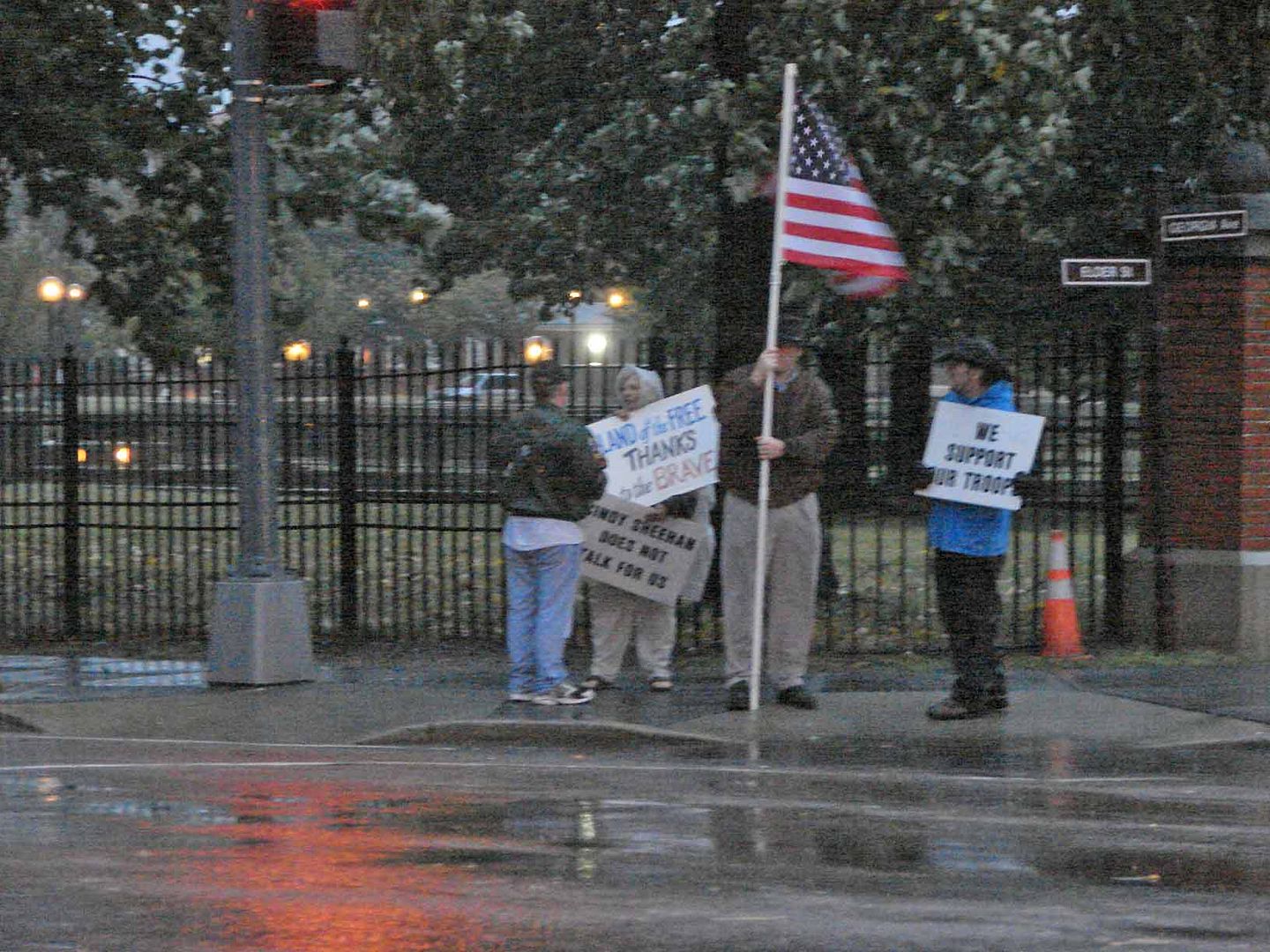 [Mr] T (BELOW LEFT) and tgslTakoma and Kristinn (BELOW RIGHT).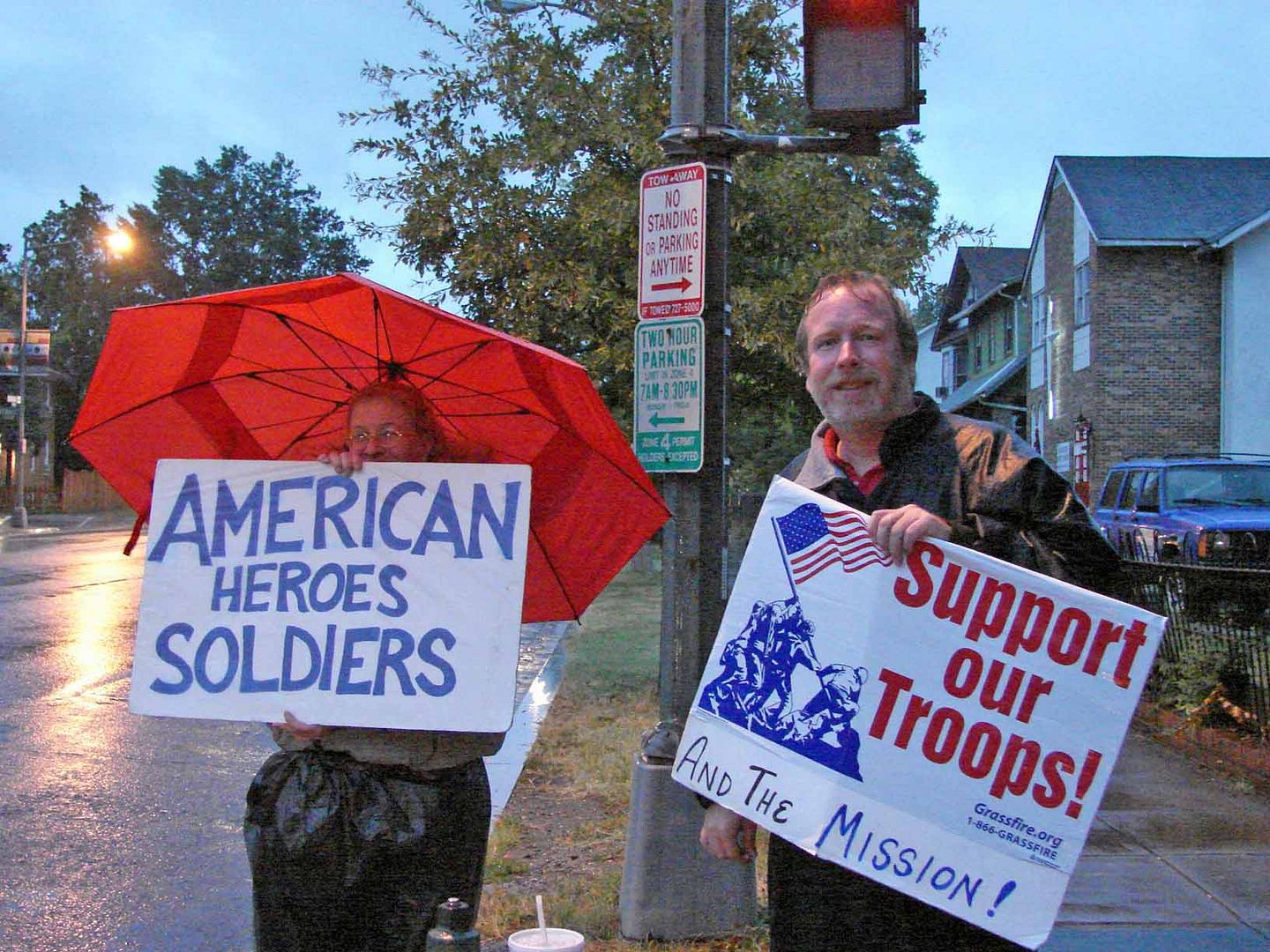 For all those FReepers at WR last night, a WR police officer stopped his vehicle, rolled down his window and thanking us for standing in the rain and supporting the troops. I thanked him back and said that this was the least we could do for the troops.
The bus doesn't take troops to dinner on holiday weekends. So we were able to break up early. Code Pink broke up at 9PM. But their group never surpassed ours as to numbers and time on the corner.
Report From Billf:
I drove to Frax' place & let him do the driving to and from WR.
We had 14 intrepid FReepers, but one left early and others arrived late, due to traffic delays. We had at least 10 throughout the total FReep.
Pinkos' numbers peaked at 9 America-hating traitors and their dupes, but had only 5 or 6 through most of the event.
The heavy rain from Ernesto (a tropical depression by the time it reached DC area) was driven in sheets by 23 to 25 mph wind (wind speed in WR area, according to http://www.weatherperhour.com).
I wore a full rain suit to try to keep out the rain, but rain blew in between my gloves and my rain coat, soaking my forearms and those parts of my shirt. Likewise, rain infiltrated in between my waterproof boots and my rain pants, soaking my lower legs and the lower part of my jeans under the rain pants. I used my sign to shield my face from the rain, which was coming practically horizontally at times.
The wind blew a piece (protective plastic sheet?) off a light post and into the street, blocking traffic. TFroatz quickly retrieved it, so that cars could start moving again.
A tree or large branch fell from within WR's fence across the sidewalk of Georgia Ave. WR police officer quickly drove by and inspected. Within about 20 minutes, a soldier in a rain suit was out using a chainsaw to remove the fallen wood.
We saw flashes of light that we thought might be lightning, but realized that they were flashes from transformers in the area sparking. Yet, the power stayed on at WR and the surrounding neighborhood.
In short, it wasn't a fit night out for man (FReepers & Lurkers) or beast (Code Pinkos). [NOTE: Writers comments in parenthesis.]
tgslTakoma wrote: "15 for us. Nine of them at first, but 4 high-tailed it out before their first hour was done. I think Allison and Large Marge were two of the early escapees."
[NOTE: "The official count of FReepers in the rain is 14, and I'm sticking to to that", by BufordX
AND OF COURSE, THE PINKOS WERE HERE.
(TOP) One of the pinkos. (BOTTOM)The pinkos huddling. They do the same thing in Olney. I wonder if it is a mental defect .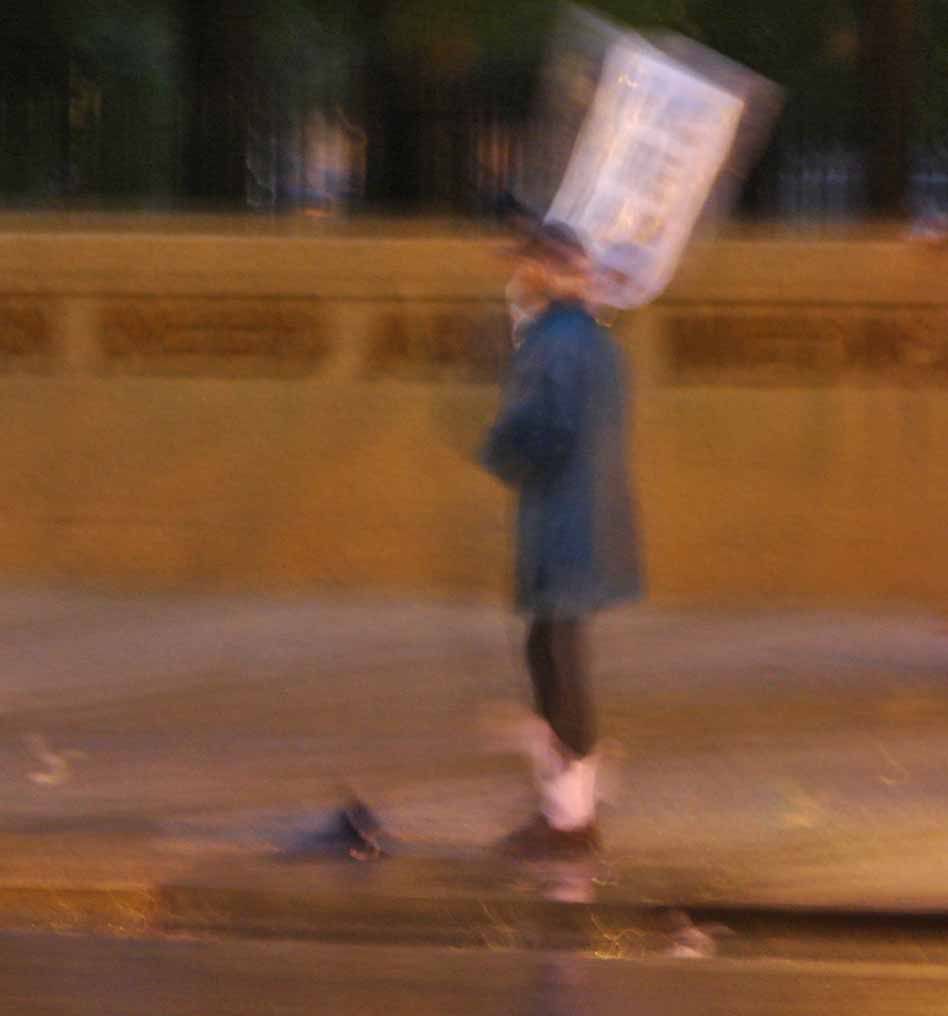 While the Burma Shave Signs were not put out tonight, we were able to use some of the liberal biased media's tricks (BELOW). The funniest part of the signs is that they signs are on the pinkos cars. The pinkos "beat" us to the parking spots tonight because we all parked on the northeast corner. So their "victory" is a hollow one. They wasted their time parking there on a rainy night when the signs wouldn't be put up. What morons!!
Let's help our wounded heroes maintain a positive attitude. We absolutely must keep the pressure on Code Pink and keep showing the wounded troops at Walter Reed that Code Pink doesn't speak for the nation. If you live in the DC area and haven't yet come out for one of these FReeps, please do so this next Friday. Injured Walter Reed patients, including amputees, have repeatedly told us how important it is for us to be there to counter Code Pink.
If we can sufficiently outnumber the leftists often enough, embarrassment may cause the leftists to stop these outrageous morale-damaging ("Maimed for a lie" was one of their commonly-used signs) demonstrations at the hospital. At the very least, we can hinder their psychological warfare operation against the wounded troops. What about you? Can you spare a few hours on a Friday night? Can you give up next Friday night at the movies to support troops who've given up limbs for your freedoms? Will you?
This FReep is rewarding(? But not when party pooper Ernesto shows up), fun(? But not when party pooper Ernesto shows up) and important (Most definitely, especially with Ernesto there) for our troops and our nation.
Thanks to BufordP for keeping up the Walter Reed ARCHIVES
Don't forget the Sept. 23 Support the Troops Rally with JimRob, Syncro and many other visiting FReepers.
Remember the rules of FReeping: No violence. No profanity. No racism. No provocations. Obey the law. Treat all law enforcement officers with respect.

---
TOPICS: Activism/Chapters; Free Republic; US: District of Columbia; US: Maryland; US: Virginia
KEYWORDS: burmashavesigns; codepink; dcchapter; moonbats; pinkos; supportourtroops; walterreed; woundedwarriors; wramc
---
Navigation: use the links below to view more comments.
first previous 1-20, 21-40, 41-60, 61-72 next last
---
---
---
---
---
---
---
---
---
---
---
---
---
---
---
---
---
---
---
---
---
Navigation: use the links below to view more comments.
first previous 1-20, 21-40, 41-60, 61-72 next last
---
---