---
WEEK 36 - Olney,MD, 9-02-06: Operation Infinite FReep, 2nd. RAPID TRANSFORMATION FORCE and FREEP
Sept. 05,2006 | Trooprally


Posted on 09/05/2006 3:19:31 AM PDT by trooprally

RAPID TRANSFORMATION FORCE REPORT No. 2:

Last week's opening line: "What a great week to be in Olney. Hot & humid, but the overcast kept the sun from baking us."

What a difference a week makes, and Ernesto!

The Rapid Transformation Force (RTF) was activated this Saturday. While seriously out numbered 3 FReepers to 8 moonbats, we were there. Wet and soggy for the second time in 24 hours. In addition to Ernesto, we rained on their parade once again. And once again they huddled before they left. I assume they'll have a different time for next week. That's fine with us. We need to keep them moving.

They had their "Abinormal" moonbats in attendance. No additional new ones. BELOW: Barking Waveman and Chief Grumpy were back after several weeks of no shows. MOBilizing Mothers (ALSO BELOW) was represented by their regular ONE. Way to mobilize. It was raining so Mr. Bull Horn stayed in the car.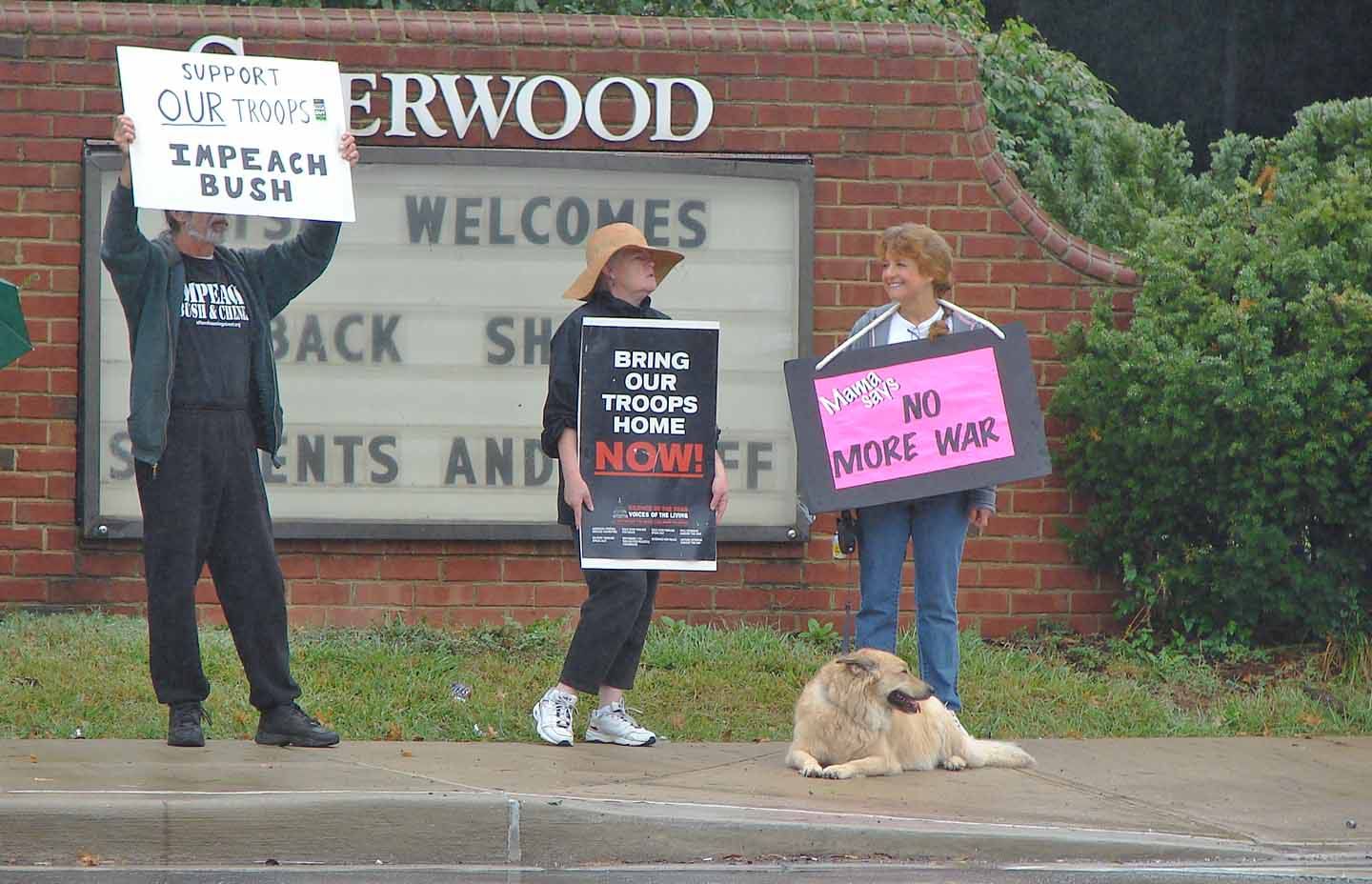 Peek-A-Boo and The Sitter (TOP) were there, along with the others (BOTTOM).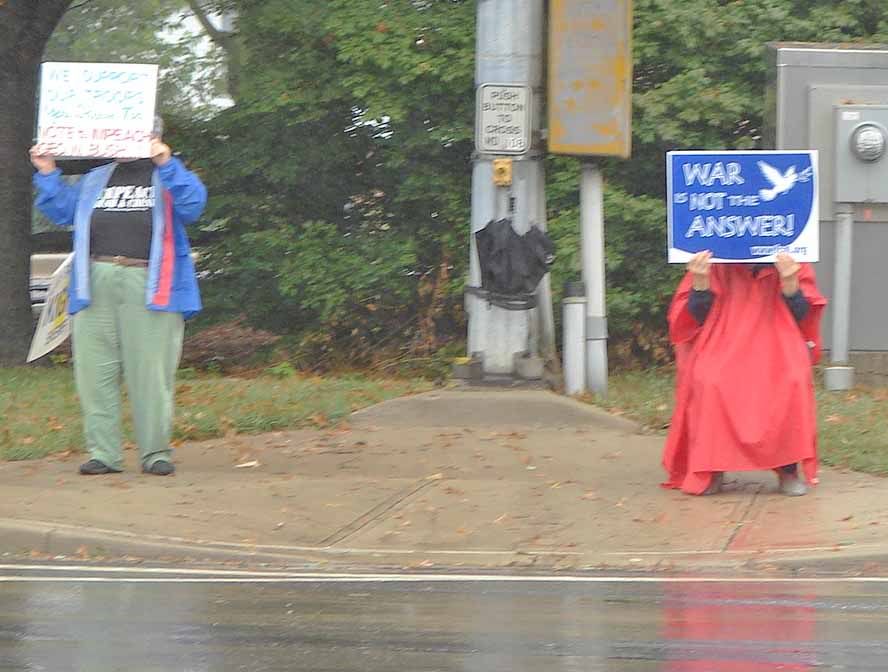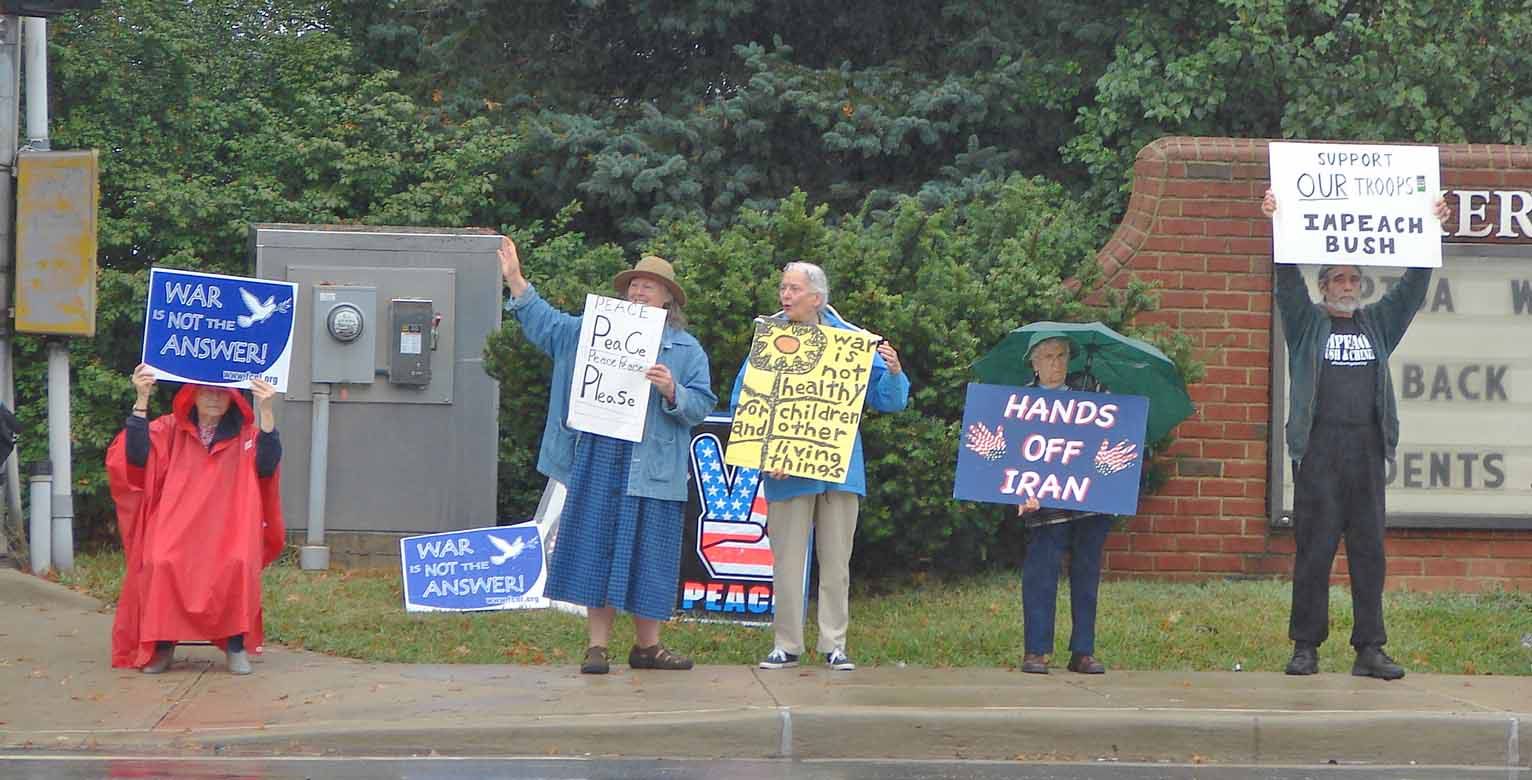 And of course we were there, Cindy_True_Supporter (CTS), [Mrs] Trooprally ([Mrs] T) and myself. Due to our small numbers CTS (BELOW LEFT) was doing triple duty. The wind was calm and there was just a heavy drizzle, so her task was a little easier. And I was also there (BELOW RIGHT).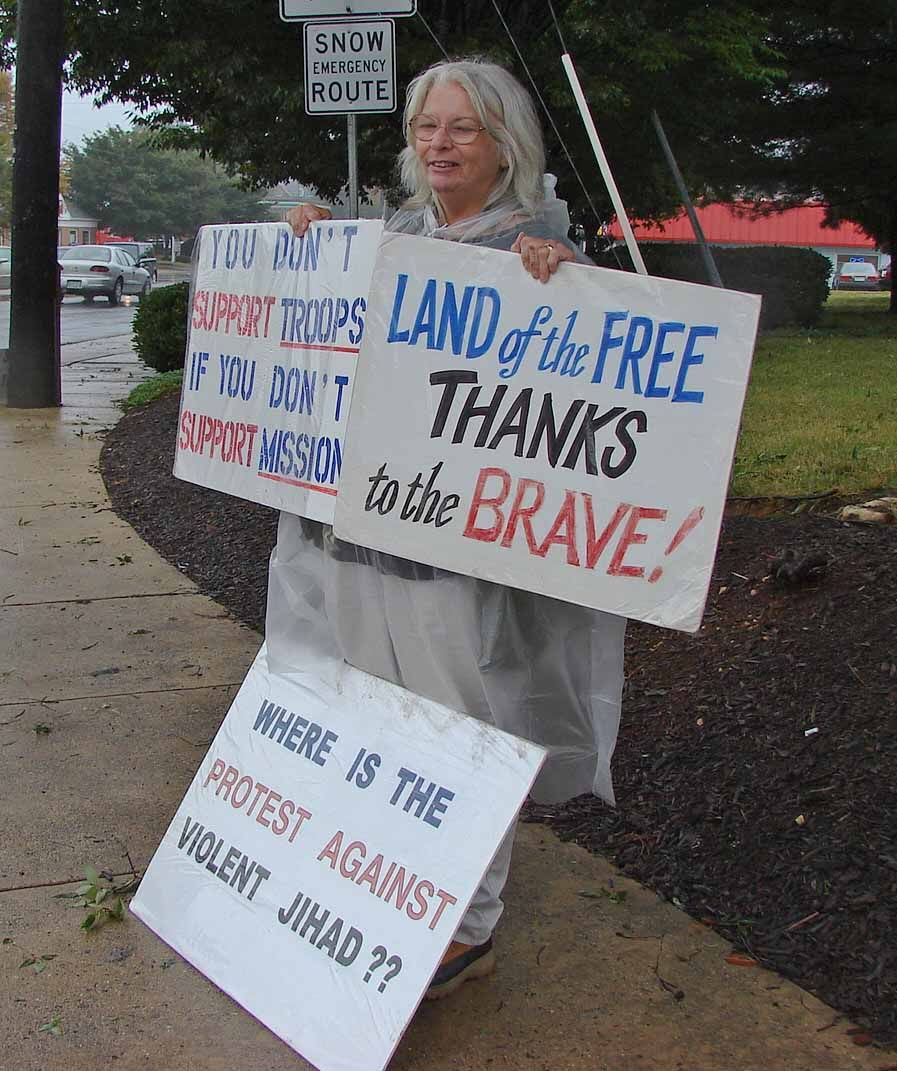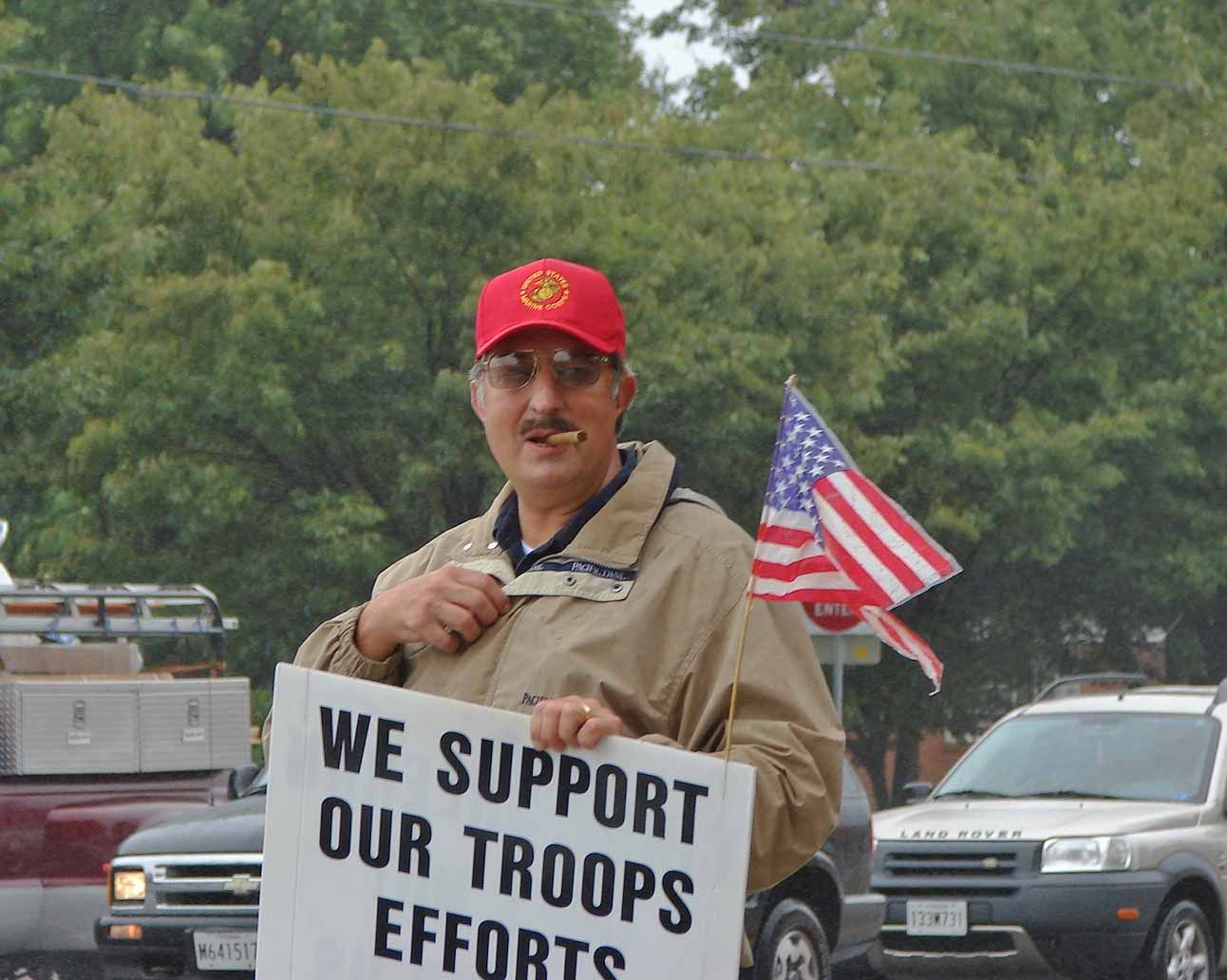 We had a family, who recently moved to the Olney area, stop by and give us some coffee. The husband was an Iraqi War vet. The wife and kids said they will be out next week at our regular 3PM FReep. The moonbats were watching all of this. This past winter the moonbats only had one person bring them something to drink. We had about 5 or 6, including one service member that gave us our blue "We Support Our Troops" banner.
After the moonbats left, we stayed for a while longer, than went home for lunch.


3PM FREEP REPORT:
It was soon for our regular 3PM FReep. The rain and wind had picked up since we were last out there. This was our third wet FReep in less than 24 hours. Lurker Bill was there once again, so we numbered four. Our numbers were thin, but we still occupied both corners. Because of the rain, we did not deploy all our banners. The blue banner is an all weather material so that one got put up. This is the one mentioned above that was given to us.
BELOW LEFT: CTS does double duty. BELOW RIGHT: [Mrs] T. We finally got a pic of her.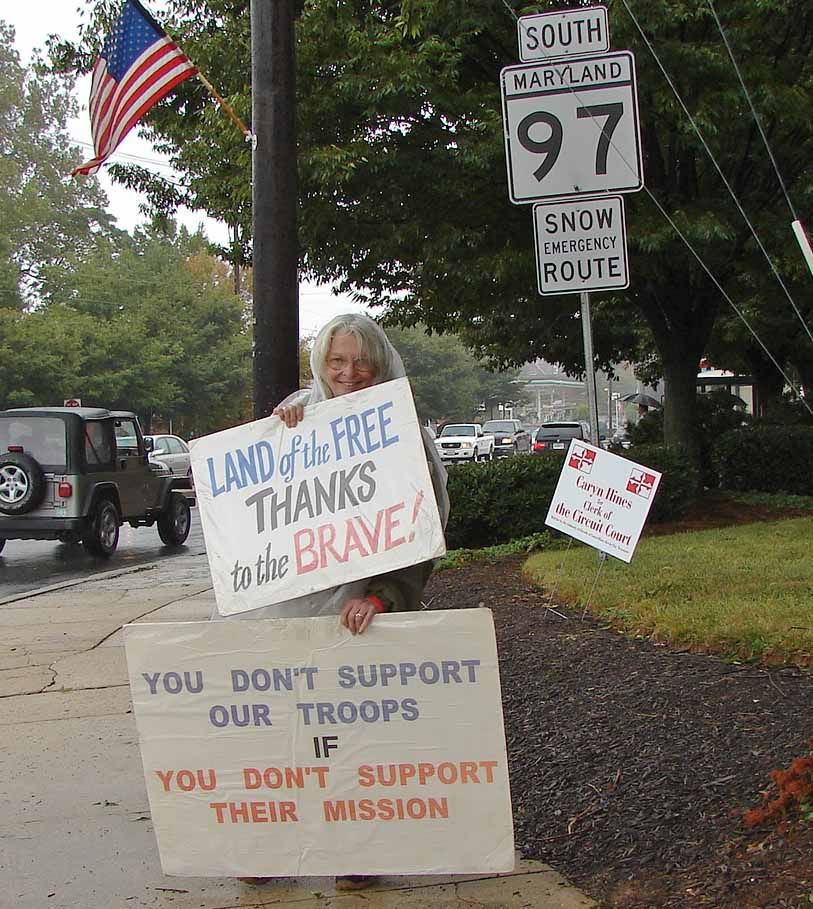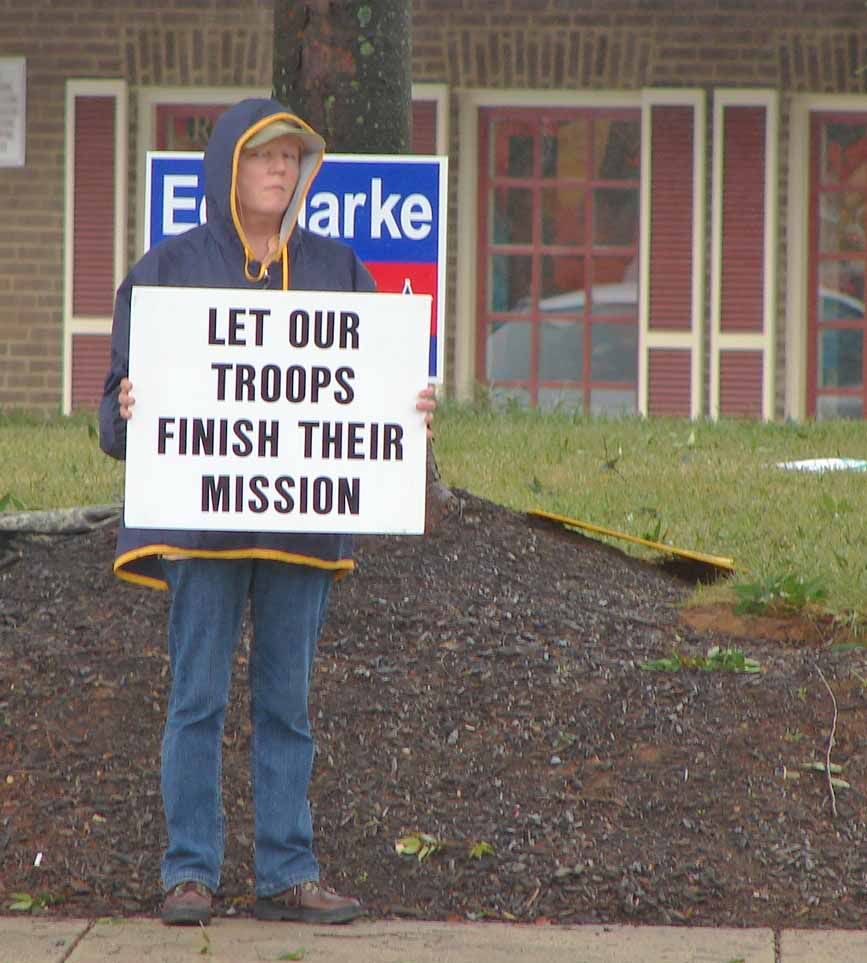 BELOW: CTS and [Mrs] T. on the southwest corner.

BELOW: Accident about 200 yards east on Rte. 108. With a major hospital in Olney, there were a lot of ambulances coming by.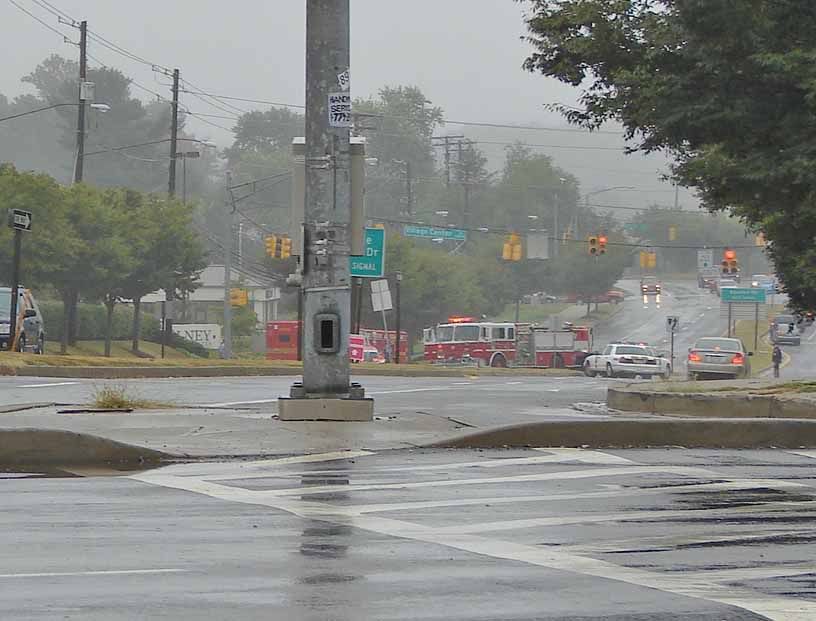 On the northeast corner, (BELOW LEFT) myself setting up while Lurker Bill is all ready FReeping. BELOW RIGHT: I'm finally FReeping.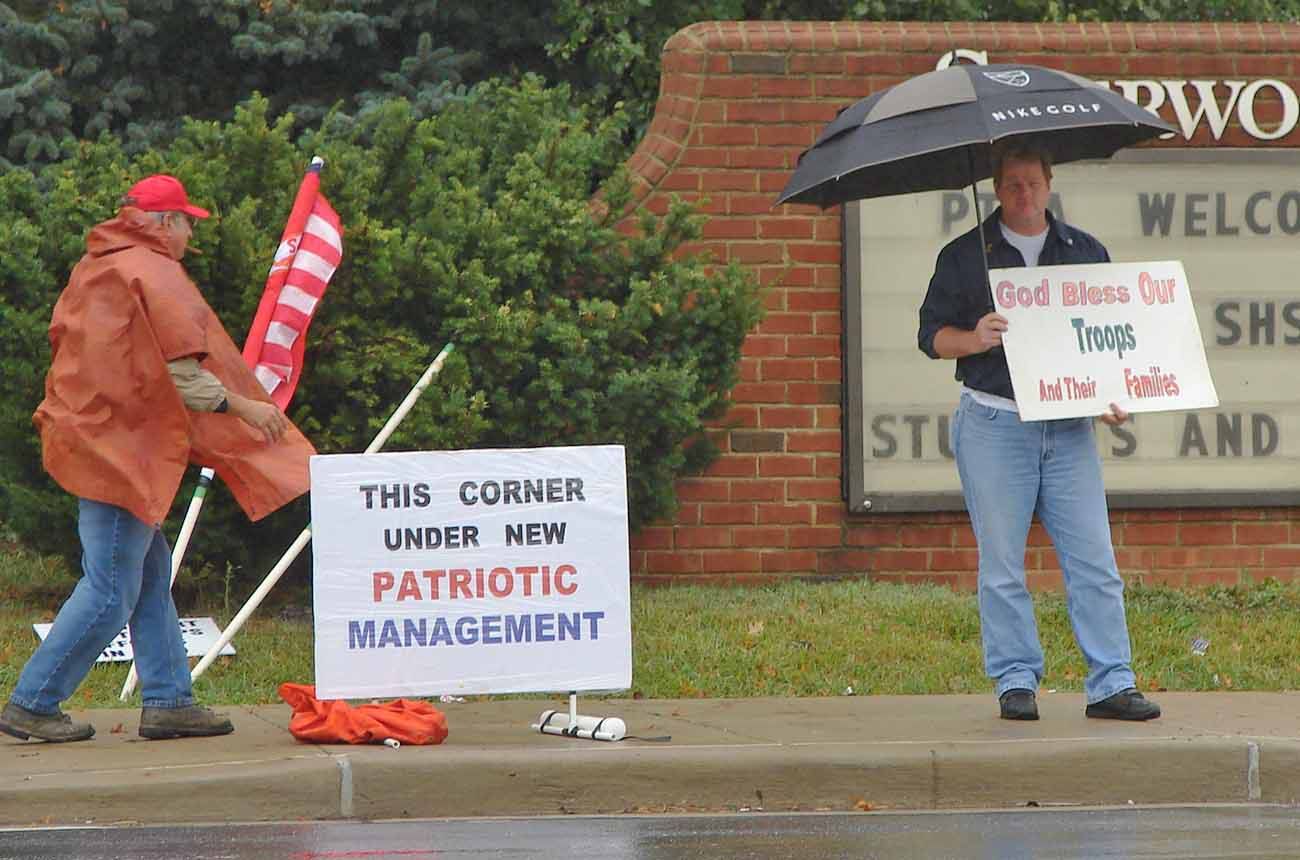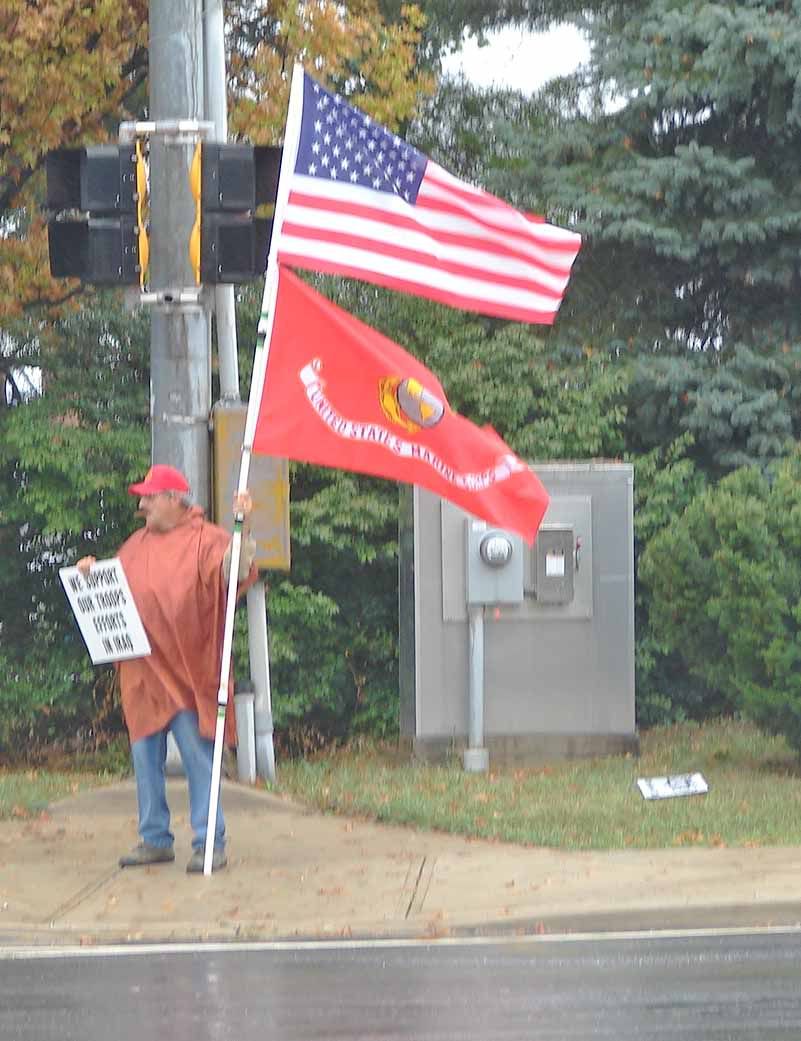 And once again, all the honks and waves were for us. This week is the fourth week we have occupied the moonbats corner.
Pics were mostly taken by [Mrs] T and some by myself.
We need to have a sub-group of 3Fers. The "Wet NoodleFers". CTS, [Mrs] T and myself FReeped three times in Ernesto. We've basically been wet for about the last 24 hours. Sunday was spent drying out flags, the banner and signs.
Olney, What a great place to FReep.



REMEMBER
Next Saturday, same place, Georgia Avenue, MD Rte. 97 and MD Rte. 108 in Olney
Same time, 3 PM to 4:30 PM


As always, the D.C. Chapter's rules for protesting will be in effect. Briefly, they are: No violence, no profanity, no racism, no provocations, obey the law and treat all law enforcement officers with respect.

---
TOPICS: Activism/Chapters; Free Republic; US: District of Columbia; US: Maryland; US: Virginia
KEYWORDS: aar; codepink; freep; grumpies; infinite; mobilizingmothers; moonbats; operationinfinite; peaceactionmc; peaceniks; quakers
---
Navigation: use the links below to view more comments.
first 1-20, 21-36 next last
---
---
---
---
---
---
---
---
---
---
---
---
---
---
---
---
---
---
---
---
---
Navigation: use the links below to view more comments.
first 1-20, 21-36 next last
---
---