---
To: jveritas; Chena; Valin; M. Thatcher; DocRock; Calpernia; Madame Dufarge; Txsleuth; Peach; ...
Oooo, jveritas - back on a roll!! I love it!! ;-)
2002 Document: Request for Precursor That Can Be Used To Make VX Nerve Gas (Translation)
Release/Translation of Classified PreWar Docs ping. If you want to be added or removed to the ping list, please Freepmail me.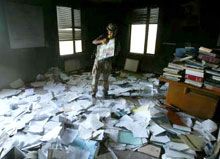 Please add the keyword prewardocs to any articles pertaining to this subject.
Operation Iraqi Freedom Documents
Documents from the Harmony Database
---
To: eyespysomething
Operation Iraqi Freedom Documents


Has the link you posted labelled as shown above been moved elsewhere? It seems not to be operable at the moment.
8
posted on
09/05/2006 12:02:55 PM PDT
by
MikeA
(Not voting out of anger in November is a vote for Nancy Pelosi as Speaker of the House)
---
To: eyespysomething
That'd be six tons of a precursor to make VX!? It'd sure be nice to know whose hands that's in right now, so we could properly dispose (incinerate) of the waste - both chemical & human of anyone involved in it.
Thanks for the ping, and thanks to jveritas for doing the world yet another huge favor!

54
posted on
09/05/2006 2:34:07 PM PDT
by
4woodenboats
(The GOP was created by those opposed to Southern Democrat Plantation Slavery...)
---
FreeRepublic.com is powered by software copyright 2000-2008 John Robinson