---
Iranian Alert - September 5, 2006 - Three must read letters on Khatami's visit to the US
Regime Change Iran ^ | 9.5.2006 | DoctorZin


Posted on 09/05/2006 5:04:43 PM PDT by DoctorZIn
Top News Story

Three must read letters on Khatami's visit to the US.

No unity on Iran among the Europeans.

The Islamic Republic increases its aggressive statements.

But the Iranian people are still pro-US.

Here are a few other news items you may have missed.
---
TOPICS: Foreign Affairs; News/Current Events
KEYWORDS: atomic; axisofevil; ayatollah; azadi; bluegenie; crushislam; democracy; dissidents; freedom; freeiran; humanrights; iaea; insurgency; iran; iranazadi; iranianalert; iraniannukes; iranianregime; irannukes; iranpolicy; iranstrikes; irgc; iri; islam; islamic; islamicrepublic; khamenei; khatami; khomeini; khomeinism; mullahs; muslims; nuclear; nukes; persecution; persia; persian; persians; politicalprisoners; proliferation; protest; protests; regime; regimechangeiran; revolutionaryguard; russia; shiite; studentmovement; studentprotest; tehran; terrorism; theocracy; vevak; waronmilitantislam; wot
"If you want on or off this Iran ping list, Freepmail

DoctorZin
---
To: Pan_Yans Wife; fat city; freedom44; Tamsey; Grampa Dave; PhiKapMom; Hinoki Cypress; ...
Join Us At Today's Iranian Alert Thread – The Most Underreported Story Of The Year!

"If you want on or off this Iran ping list, Freepmail

DoctorZin"
2
posted on
09/05/2006 5:09:24 PM PDT
by
DoctorZIn
(Until they are Free, "We shall all be Iranians!")
---
To: LibreOuMort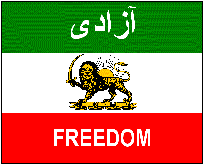 Ping
3
posted on
09/05/2006 5:15:55 PM PDT
by
sionnsar
(†trad-anglican.faithweb.com† | Iran Azadi | SONY: 5yst3m 0wn3d, N0t Y0urs | UN: Useless Nations)
---
FreeRepublic.com is powered by software copyright 2000-2008 John Robinson