---
9/11 Photo Retrospective With Fox News Timeline (5th year tribute)
Posted on 09/08/2006 3:06:27 PM PDT by april15Bendovr
Tuesday, September 11
8:45 a.m.: Jet airliner crashes into the north tower of the World Trade Center in New York.
9:03 a.m.: A second airliner crashes into its twin south tower, causing a devastating explosion.
9:10 a.m.: In Florida, President Bush is reading to children in a classroom when his chief of staff, Andrew Card, whispers news of the attacks into his ear.
New York Field Office
9:20 a.m.: The FBI investigates reports of planes being hijacked before the World Trade Center crashes.
9:29 a.m.: First reports of casualties indicate that at least six people were killed, with at least 1,000 injured.
9:30 a.m.: Bush declares: "We have had a national tragedy. Two airplanes have crashed into the World Trade Center in an apparent terrorist attack on our country."
9:43 a.m.: Another plane crashes into the Pentagon in Washington. The nerve center of the U.S. military bursts into flames and a portion of one side of the five-sided structure collapses.
9:48 a.m.: The White House and the Capitol are evacuated amid further threats.
9:49 a.m.: All airports across the U.S. shut down.
10:00 a.m.: United Airlines Flight 93, en route from Newark, N.J., to San Francisco, crashes near Pittsburgh. The crash site is 85 miles northwest of Camp David.
10:05 a.m.: The south tower of the World Trade Center collapses.
10:29 a.m.: The north tower of the World Trade Center collapses.
The Passengers on Flight 93 who confronted the hijackers on 9/11/2001.
12:33 p.m.: United Airlines confirms a second of its planes has crashed at an location.
12:39 p.m.: Bush makes a second statement, vowing to hunt down and punish those responsible.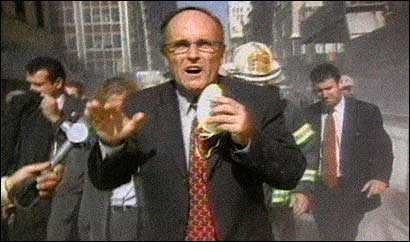 2:48 p.m.: New York Mayor Rudy Giuliani says the eventual death toll from Tuesday's attack may be "more than any of us can bear."
2:51 p.m.: The Navy dispatches missile destroyers and other equipment to New York and Washington.
4:25 p.m.: The American Stock Exchange, the Nasdaq and the New York Stock Exchange say they will remain closed on Wednesday.
4:30 p.m.: Bush leaves Offutt Air Force Base aboard Air Force One to return to Washington, where he will make a nationally televised address.
5:25 p.m.: World Trade Center 7 collapses.
NYPD cops Richie Hartigan and Rich Miller raised the first flag at Ground Zero just 24 hours after the planes hit the towers. (Photo credit: Det. Bill McNulty, NYPD)
8:30 p.m.: Bush addresses the nation. "These acts of mass murder were intended to frighten our nation into chaos and retreat," he said. "But they have failed; our country is strong."
8:35 p.m.: Bush attends national security meeting.
10:21 p.m.: Meeting ends.
Rescue crews work through the night attempting to find any survivors.
"I can hear you. The rest of the world hears you, and the people who knocked these buildings down will hear all of us soon."
Sergeant Michael Curtin found March 6, 2002
During the rescue and recovery efforts in Oklahoma, Curtin was walking past an area that had been checked previously for casualties. Out of the corner of his eye, he caught a glimpse of some blue material with a red strip on it. He knew exactly what it was, the dress blue trouser leg of a Marine. He had discovered the remains of Capt. Randy Guzman, an officer in charge of the recruiting office at the Oklahoma City Federal Building.
Because the dangerous location, Curtin and a few others had to request special permission to endanger themselves to recover Guzman's remains. They were granted a four-hour window and were able to recover the body. The part of the whole recovery that caught the Nation's attention was how Guzman was carried out. A U.S. flag was draped over his body and it was ceremoniously saluted as they took it from the site.
When asked why he risked his own life to recover the remains of another Marine he simply replied, Marines don't leave their own behind.
Book of proverbs 10:25 As the whirlwind passeth, so is the wicked no more: but the righteous is an everlasting foundation.
"Men who have offered their lives for their country know that patriotism is not the fear of something, it is the love of something." Adlai Stevenson
God Bless our troops
View of Pentagon fire from Arlington 9/11/01
Freedom Isn't Free

---
TOPICS: News/Current Events
KEYWORDS: fifthanniversary; tribute
---
Navigation: use the links below to view more comments.
first 1-20, 21-33 next last
---
---
---
---
---
---
---
---
---
---
---
---
---
---
---
---
---
---
---
---
---
Navigation: use the links below to view more comments.
first 1-20, 21-33 next last
---
---