---
AIRBORNE OFFICER: "WHEN WE'RE IN IRAQ, WE KNOW YOU'RE HERE." Walter Reed FReep # 73, Sept. 8 '06
DC Chapter | September 14, 2006 | Albion Wilde


Posted on 09/14/2006 3:44:55 PM PDT by Albion Wilde

Photos by Plea Deal and [Mrs] Trooprally

WASHINGTON, DC, 9/08/06-- Two officers in full camo uniforms waved enthusiastically as their vehicle exited Walter Reed Army Medical Center to be greeted by our troop-support rally spread over the four corners of the gates. We had arrived and had set up our displays while they were inside the hospital visiting wounded members of their unit. Seeing the DC Chapter's huge banners and dozens of U.S. flags, they wheeled their vehicle back around and stopped at the northwest corner to talk with the young people who were gathered there to hold signs, wave flags and greet the soldiers coming and going -- as were the rest of us FReepers on the other three corners of Georgia Avenue and Elder Streets NW.

The two men were clearly delighted at seeing this unambiguous show of support not just for the troops, but for their mission. "Wow! We're just back for ten days and we came to visit some of our men in the hospital," one of them related. "Seeing this is just fantastic -- thank you!" he exclaimed, to which we returned a volley of "No, thank you! We thank you!

"When we're in Iraq, it's so great to know you're here," he continued.

"How do you know we're here?" I asked.

"The Internet -- we knew there were people like you out here while we were in Iraq," he smiled, "and we appreciate it! How about some photos?" They lined up the group of young people and snapped several shots before jumping back into the vehicle with broad grins and waves, and more shouts of "Thank you for your service!" from FReepers.
A Command Sergeant Major from the famed 101st Airborne Division, nicknamed both "the Screaming Eagles" and "the balls of the Eagle" for its fierceness in combat, returns to his vehicle after jumping out to take photos. FReeper TFroatz (left, with flag) and several Young Americans for Freedom cheer the troops at Free Republic's weekly rally at the gates of Walter Reed.
[Mr] Trooprally writes:
"We arrived a little before 6:30PM and some young people [whom we had not seen before] were already on the northwest corner holding signs. Most of them were from Young Americans for Freedom. Two soldiers from the 101st Airborne came out of WR, cheering everyone on, beeping their horn. They didn't get far before turning around because the next thing I saw was their truck stopping at the northwest corner. They jumped out and thanked the group on that corner. They even got pictures of themselves with us, as if we were the important people there. When they left, the group of young people was all smiles. On their first night at WR, they had experienced something that FReepers drool to have happen to them. It doesn't get any better than what they just experienced!"
Several new young people attended this week's Walter Reed FReep: (left to right): Tyler, FReeper Citizen SMASH (back to camera, who has been here before), Eva, Brittany and Cordelia.
The two officers were a Captain and a Command Sergeant Major of the U.S. Army's 101st Airborne Division, known for its involvement in such notable operations as the Battle of the Bulge and D-Day in WWII to guarding the children who were first to racially integrate Little Rock schools under President Eisenhower and the Battle of Hamburger Hill (Vietnam) in the 60s, to the Persian Gulf War, humanitarian efforts in Rwanda and Somalia and peacekeeping missions in Haiti and Bosnia in the 90s. The 101st was deployed to Operation Iraqi Freedom for a year-long tour in 2003 and again in 2005. The 101st is now rotating back to the States at the end of its latest tour.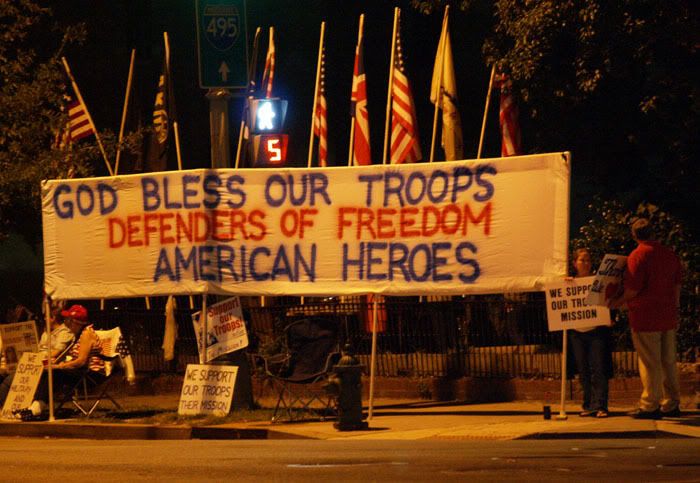 The MOAB (Mother of All Banners) on the northeast corner, facing the gates. It's often the first thing soldiers see when exiting the base on a Friday night.
Participants in our Love-the-Troops-AND-the-Mission Rally this week numbered 30, including FReepers BufordP, Cindy-True-Supporter, Citizen Smash, Danang68, Fraxinus, Freeping_In_Silence, I Love W, Jimmy Valentine's Brother, Just A Nobody, KC8NSB, Kristinn, Trooprally (Mr. & Mrs), Sensei Ern, Taco Mamma, TFroatz, 3D-Joy, tgslTakoma, Tom the Redhunter, Trueblackman and yours truly, Albion Wilde. Lurkers and members of other groups included the always-faithful Bill from Maryland, Brittany from DC, Protest Warrior's Craig, as well as Eva from Fairfax, Leta from Tennessee, Tyler Whitney, and several from the DC Chapter of Young Americans for Freedom: Cordelia, Erin, John and Ryan. The Code Pink Hate-America "vigil" scared up around 10 or 11 moonbats, at most.

The moonbattery.
Progress Through Peace Foundation leader travels from Tennessee to FReep with us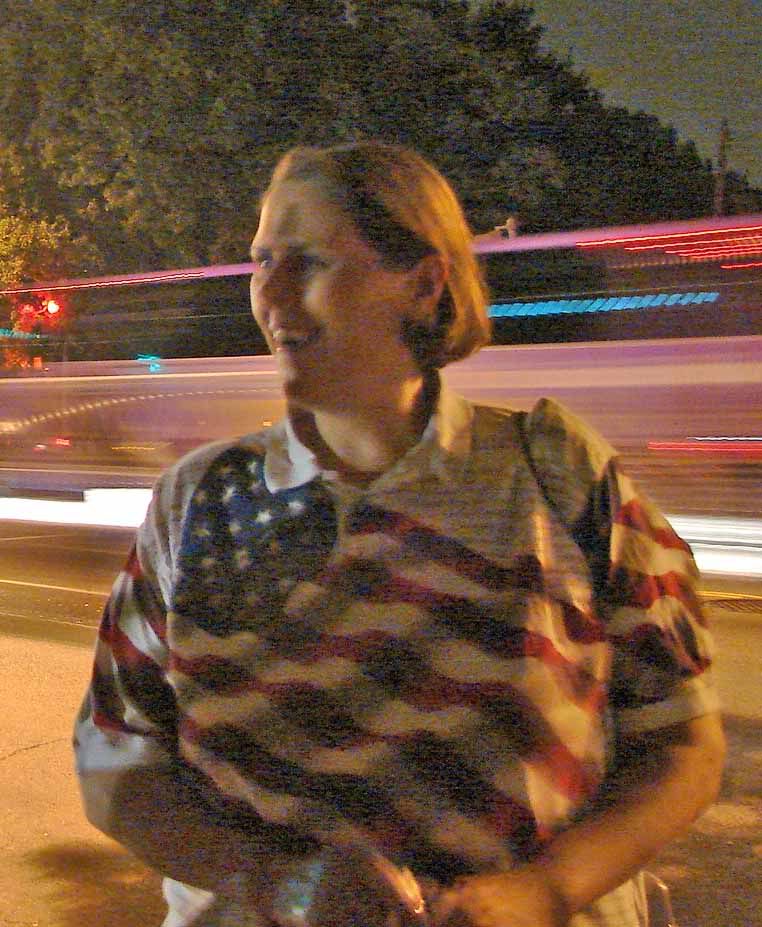 Leta Carruth has been supporting soldiers personally for three years, since the beginning of the Iraq war. "Now there are over 150 soldiers are in my family," Leta said, referring to the Progress Through Peace Foundation (PTP) that she created a year ago.
FReeper Plea Deal writes:
"Leta Carruth is the Executive Director of the non-profit Progress Through Peace, Inc., which is working to bring Kosovo out of the dark ages left by years of war and neglect by the international community. Over the last year and a half she's made 4 trips to Kosovo, where she has already worked a few miracles, and has much more in the works. Of course, I want to plug the PTP web site. Maybe FReepers would like to make a few donations. Right now I think most of the costs are coming out of her own pocket."
Leta met Plea Deal through a online connection arising from the Gunn Nutt blog. After keeping in touch for the past year, Leta determined to fly in and stand with us at Walter Reed, where she and Plea Deal were able to meet face-to-face for the first time.
The PTP Foundation has sponsored playgrounds, kindergarten furniture, roads and sewer projects as well as its primary focus -- educational seminars in democracy and ethnic healing bringing together Albanians and Serbians. Below, I have condensed part of a letter from Leta on her Progress Through Peace Foundation web site:
...PTP, Inc. is a non-profit, non-governmental, non-religious organization...supporting Civil Affairs Soldiers deployed throughout the world....PTP, Inc. is currently working to partner cities in Kosovo with Sister Cities here in America through the International Sister City Organization. We are working to assist young adults in Kosovo to be able to attend colleges and universities in America so they can go back home and make a solid contribution to their society. We are putting together certification classes to teach...a basic understanding of...democracy, transparency in government, rule of law, civil society, economics...what freedom is, what the duties and responsibilities are of a citizen in a free society and how to be "free". We were all born in to those concepts. The people of Kosovo are learning. They have only been "free" for about 6 years.... I encourage you to visit our site often to see what we have accomplished and what we are working on.


In addition to Leta and the two 101st Airborne officers, our rally was visited by a marine and two Walter Reed patients. These three troops spent time individually talking with our participants as well as those of the Code Pink anti-war contingent to listen to both points of view.
Week after week, the Pinko's churlish behavior towards the troops that venture down the street to speak to them is astonishing, given their claims that they "support" the troops. Bird-flipping, back-turning, you name it: their hypocrisy shows through every time. This week, the two Army patients, Mason and PD, attempted to dialog with the anti-war vigileers.
Walter Reed patients and enlisted men PD and Mason attempt to talk to Code Pink vigil participant "Princess" (center, in the camo skirt).
"We told them that most of the violence over there is between themselves," Mason commented. "We are the ones who have actually been there and seen what it's like. We have seen entire families and children shot by their own people [insurgents]. But they [the anti-war Pinkos] just kept saying the war was about oil and Halliburton. They don't want to know about anything else. I asked them if the people over there don't deserve peace and freedom like we have. That's when he ordered us to leave."
Plea Deal writes:
"This is at least the second time PD has tried to talk to the Pinkos. Mason is a very bright tanker who seemed quite amused listening to Princess and Bruce. Bruce decided that the pair were FReepers and wanted them to leave the Pinko's area. He told them that they were in a permitted area and that the young men had to go back up the street and join the rest of us. I think he needs new glasses... "
Pinko Comrade Bruce Wolf orders two soldiers who were wounded in Iraq to leave the Code Pink area. Click here to read a write-up this incident posted earlier this week by FReeper Citizen SMASH.
The Marine also was perplexed by the Pinko's responses. "I looked them straight in the eye and asked them whether the really do support the troops, since they oppose the war," he said. "The guy I was talking to looked me straight in the eye and claimed that he does. That's when you know they're lying. You get a sense," he continued, "from being in life-or-death situations, who is lying to you. There's no hope for a guy if he can look you right in the eye and lie to you." The Marine's battle-honed deception detection method is affirmed by research: Dr Richard Wiseman, a British deception researcher at the University of Hertfordshire, told the BBC, "People are really dreadful at detecting when someone is lying. They think that liars avoid eye contact and fidget a lot. In fact, liars maintain more eye contact and they don't fidget." According to a BBC article about Wiseman's research, "liars do this to present a truthful demeanour."
As usual, the point to our exercise is to celebrate the troops, their heroism and their families. FReepers and lurkers in good standing are welcome to join us every Friday evening from 6:30 to 9:30 pm at Georgia Avenue and Elder Streets NW. We order pizza and have a water jug available, and often, other snacks. There is parking on residential streets to the east side of Georgia Avenue, and also in the small church parking lot on the northeast corner.
Come stand with us this Friday or any Friday, and do something positive about the biased media and loudmouthed lefties: Cheer and wave to our brave troops.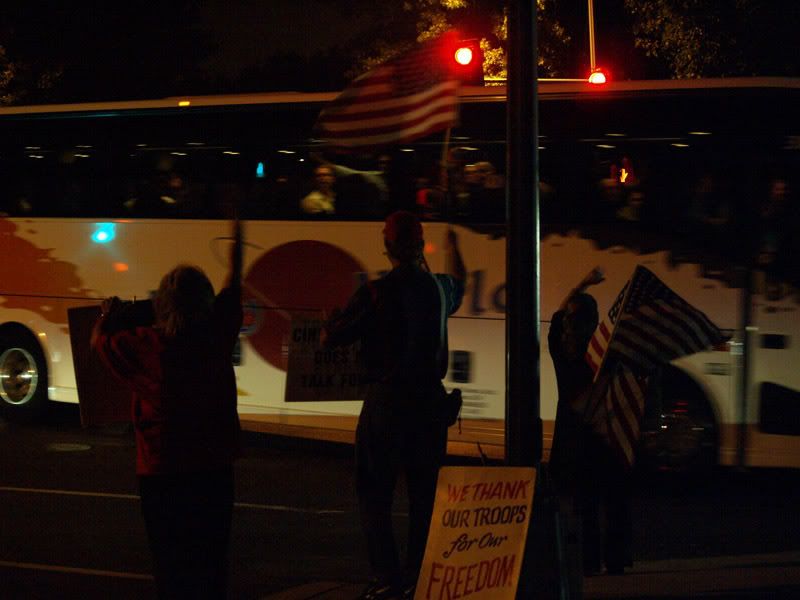 Troops and their family members returning to the base from dinner on the town are cheered by the DC Chapter of Free Republic, and friends, every Friday evening at the main gates of the Walter Reed Army Medical Center.
Links:
[Mrs] Trooprally's rooprally's entire photo collection.
Plea Deal's entire photo collection.
Archive of all Walter Reed After-Action Reports since March, 2005, maintained by BufordP.
* * *
---
TOPICS: Activism/Chapters
KEYWORDS: 101stairborne; airborne; ballsoftheeagle; codepink; dcchapter; screamingeagles; walterreed
---
Navigation: use the links below to view more comments.
first 1-20, 21-40, 41-60, 61-80 ... 101-105 next last
---
---
---
---
---
---
---
---
---
---
---
---
---
---
---
---
---
---
---
---
---
Navigation: use the links below to view more comments.
first 1-20, 21-40, 41-60, 61-80 ... 101-105 next last
---
---