---
Moonbat Maroons: ZERO - FReepers: VICTORY!! WEEK 40 - Olney,MD,9-30-06: Operation Infinite FReep
October 03,2006 | Trooprally


Posted on 10/03/2006 7:29:56 AM PDT by trooprally

After unexpected rain for this morning's Rapid Transformation Force (RTF) FReep, this afternoon was sunny and warm. The flags, banners and signs got a chance to dry out while we were FReeping.

FReeper roll call included Cindy_True_Supporter (CTS), GunsareOK, [Mrs] Trooprally ([Mrs] T), Lurker Bill and once again his daughter, and myself. [Mrs] T took the pictures so there are no pics of her today.

Moonbat Maroons: ZERO - FReepers: VICTORY!!

After weeks of the moonbats changing their protest time, and the last 3 weeks of the moonbats holding their anti-American protests at 10:30AM, we have declared VICTORY in our regular 3PM FReep. We are mothballing the RTF until needed and moving our regular FReep to 10:30AM. This way we can have time to set up our banners and flags. Mr. Bull Horn will still be with us.

All you FReepers who have helped with the RTF and 3PM FReeps, we deeply appreciate your time and efforts. We would not have been successful without your help.

BELOW TOP: CTS and Lurker Bill setting up while I show L. Bill's daughter where to stand. BELOW BOTTOM: Lurker Bill's daughter holding down her dad's place while he sets up. She was shy that morning during the RTF FReep, but not now. She was so thrilled by all the honks she received that she wants to come back. We also had a police car whoop his siren and three bus drivers wave to us.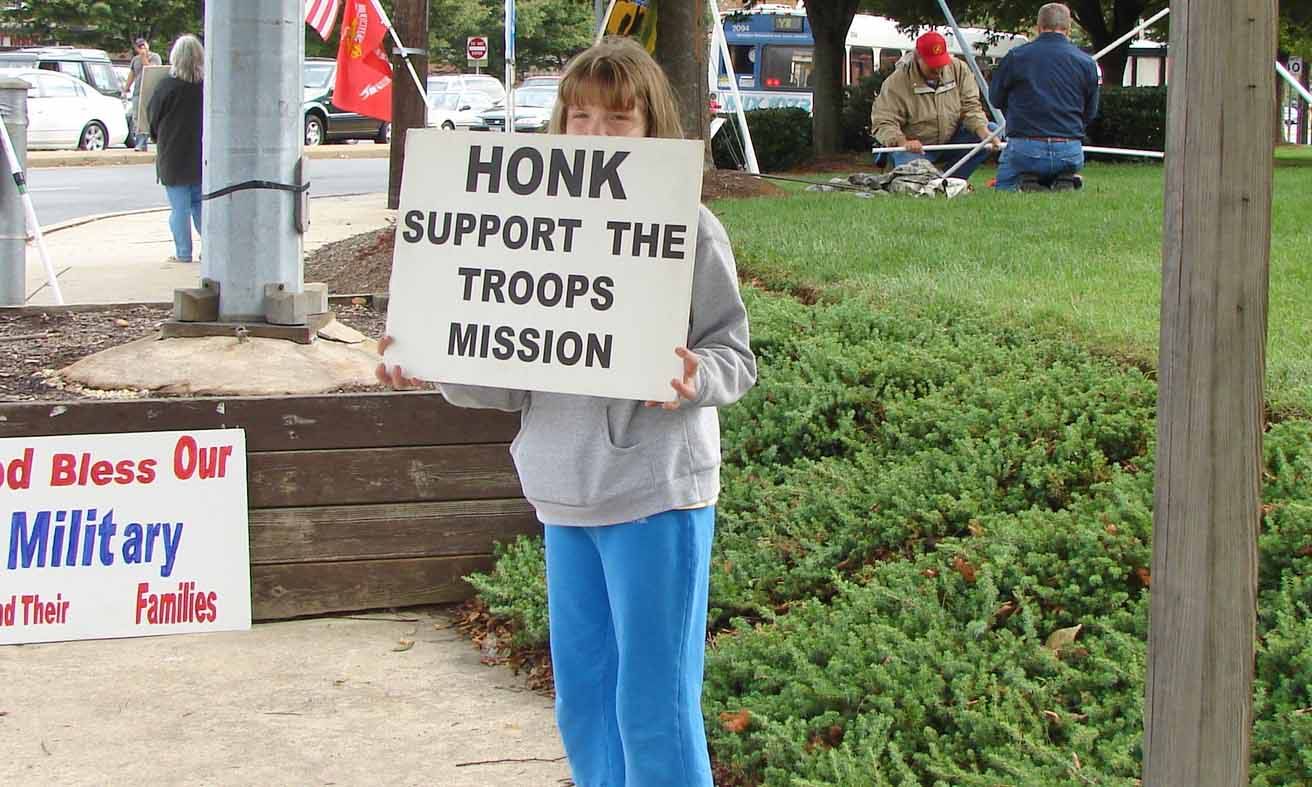 BELOW TOP: I'm putting up one of two flags we fly every week. The moonbats seldom have a flag, and when they do, it is a real small one. BELOW BOTTOM: Lurker Bill setting up banner.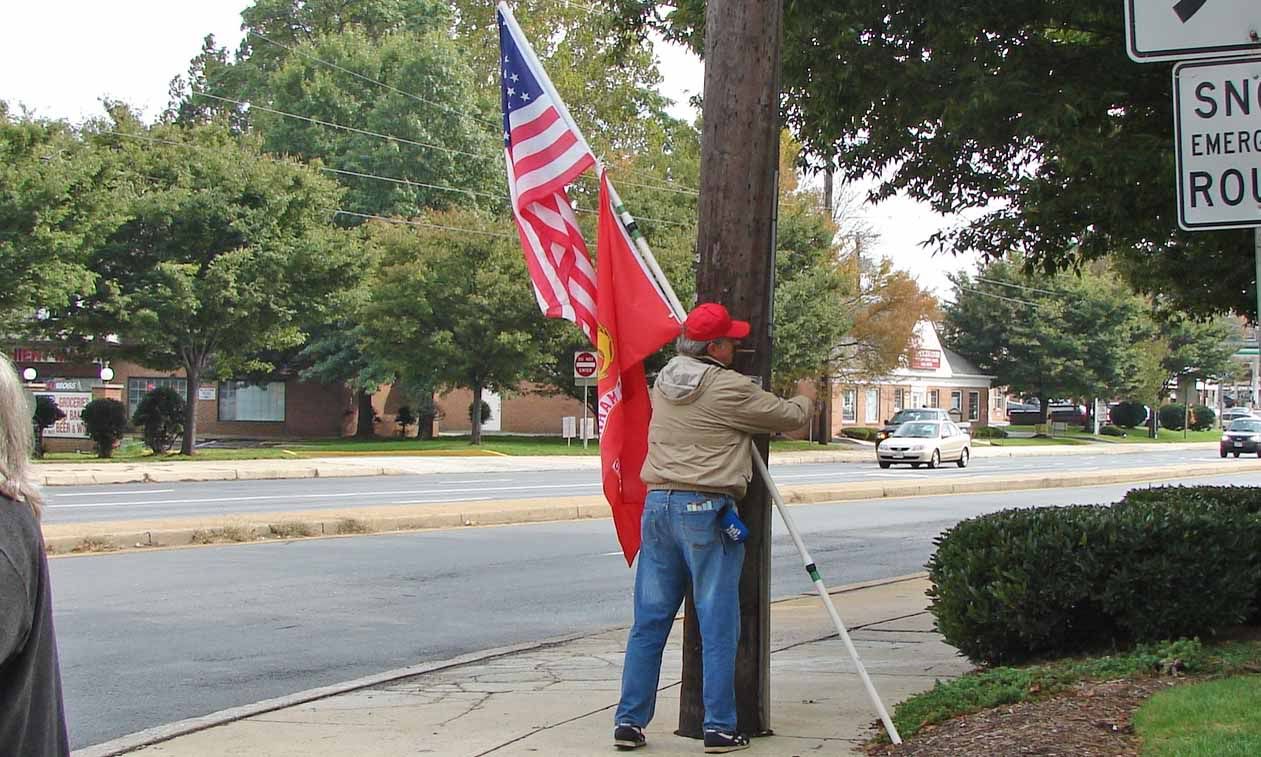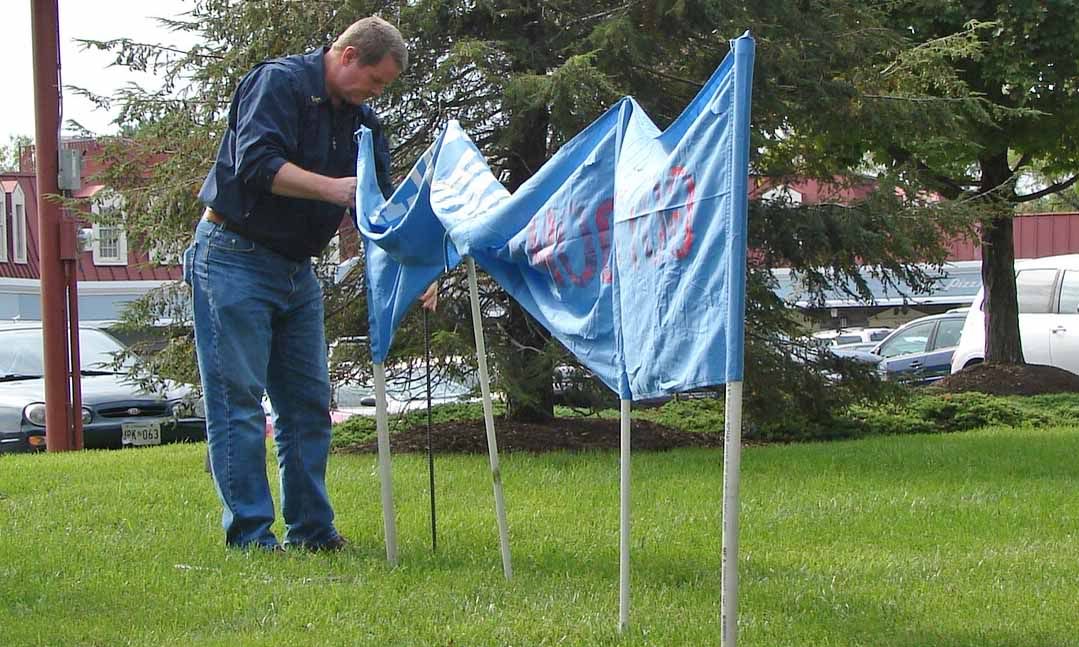 BELOW TOP: Myself, CTS and GunsareOK. BELOW BOTTOM: Lurker Bill joins his daughter after setting up. I'm not sure whether she is daddy's girl or she has him wrapped around her finger. Knowing L. Bill, I'm sure it is both.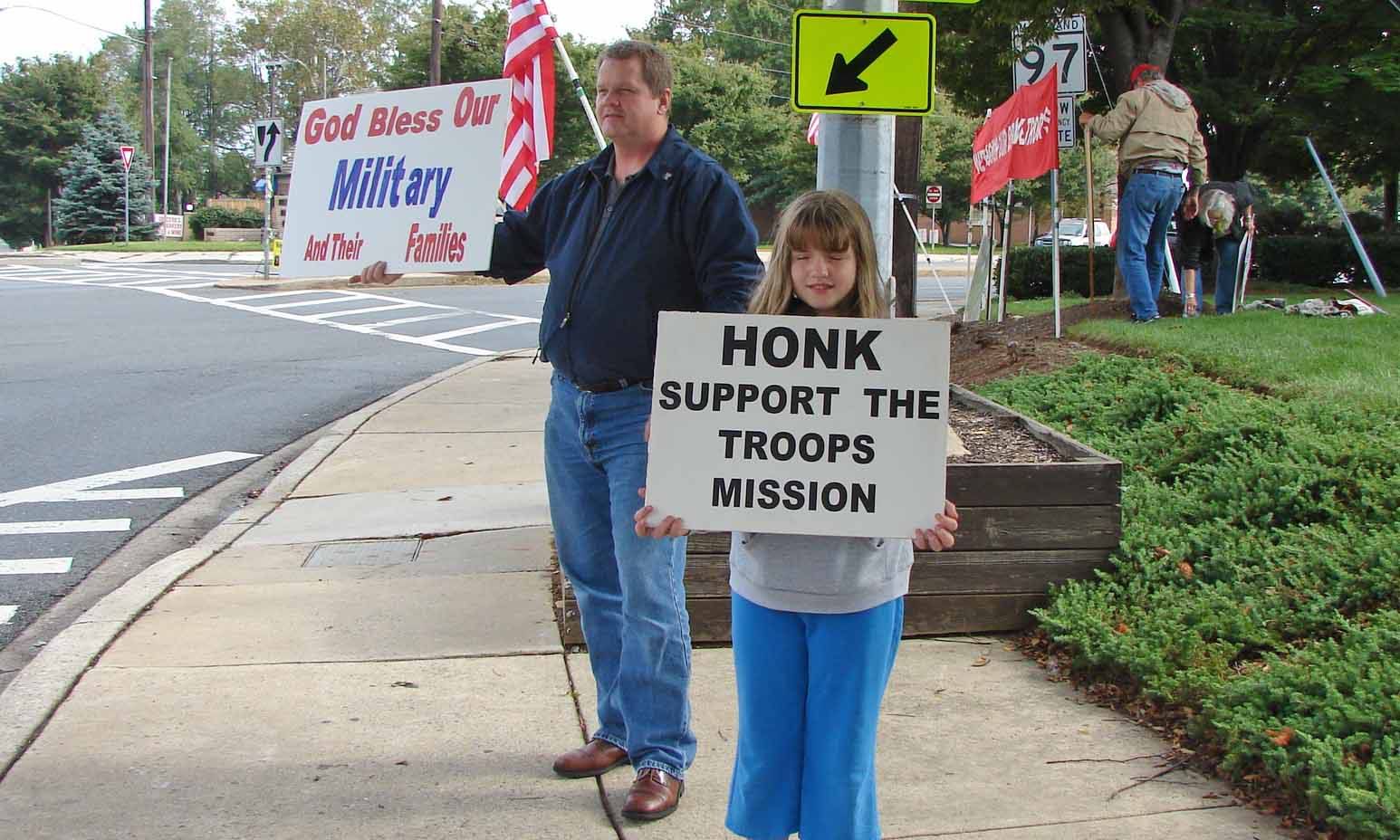 This next part is for you, BUFORDP!!!
You really got me in trouble this week. BELOW: Here I am holding one of three "flip" signs designed and made by THE BUFORD. For those reading about the "flip" signs for the first time, the 'ROOT FOR' section flips and says 'QUAKERS ROOT FOR' under neath. Since the Quakers were not around, I used the Liberal flip side.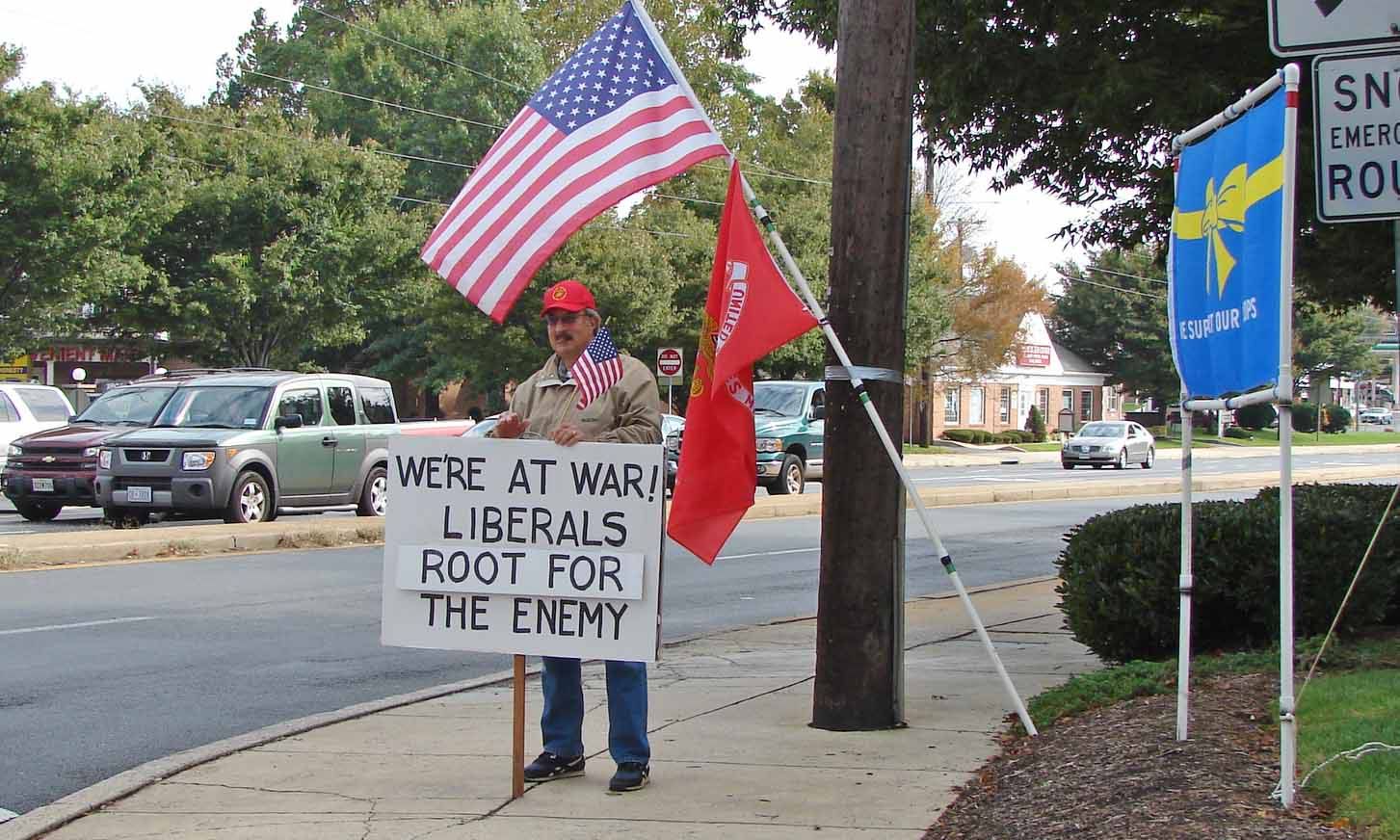 While the rest of the corner received honks, waves and an occasional thumbs down, I received harsher treatment. Two drivers, with the biggest smiles on their face, gave me and CTS a big one finger salute. Another driver who was stopped at the light, gave me the one finger salute. This time I was able to yell "Is that your IQ?" He almost burst out laughing and pointed his index finger at me in recognition that I got him. As he drove passed, he was smiling and slightly shaking his head. I love it!
One other guy almost crawled out of his window. I assume he was a liberal because I heard "Are you calling me a traitor?"
My answer, "YES".
He kept yelling things at me while being partially out his window but I couldn't hear him any more as the cars between us started moving. I just kept pointing at BufordP's sign while looking at him.
And this guy, [BELOW] we're not sure of. He was standing on the median strip and handing out small leaflets to cars stopped at the light (real moonbats would have tried to hand them to moving cars). He then collected them before the cars drove away. He looked at us with disdain but never said any thing.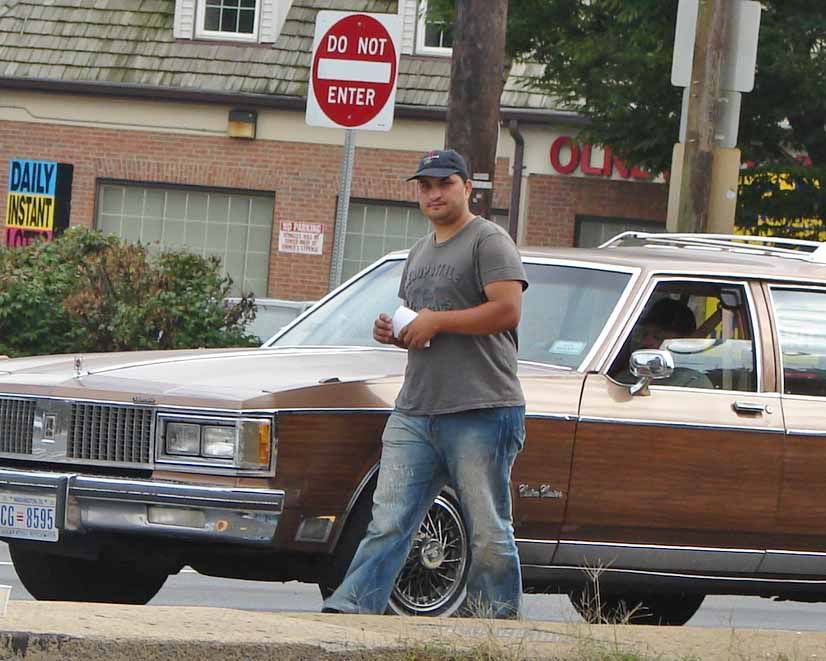 Olney - What a great place to FReep


REMEMBER
Next Saturday, same place, Georgia Avenue, MD Rte. 97 and MD Rte. 108 in Olney
NEW TIME - 10:15 AM to 11:45 AM


As always, the D.C. Chapter's rules for protesting will be in effect. Briefly, they are: No violence, no profanity, no racism, no provocations, obey the law and treat all law enforcement officers with respect.

---
TOPICS: Activism/Chapters; Free Republic; US: District of Columbia; US: Maryland; US: Virginia
KEYWORDS: codepink; freep; grumpies; infinite; mobilizingmothers; moonbats; operationinfinite; peaceactionmc; peaceniks; quakers
---
---
---
---
---
---
---
---
---
---
---
---
---
---
---
---
---
---
---
---