---
FReepers see Moonbat's "Christmas Past": Week 47 - Olney,MD, 11-18-06: Operation Infinite FReep
Novmeber 21,2006 | Trooprally


Posted on 11/21/2006 11:01:24 AM PST by trooprally

This had to be the wildest, craziest, wettest and most fun Olney FReep yet.

Let me think, Moonbats wishing they were in "Christmas Past", BMWcyle having WATER THROWN ON HIM and being FLIPPED OFF, DUELING BULL HORNS and FReepers UPSETTING THE MOONBATS, and some IDIOT ARGUING that "FREEDOM IS ABSTRACT". Oh yea, and the POLICE WERE CALLED. That covers the bigger high lights.

To begin somewhere and get the mandatory 'paper work' done, the moonbats out numbered us 11 to 9. But they were "most miserable" today. But that is normal for the A. Bee Normals.

Those in attendance include BufordP, iMacMan (iMM), BMWcyle (BMW), Apple Blossom and daughters, Cindy_True_Supporter (CTS), [Mrs] Trooprally ([Mrs] T), and myself.

Pics by [Mrs] T and iMacMan. iMM multi-tasked 4 things today. He held a sign, took pics, operated "Mr. Little Bull Horn" and argued with an idiot.

The cyclists, two questionable women, stopped in front of us on the sidewalk for the light. One made a comment to the other about us, that of course, BMW took offense to. Especially when the cyclists said that she wasn't talking to him. To those who know BMW, you know how easily he gets his feelings hurt. (heeheeheehee) But after some words with BMW, CTS and Apple Blossom, one got off her bike, unhooked her water bottle, and threw water on BMW saying "Cool Off".

BELOW LEFT: The 'Smoking Wet Sidewalk'. As they were leaving, the arguing continued, and one flipped off BMW (BELOW RIGHT). Pics by iMM.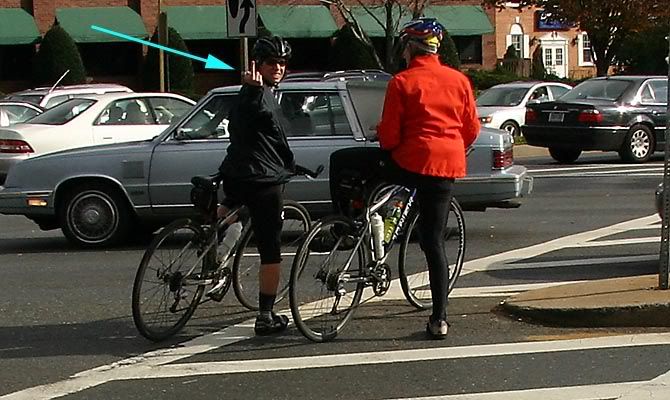 BELOW: Before I get to far into this thread, let's play "Find Waldo", aka Barking Waveman. He IS in the pic. His spot is reveled at the end of this thread. iMM pic.
It seemed that we just had a great time today. I'm not sure why. BELOW: CTS enjoying herself. iMM pic.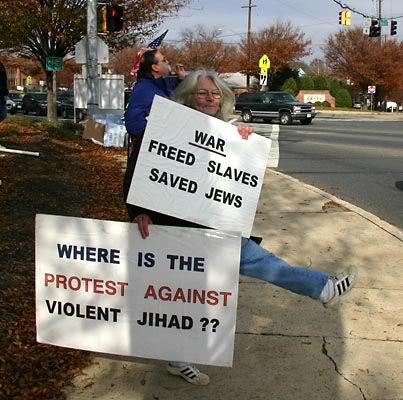 We had three drivers snap a salute when they passed. Mr Bull Horn, operated by BMW, Mr. Little Bull Horn, operated by iMM, and CTS's, BufordP's and [Mr] T's hollers upset the moonbats. The bull horns also Thanked the supporting cars in addition to telling them to hug or kiss a vet. We all threw in a few "Quakers are unpatriotic", "liberals are parasites, tape worms, ticks and ...", "Pelosi says NO to Impeachment", "War freed the slaves and saved the Jews", and "We want an Iranian Nuclear Free Zone".
BELOW: The Patriotic Side. Pic by iMM

BELOW TOP: BufordP, BMW and myself setting up the famous Walter Reed MOAB. BELOW BOTTOM: Setting up the "Jon Carry" sign. Pics by iMM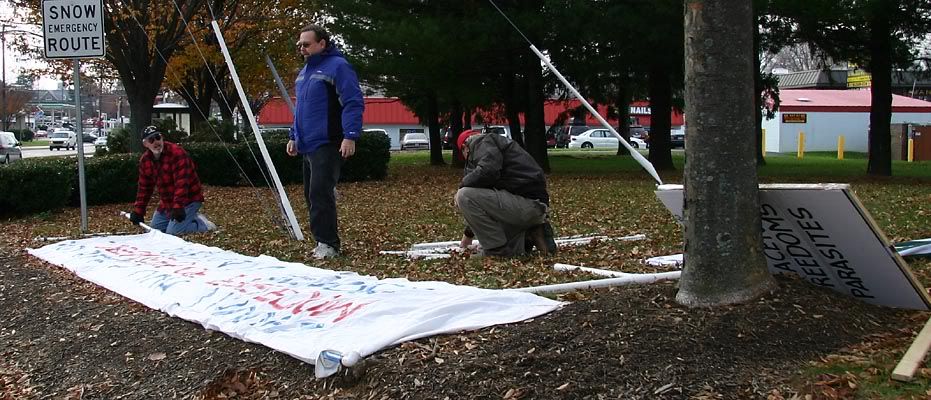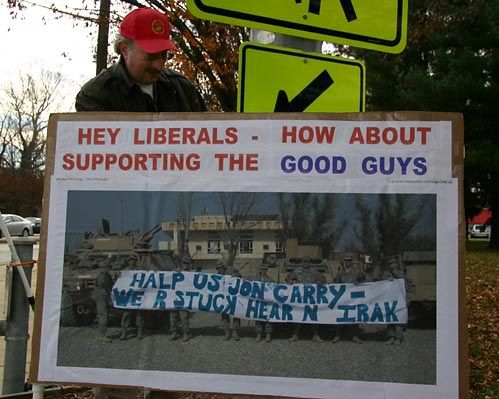 BELOW LEFT: Lurker Bill couldn't make it today so one of the 'daughters' took his position. BELOW RIGHT: Other 'daughter' with mom. Myself and BufordP in back ground. [Mrs] T's pics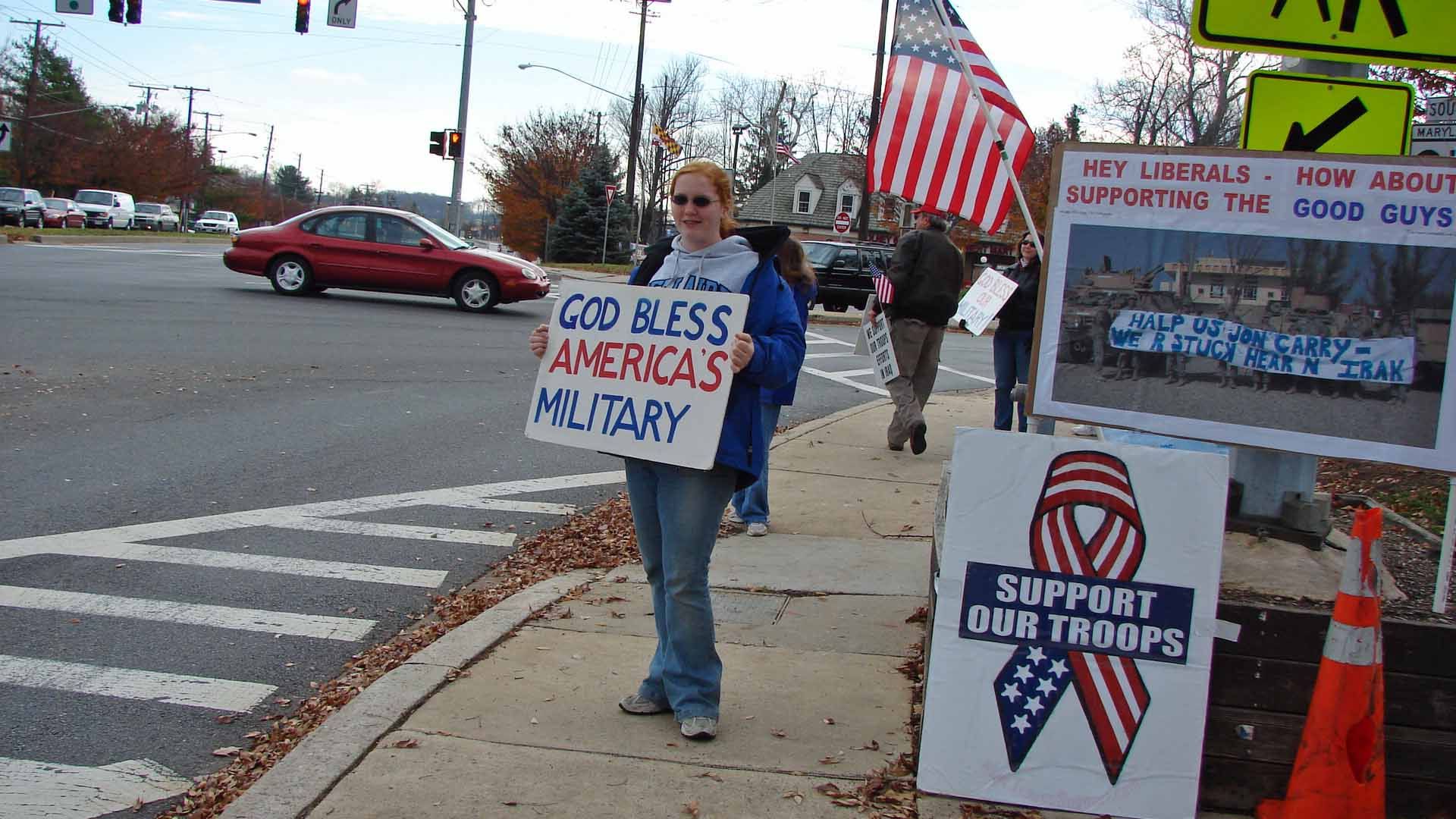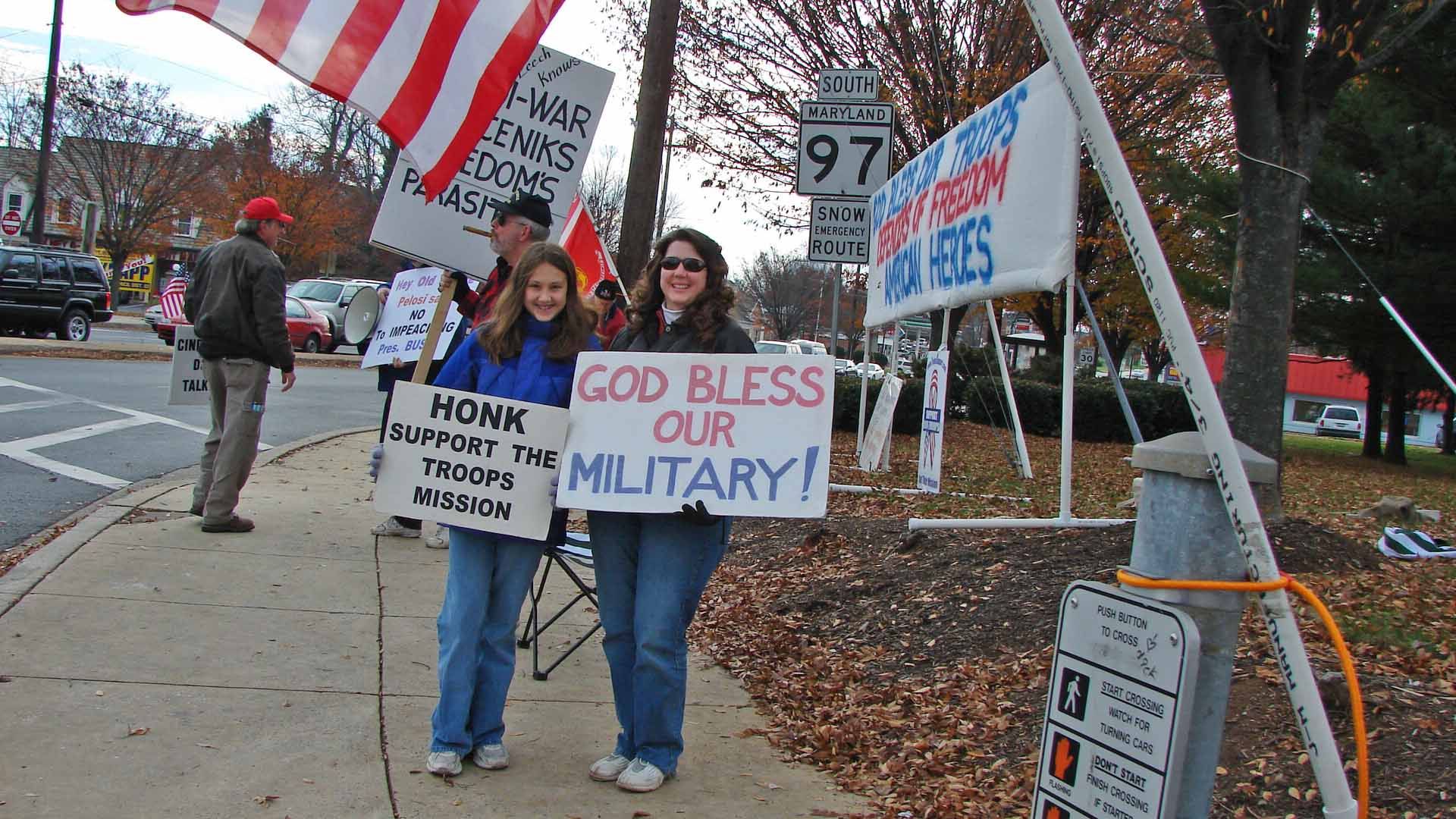 BELOW TOP: iMM, Apple Blossom, BufordP with cigar and Mr. Bull Horn. BELOW BOTTOM: Apple Blossom, CTS, BMW and yours truely. Pics by [Mrs] T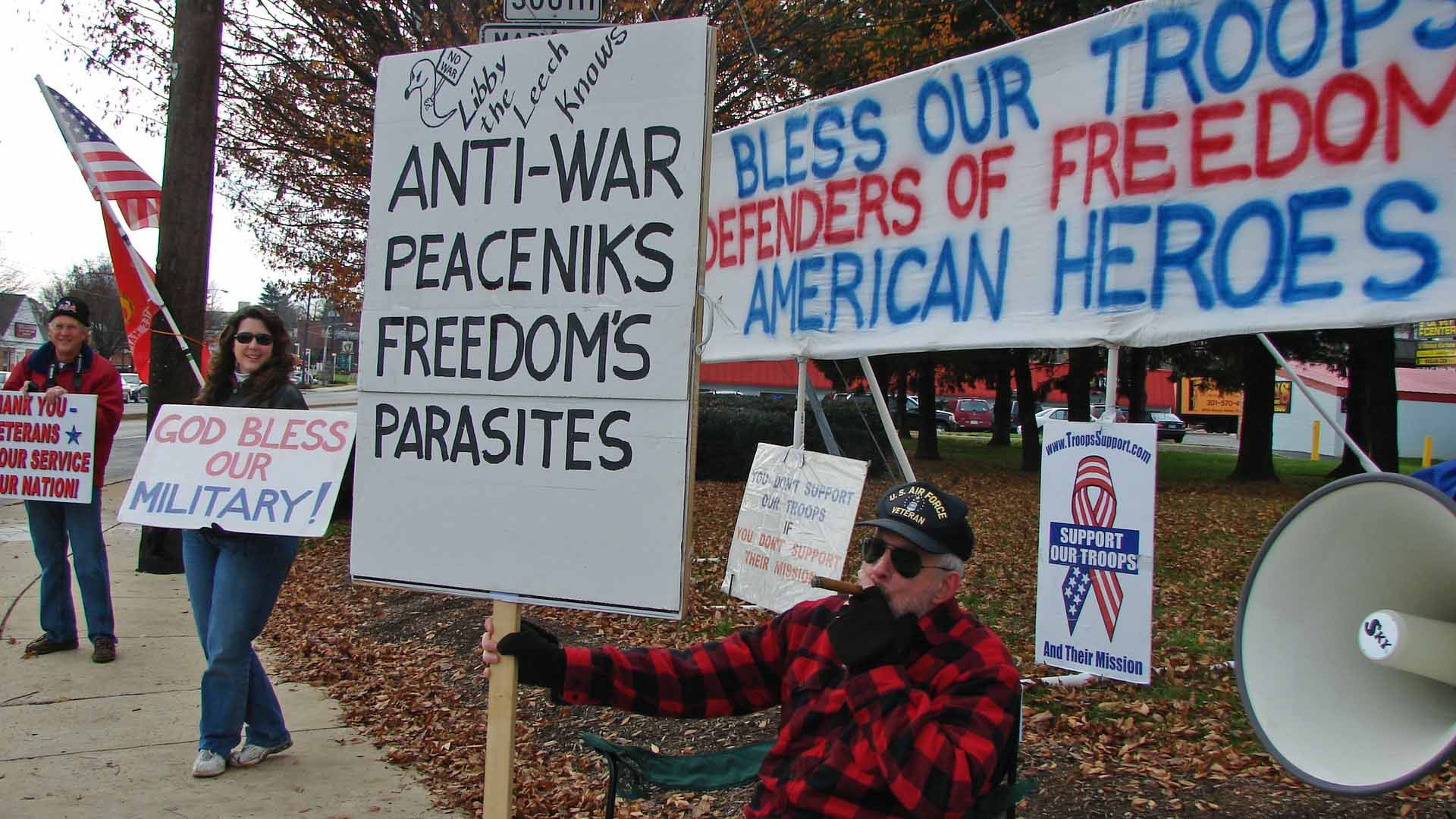 We don't know who called the police, the cyclists or moonbats, but one showed up just before both sides broke up. He had a complaint about our bull horns. He questioned us as to what we were saying. After some discussion primarily with BMW, BMW and the officer struck a deal. We'll stop with the bull horns (we were just about done any ways) if he tells the moonbats to keep their signs off the side walk. After a friendly handshake with the officer in full view to the moonbats, the officer walked over to the moonbats (BELOW) and talked to them. We'll see what happens next week but be it known, we are working on a surprise for them. Pics by iMM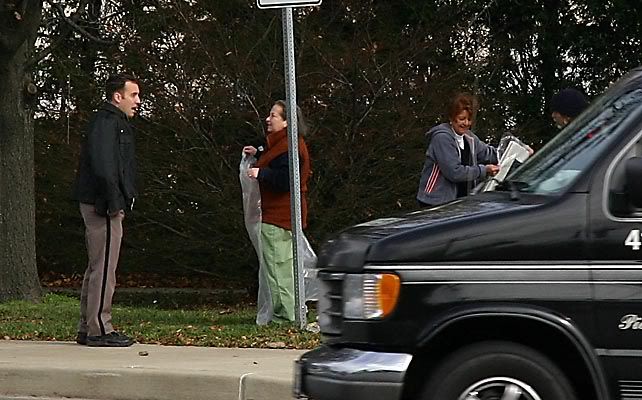 BELOW: iMM's wondrous pics of passing cars. He missed the hearse with the flag draped coffin in it. It was leading the funeral procession when the driver honked and waved while turning in front of us. Several other cars also honked or had mourners wave to us.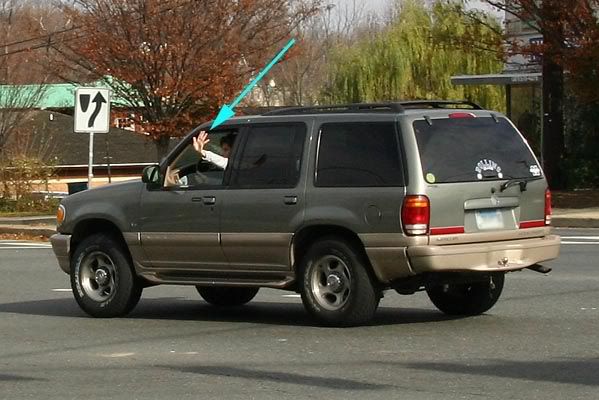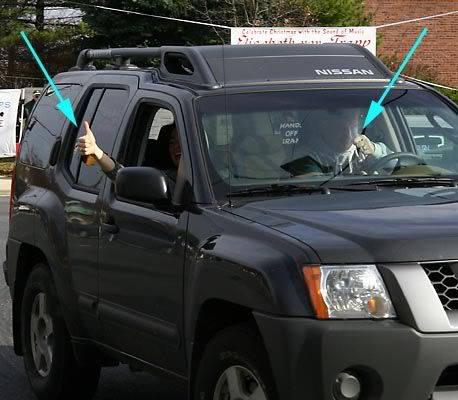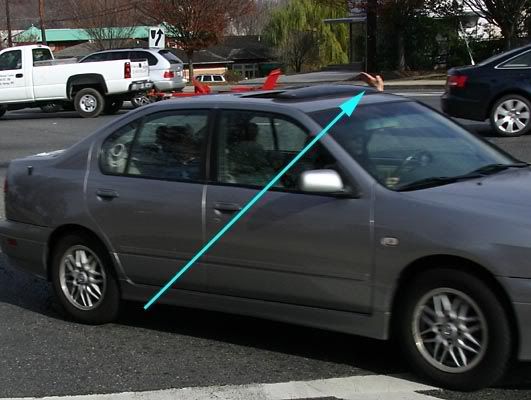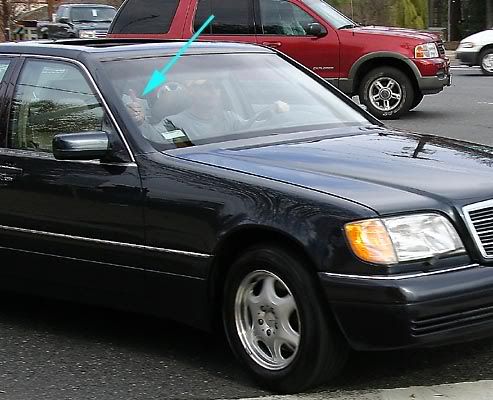 BELOW: I'm talking to a supporter after he called me over. He wanted to talk about the moonbats and quoted FDR to Albert Einstein, something about Freedom is not in danger by Hitler, but by those Americans who do nothing. He may join us next week.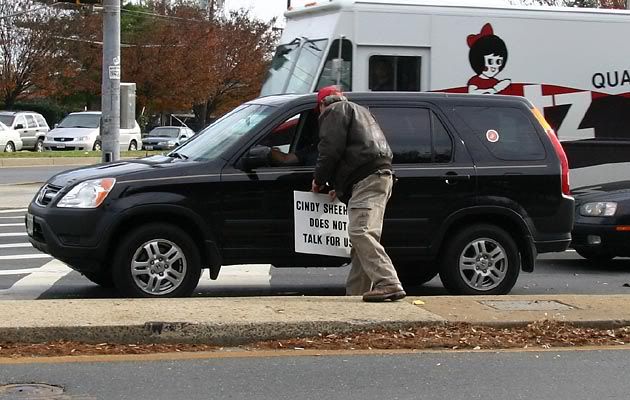 And I'm sorry to say, even after the liberals took over both Houses, the moonbats haven't given up.
BELOW: I think Scrooge would have had a heart attack if he saw these idiots in his Christmas Past visit. Pic by [Mrs] T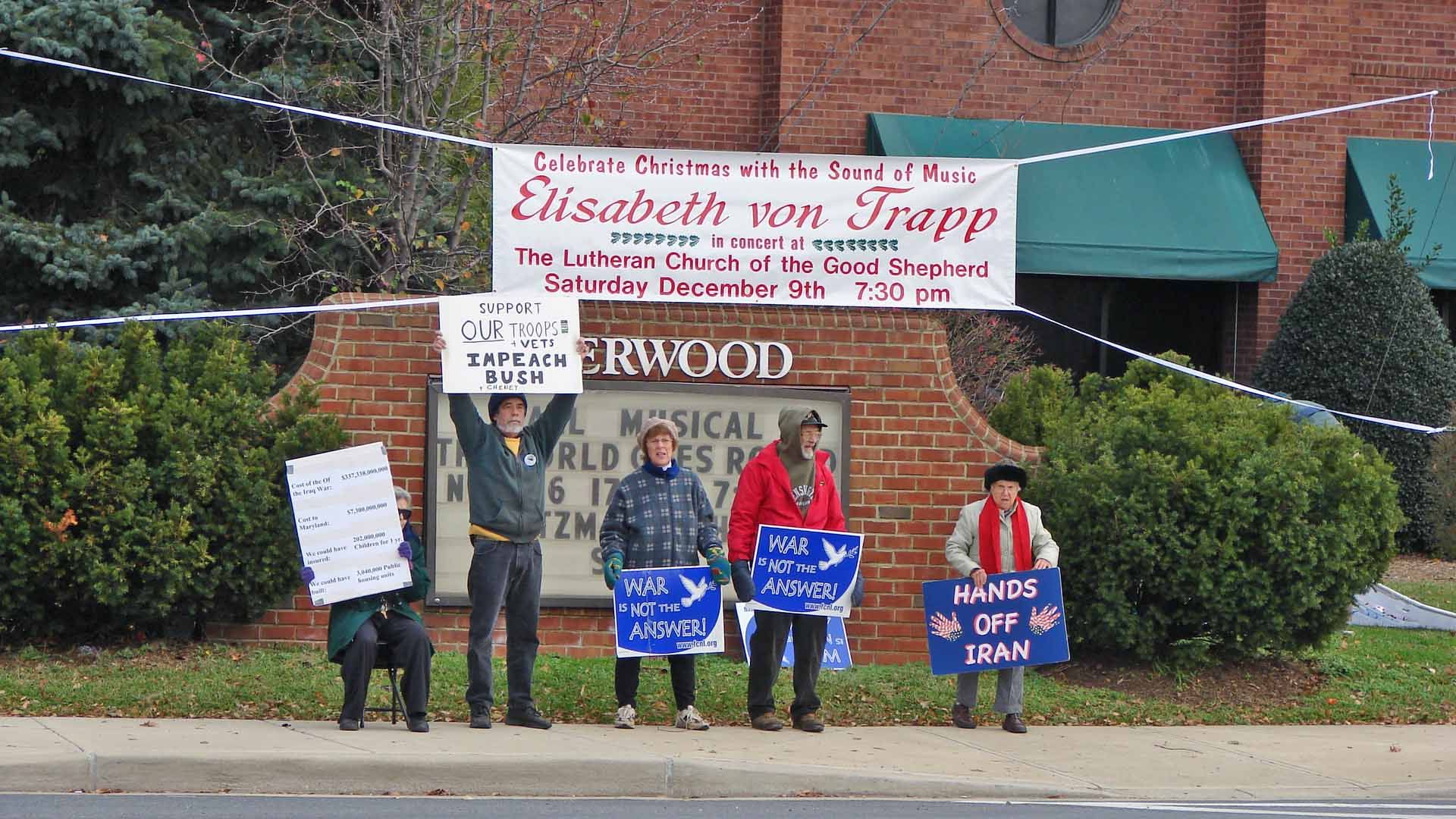 BELOW: This idiot, talking to Apple Blossom, initially came up behind me saying "Freedom is Abstract". Soon half of the Olney FReepers had a piece of him before he slunk back to his car. [Mrs] T's pic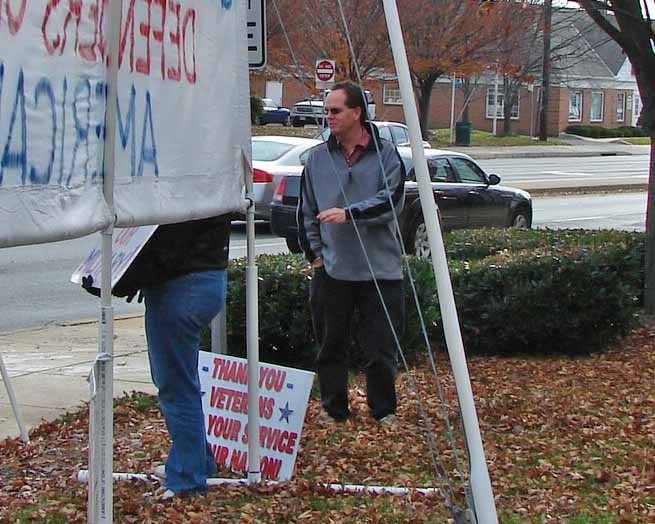 What you've been patiently reading the thread to get to. BELOW TOP: Original pic. BELOW BOTTOM: Here's "Waldo". Pic by iMM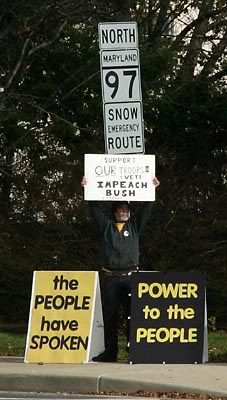 REMEMBER
Next Saturday, same place, Georgia Avenue, MD Rte. 97 and MD Rte. 108 in Olney
NEW TIME - 10:15 AM to 11:45 AM


As always, the D.C. Chapter's rules for protesting will be in effect. Briefly, they are: No violence, no profanity, no racism, no provocations, obey the law and treat all law enforcement officers with respect.

---
TOPICS: Activism/Chapters; Free Republic; US: Maryland; US: Virginia
KEYWORDS: mobilizingmothers; opinfinitefreep; peaceactionmc; quakers
---
Navigation: use the links below to view more comments.
first previous 1-20, 21-40, 41-49 next last
---
---
---
---
---
---
---
---
---
---
---
---
---
---
---
---
---
---
---
---
---
Navigation: use the links below to view more comments.
first previous 1-20, 21-40, 41-49 next last
---
---