---
To: A. Pole; ex-Texan; Convert from ECUSA; george76; stevie_d_64; Captainpaintball; kinoxi; spanalot; ..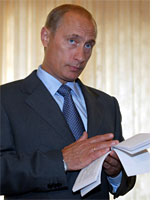 A look at Kremlin critics who have been killed or died mysterious deaths
Alexander Litvinenko, a former Russian spy who died Thursday after being poisoned with a radioactive substance, accused Russian President Vladimir Putin, calling him "barbaric and ruthless" in a deathbed statement. Several Kremlin critics have fled Russia or been imprisoned during Putin's time in office, and a few, listed below, have been killed or died mysterious deaths.
October 7th, 2006: Journalist Anna Politkovskaya, a fierce critic of the war in Chechnya who exposed human rights abuses by Russian and Kremlin-backed Chechen authorities, is fatally shot in her apartment building. No suspects have been arrested, and Putin has suggested Russians seeking refuge from Russian law enforcement abroad could have been behind it.
Feb. 13th, 2004: Zelimkhan Yandarbiyev, a former separatist president of Chechnya, is killed when a bomb blows his car apart as he leaves a mosque with his son in Qatar. Russian security services deny involvement, but two Russian intelligence agents are convicted in Qatar and later returned to Russia, where authorities suggest they are set free.
July 3rd, 2003: Yuri Shchekochikhin, a liberal lawmaker and journalist who investigated high-level corruption for Novaya Gazeta, Politkovskaya's newspaper, dies after a brief, mysterious ailment that causes him to loose his hair and suffer severe skin problems. Colleagues claim he was poisoned and that his autopsy was not released to relatives.
April 17th, 2003: Sergei Yushenkov, a liberal lawmaker and vocal critic of Putin, the Federal Security Service and the war in Chechnya, is gunned down in Moscow in a killing colleagues called an attack on democratic ideals. Mikhail Kodanyov, chairman a rival branch of his Liberal Russia party backed by self-exiled tycoon Boris Berezovsky, is convicted ordering the slaying and sentenced to 20 years in prison.
30
posted on
11/25/2006 2:14:57 AM PST
by
M. Espinola
(Freedom is never free)
---
To: M. Espinola
"When an evil empire returns"
What do you mean - "returns", when it has never left? What did Reagan's words "evil empire" mean and refer to? - Landscape? Evil rivers, hills and lakes? Or maybe plants and animals? Evil birch trees and squirrels? Architecture? Cuisine? [Some of it is indeed, atrocious] - of course, not. It was the people there who were evil, or, more specifically, their way of life- how they saw themselves and the world and how they related to that world and to one another - the sociological essence of what Samuel Huntington would call their civilization.
Now, did that empire in 1991 overnight stopped being evil with Yeltsin's declaration of USSR dissolution? - of course, not, for it was populated by the same people who behaved pretty much as before. Nor did it suddenly become evil in 1917. It had been evil even before, but that evil merely became more manifest.

---
To: M. Espinola
I just about have to equate this whole idea of Putin's "gang" to a playground mentality...

The most popular and Toughest (by appearance) kid is going to rule the roost, until the kids that wnat to be on the monkey bars deside topick a few of those supporters off one by one...

Thus the kids on the monkey bars are going to do the same thing when they see the efforts of those that want to get on, so to speak...

Its almost that elementary when you look at its basic parts, its intelligence, and how it illustrates and demonstrates its ability to maintain its power...

There is really nothing democratic about it...And since its overall might and ability to project power and influence is still right up there with our ability, sure, everyone is going to do the things diplomatically to keep things stable...Its the nature of the beast...

And when wars, and rumor of wars, work alongside deals and pacts with a nieghbor to the south of them, begin to flourish...I'm sure a lot of us will tell the rest of the "head in the sand'ers":

"See, we told you so!"

I'd start looking at whom might come up after Putin's demise to see the true nature of what is to come and what has been driving this situation...(just a thought)

Putin is just the catalyst in this mix...
39
posted on
11/25/2006 6:37:21 AM PST
by
stevie_d_64
(Houston Area Texans (I've always been hated))
---
To: M. Espinola; GSlob; Thunder90; familyop; Pelham; djf; MeekOneGOP; A. Pole; ex-Texan; ...
I wrote Edward Jay Epstein (EdwardJayEpstein.Com) about my suspicion that Gordievski may have been involved in Litvinenko's murder. He wrote me back a very short but intriguing response, adding a whole new possibility that I had not thought of. Here's his response:
I believe he accidentally poisened himself handling smuggled polonium 210
Regards
Ed Epstein
And Epstein, of course, could be completely wrong, as he did not provide me a shred of evidence to back up his claim. But let's say Epstein knows something we don't know. Who would Litvinenko have been smuggling polonium 210 for (and why)?

---
To: M. Espinola; All
I wrote Ed Epstein back for evidence, here's his reply:

What business are 6 nogoodniks doing at a sushi bar other than a deal? Who would use anything so valuable to kill sdmeone when a knife would do the trick.

Regards
Ed Epstein
www.edwardjayepstein.com

---
To: M. Espinola
LOL! You are too funny. "When an evil empire returns"
---
FreeRepublic.com is powered by software copyright 2000-2008 John Robinson