---
To: 2LT Radix jr; 68-69TonkinGulfYachtClub; 80 Square Miles; 359Henrie; acad1228; AirForceMom; ...
5
posted on
12/19/2006 5:33:18 PM PST
by
Mrs.Nooseman
(Proudly supporting our Troops,Allies and our President GW!!!)
---
To: Mrs.Nooseman
Here's a common tradition!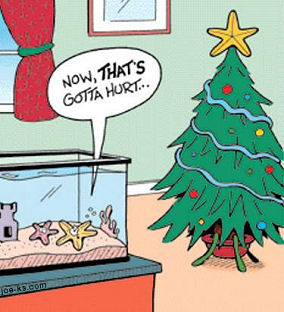 19
posted on
12/19/2006 5:48:24 PM PST
by
Lady Jag
(Bravery is being the only one who knows you're afraid)
---
To: Mrs.Nooseman
((HUGS))Morning, Mrs. N. How's it going?
---
To: Mrs.Nooseman
Good morning, Mrs. N. I had to stop in and congratulate you on your Canteen post.
The only family tradition I have is that each Christmas day, most of the siblings meet at our parents house to exchange gifts and eat dinner together. Many times throughout the day, nieces and nephews and their children will show up to visit with their grandparents/great-grandparents, and so on.
Then from there we go over to my husband's sister & BIL's house for more dinner and gifts.
Thanks goes to Sonora for sending me this (and many others) cute Christmas graphic.
And, finally, in grand tradition let me close by adding an oldie but goodie
568
posted on
12/20/2006 6:01:16 AM PST
by
beachn4fun
(Don't forget the deployed troops during the Holidays.)
---
FreeRepublic.com is powered by software copyright 2000-2008 John Robinson