---
Santa's UAV (Vanity, sortof)
Strategy Page ^ | December 24, 2006


Posted on 12/24/2006 2:52:48 PM PST by Kaslin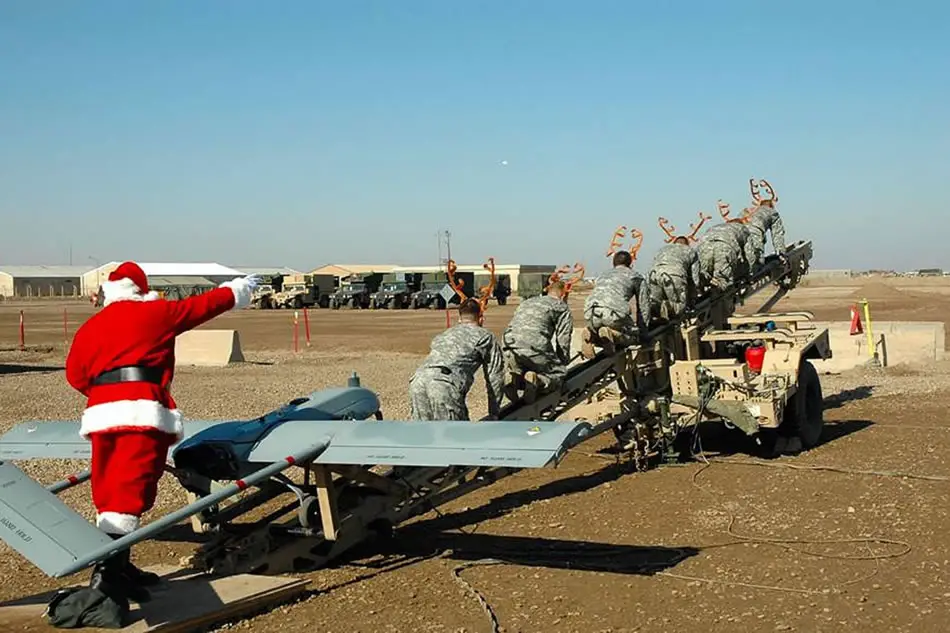 Santa, played by Ken Rice, a civilian contractor with the AAI Corporation, and his six reindeer, Soldiers from Company E, 615th Aviation Support Battalion, 1st Air Cavalry Brigade, 1st Cavalry Division, prepare for launch on an unmanned aerial vehicle launcher at Camp Taji, Iraq Dec. 18. Santa is apparently trying to get an early start this year and has traded in his traditional sleigh for something a little newer and more high tech. Photo by Master Sgt. Winston Churchill

---
TOPICS: Front Page News; News/Current Events
KEYWORDS: humorinuniform; uavs
---
To: Kaslin
Photo by Master Sgt. Winston Churchill

Things are getting a little giddy with those long deployments.

Anyway, I'm glad to see there's room for a little merriment in
far-from-home Iraq!

---
To: Kaslin
OMG, that is the funiest picture I've seen in weeks. Maybe ever!
3
posted on
12/24/2006 3:13:10 PM PST
by
McGavin999
(Don't bring what you ran away from to my home state-Freeper WatchingInAmazement)
---
To: Kaslin
I thought UAV stood for Urban Assault Vehicle?
Whatever, have a safe trip, Santa.
---
To: OBXWanderer
Looks awfully like the A-Team members signed on for another show season.
5
posted on
12/24/2006 4:05:43 PM PST
by
ExcursionGuy84
("Jesus, Your Love takes my breath away.")
---
To: Kaslin
Those reindeer don't look tiny to me.

6
posted on
12/24/2006 6:24:06 PM PST
by
Talking_Mouse
(wahhabi delenda est)
---
FreeRepublic.com is powered by software copyright 2000-2008 John Robinson