---
"PEACE" ACTIVISTS RADICAL AGENDA EXPOSED, AGAIN: Week 55-Olney,MD,1-13-07:Operation Infinite FReep
Jan. 15,2007 | Trooprally


Posted on 01/15/2007 2:33:50 PM PST by trooprally

SUCCESS IS SWEET, one person at a time.

This week we had a surprise visit from a young lady who discovered the true difference between FRee Republic's Support of our Troop and the peace activist's faux support of the troops.

Several months ago, this lady, previously known to us as Peek-A-Boo2 was driving threw Olney and saw the two groups in Olney. Wanting, as we all want, peace in the world, she kind of liked a couple of the signs of the peace group. She wasn't to keen on their other signs. She was curious about our side but didn't see any 'peace' signs.

In talking to the 'peace' activists, she learned about their websites and blogs and also about FRee Republic.

In visiting the 'peace' sites, she learned about their true agenda: PeaceActionMC's (started by a "certain religious group" in the Olney area) association with anti-America organizations such as ANSWER, United for Peace & Justice and Global Exchange, the using of the troops' deaths for political gain, Raging Grannies vandalism at the Silver Spring, MD, Recruitment Center (in which some activists called childish and encouraged more destructive actions), about Code Pink giving money to the insurgents in Iraq, and Code Pink's demonstration, trespassing and their arrest at Rumsfeld's house and CP's giving of 600k plus to the terrorists.

Her first week on the corner several months ago, when she learned of us taking pics, she kept her face covered. This earned the title of Peek-A-Boo2. Looking back now, she thinks it must have been her gut feeling that she was on the wrong corner.

The other indication that she was on the wrong corner was some of the activities of the moonbats. She was asked early on to go to D.C. to help barge into the Senate building and if she would mind getting arrested. The 'peace' activists ask her to get arrested to test her, we ask her out to lunch.

She told us that there are several real anti-American socialists on their corner. Barking Waveman, Peek-A-Boo and one that we'll call "J" are three, but they are not part of a "certain religious group". The "certain religious group" members protesting out here just seem to be misguided about how to help the troops and are sucked into the moonbats mindset, without really knowing how anti-American the other groups do. But they are guilty by association so we'll keep up our FReep and verbally engaging them all. Mr. Bull Horn does a great job of engaging them and pointing out their hypocrisy.

As previously mentioned in other Olney AARs, Doctor Raoul saw Barking Waveman in Philly last month and Kristinn saw him and one of the moonbats in D.C. last week. The moonbat "J" went to Jordan and Syria in December with the other anti-Americans.

In looking at FRee Republic, she learned that we really do support our Troops. She was able to link to various milblogs and learn what good is really happening in Iraq and Afghanistan. She realized just how biased the MSM really is and how much is NOT reported about the DemoRats misdeeds.

Two weeks ago, she gave the 'peace' activists her own manifesto. We received a copy of it today. It gives detailed examples with web links, of how the 'peace' groups are not really peaceful and don't support the troops. Their activities want to undermine the American way of life and liberty. Her manifesto questions how this "certain religious group" in Olney can support such groups.

NOTE: For you "Troll Busters" out there, the Olney FReepers have vetted this person and feel comfortable that she is NOT a troll. We went to our regular lunch spot after the FReep and had her come along. The group grilled her well. No pics will be posted of her on this AAR. She doesn't want anyone who knows her to think she is a moonbat even though she spent some misguided time over with them.

I am also making a distinction between the "certain religious group" and the moonbats to keep this thread from being pulled. I'll only make the mistake once of berating a religious group by name, even if the are in the moonbat's camp.

The rest of the FReep went well. While extremely overcast, the rain had not materialized. We had 10 FReepers to their ten moonbats. FReepers and Lurkers included: Apple Blossom, BMWcyle, aka Mr. Bull Horn, and daughter, Cindy_True_Supporter (CTS), Fraxinus, Lurker Bill (aka Lurker Bill from MD on Walter Reed AARs) and daughter, [Mrs] Trooprally [Mrs] T, and myself.

Pics are all by [Mrs] T.

BELOW LEFT: Apple Blossom getting a lesson in setting up the red banner. She also helped with the blue banner. BELOW RIGHT: Me helping Apple Blossom put up the red banner.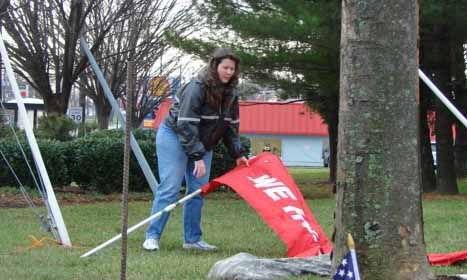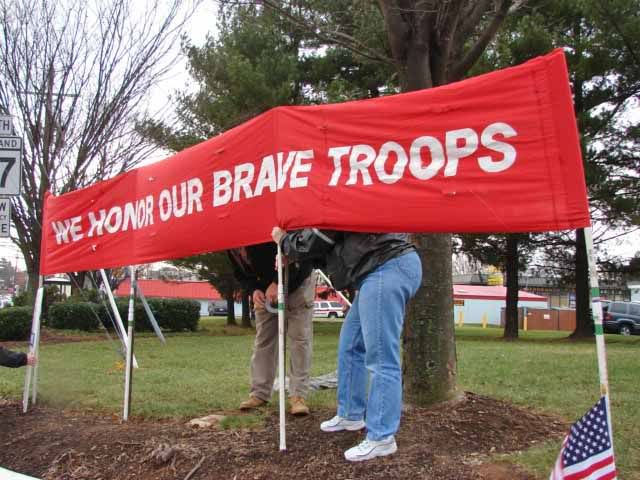 BELOW LEFT: Fraxinus, BMW's daughter and CTS. BELOW RIGHT: Me with Lurker Bill's daughter holding down L. Bill's corner while he sets up the long blue banner.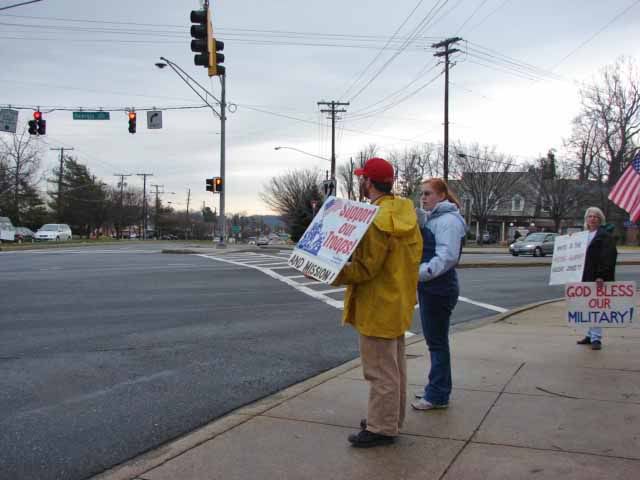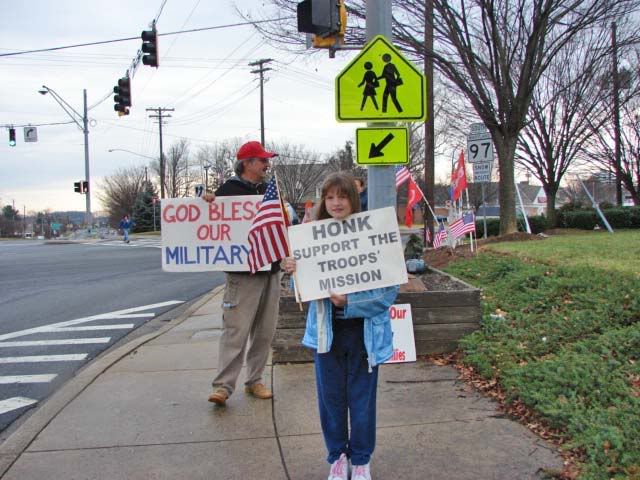 BELOW LEFT: Fraxinus, CTS and BMWcyle before he transformed into Mr. Bull Horn. Mr. Bull Horn reminded the moonbats of their idiotic, senseless signs. It was also good to see Mr. Bull Horn off his crutches. BELOW RIGHT: Lurker Bill with others in background.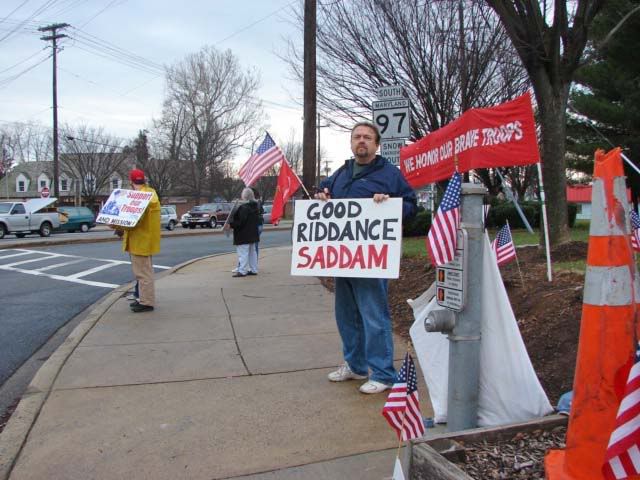 TOKEN MOONBAT PICTURES.
BELOW LEFT: Ex. FReeper with Peek-A-Boo talking to wondering moonbat from last week. He didn't win any arguments with us last week and stayed on his corner this week. I wonder if he won his argument with Peek A Boo. The guy left early after arriving late if that means anything. BELOW RIGHT: Peek-A-Boo's new sign. She may be right. Maybe we should go directly into Iran and Syria so they have to call back their infiltrators to help defend their Islamofascists states. That way Iraq will be free of foreign insurgents.
REMINDER:
Make plans to join us at the Jan. 27 Support the Troop Rally to counter the anti-American, anti-war groups.



ALSO:
I hoped you missed the Eagles blow two opportunities in the 4th quarter to win or tie the game.
EAGLES * EAGLES * EAGLES * EAGLES * EAGLES * EAGLES * EAGLES SPLAT !!




REMEMBER
Next Saturday, same place, Georgia Avenue, MD Rte. 97 and MD Rte. 108 in Olney
NEW TIME - 10:15 AM to 11:45 AM


As always, the D.C. Chapter's rules for protesting will be in effect. Briefly, they are: No violence, no profanity, no racism, no provocations, obey the law and treat all law enforcement officers with respect.

---
TOPICS: Activism/Chapters; US: Maryland; US: Virginia
KEYWORDS: mobilizingmothers; opinfinitefreep; peaceactionmc; quakers
---
Navigation: use the links below to view more comments.
first 1-20, 21-40, 41-48 next last
---
---
---
---
---
---
---
---
---
---
---
---
---
---
---
---
---
---
---
---
---
Navigation: use the links below to view more comments.
first 1-20, 21-40, 41-48 next last
---
---