Yaakov Lappin, YNet News
reported that Iran's President Mahmoud Ahmadinejad said Israel and the United States will soon be destroyed. An excerpt:
"Iranian President Mahmoud Ahmadinejad… assured that the United States and the Zionist regime of Israel will soon come to the end of their lives," the Iranian president was quoted as saying.
DoctorZin
: He has
said it before
when he called for Israel to be wiped off the face of the map.

But the media has still failed to take notice of these photos from the same speech...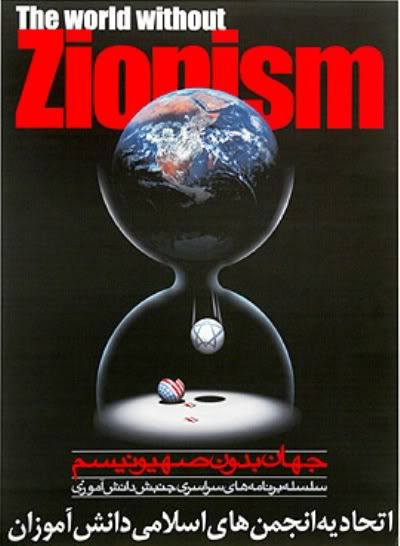 For some reason the world media has largely ignored his statements against the USA. In his speech he said:

We are in the process of an historical war between the World of Arrogance [i.e. the West] and the Islamic world, and this war has been going on for hundreds of years

. ...

The issue of this [World without Zionism] conference is very valuable. In this very grave war

, many people are trying to scatter grains of desperation and hopelessness regarding the struggle between the Islamic world and the front of the infidels ...

Is it possible for us to witness a world without America and Zionism? But you had best know that this slogan and this goal are attainable, and surely can be achieved

...