---
Walter Reed FRreep #92 - HAPPY 4-CORNER ANNIVERSARY!
1/25/2007 | PleaDeal


Posted on 01/25/2007 8:59:37 PM PST by PleaDeal

One Whole Year of 4-Corner FReeping at Walter Reed -- Week 92

Washington, DC, January 19, 2007-- My, how time flies! It hardly seems a year ago (Jan 20, 2006) that FReeper concretebob handed Code Pink its walking papers by scarfing up the permits that the commies forgot to renew.

One year ago, armymarinemom posted the following:

just received a phone call from Kristinn!! The DC Chapter of Protest Warriors obtained a permit for Code Pink's side of the street today after the Pinko's forgot to renew their permit. The blood dancers tried to stick it out for about 20-25 minutes before they tucked tail and retreated a block away to the closed entrance. Freepers and Protest Warriors now have all four corners outside the main entrance to WRAMC!

and BillF followed up with "the AAR" at comment #1352 where he gave a full account of the evening and it's momentous changes. The following is a brief recap, using some of bmwcyle's terrific photos.

cbob had this to say at comment #568

I made a statement a few months ago that I wanted code oink OFF that corner, and every fiber of my being since then has been directed at that goal. I have to give some credit to someone who put the idea in my head. A member of Rolling Thunder is the one who really gave me the idea, and tiggles gave me the info I neeeded to seal the deal. I'm recovering from a night of consuming adult beverages with a few of my buds at WRAMC, so I;ll post some more later. But I do have a question for code pink
WHO'S YOUR DADDY???
and at 749
Murphy's 17th Law of Combat: Once you have secured an area, don't forget to tell the enemy. This is my official notification of the securing of the area. Hey
code oinko
,
WHO'S YOUR DADDY???????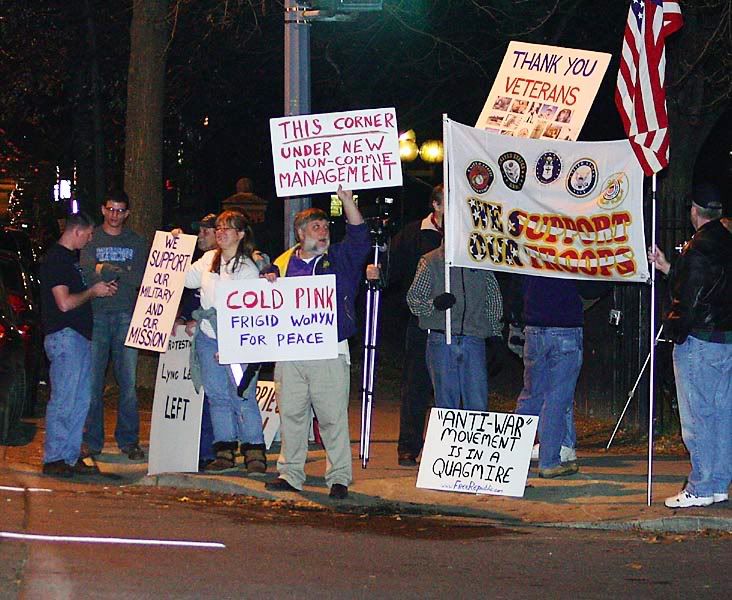 We're having a Party!
One Year Later: We're still partying!
Isn't this special? Code Pink mega commie Gael Murphy showed up to congratulate us and share in the celebrations!

She even had the honor of being told off by a wounded warrior! Malogne House resident Tim came all the way out front in a wheelchair just to give Gael and the rest of the anti-American hoarde a piece of his mind.

HOOAH!

Tim reminded the commies that he volunteered to serve his country and was highly offended at the presence of anti-war protesters in front of a military hospital.

OK, I think Tim's language was a little more colorful than that, but the Mods wouldn't take kindly to direct quotes. PD

While wounded warrior Tim was being picked up by a member of the hospital's ever watchful staff (van on left), a youthful gang of patriotic college students was making its way through Commie Central towards the front gates.

20 members of the Young Republicans joined us!

Which was good news for Gael because Just A Nobody had picked up the "conversation" where Tim left off.

Even the Swedish moonbat came back to party! It's not clear why she likes to come waaaaay up the block and wander through our midst, but what the heck. Maybe she gets lost.

Here she is flanked by Tom the Redhunter and Young Republican Gary.
Trooprally [Mr.] was FReeping without the company of the "Energizer-Bunny" Mrs. Trooprally who was confined to sick bay. He has contributed some great observations of the festivities.
The wind played havoc with all the banners tonight. The MOAB stayed in tgslTakoma's vehicle and the smaller blue with yellow ribbon banner went up in it's place.

Lurker Bill put up the blue "Got FReedom? Thank A Veteran" banner first. It lasted most of the evening before remedial repairs were needed. He and BufordP reinforced the south end support with a 12" spike and additional bungee chords.

Not wanting to be shown up by Bill's corner, the red "We Honor Our Brave Troops" banner went up on the southwest corner. It also needed additional work to keep it up. Luckily there was an extra MOAB support (pvc pipe filled with concrete) that was used, in addition to more bungee chords. The cloth banner part had to be fixed to the pvc framing so it wouldn't run up the slick pvc in the wind.

Albion Wilde's blue "Welcome Home, Heroes" banner was put up next on the northwest corner. It was put directly on the metal fence without its supports. Without anyway of fastening the center portion to the fence, it was also being whipped around. Not wanting to rip the ends, it was eventually taken down.

But the FReepers fared better than the banners. After last winter's Walter Reed FReeps, we now had the proper coats, hats and gloves at the ready for the bitter wind chill. From my vantage point on the southwest corner, I don't remember seeing anyone warming up in their cars. But the wind brought tears to my eyes and it was dark out.


And then the George Washington students arrived. What a surprise and a boost to our numbers. They didn't really look dressed for the cold weather, but their enthusiasm kept them warm. They grabbed several flags from the fence and were going back and forth between corners, waving to the cars, singing and generally having a good time. One student told me that he signed his contract that day to go into the Army.

A group of 3 girls started to sing the Marine Corps hymn. Not knowing all the words exactly, one got the words up on her cell phone for further singing. Being as they were just 5 feet from me, I got all warm & fuzzy. When I asked if they wanted a Marine Corps flag to hold, they got even more excited.

Being in front of an Army hospital we use Army related flags on the fence. In Olney I have only the Marine Corps flag to go with the American flags. I just happened to have the Marine flag in my vehicle. In no time at all the Marine Corps flag was being waved along with the Army and United States flags. AS expected, there was some friendly bantering back and forth between the students holding the Marine and Army Ranger flags.
Despite the cold, we had visits from several troops, and the father of a wounded hero.
Mr. Shirley's son Luke was wounded by an IED on Dec. 20th in Iraq. Luke's brother was serving in Iraq at the time and was given orders to get to his sibling's side and stick to Luke like glue. Luke's recovery will be long a painful, but it's great to know the Army "gets it" when it comes to family support!

The bus filled with wounded warriors and family coming back from
the weekly Fran O'Brien's dinner.
The whole list of FReepers & FRiends in attendance last friday (If I missed anyone - please let me know!): Albion Wilde, Bill from MD*, BufordP, Cindy-True-Supporter, Fraxinus, Fraxinus, George & Ethel*, Jimmy Valentine's Brother, Just A Nobody, Kieth from VA*, Kristinn, PleaDeal, tgslTakoma, Tolerance Sucks Rocks, Tom the Redhunter, Trooprally [Mr.], VAFlagWaver, and 20 members of the Young Republicans.
With Mrs Trooprally on sick leave, there's only one set of pics this week and the whole collection can be viewed here.
We'll be back out at Walter Reed Friday night, January 26th, from 6:30 until at least 9:30 at the intersection of Georgia Avenue and Elder Street, NW in Washington, D.C.
The wounded warriors inside the hospital are heartened by the sight of ordinary citizens cheering for them and displaying our thanks for the service and sacrifice they've made on our behalf. With Congress on the verge of voting to demoralize the troops, its more important than ever to show our unconditional support!.
A couple hours this Friday night is very little to give compared to what they've contributed!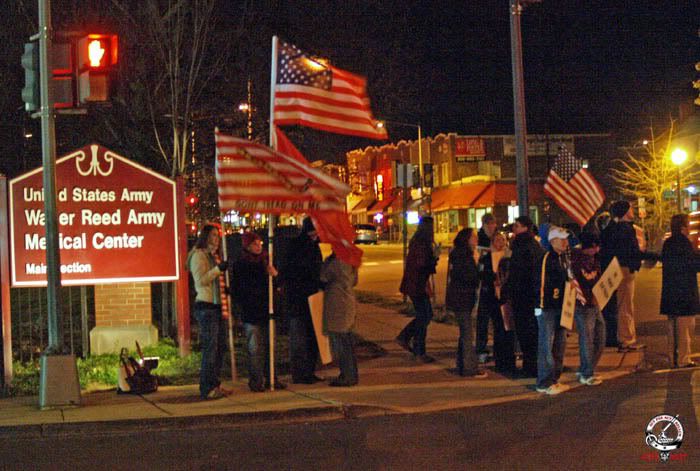 If you can't get to D.C. to join us but would like to do something for the wounded, you can find a wealth of ideas by FReepmailing Albion Wilde, Cindy-True-Supporter, VAFlagwaver or PleaDeal.
Keeping the BIG LIST: All DC Chapter Walter Reed FReeps - c/o BufordP.

---
TOPICS: Activism/Chapters; Foreign Affairs; US: District of Columbia; War on Terror
KEYWORDS: codepink; gwot; troopsupport; walterreed
---
Navigation: use the links below to view more comments.
first 1-20, 21-40, 41-48 next last
---
---
---
---
---
---
---
---
---
---
---
---
---
---
---
---
---
---
---
---
---
Navigation: use the links below to view more comments.
first 1-20, 21-40, 41-48 next last
---
---