---
To: Ohioan from Florida; Goodgirlinred; Miss Behave; cyn; AlwaysFree; amdgmary; angelwings49; ...
Ping to a thread about Michael Schiavo
8mm
---
To: All
The topic does not go away.
Let no one say America is a death-denying society. Our newspapers are full of articles reporting on battles over how we die. The Terri Schiavo controversy was not a blip of newsworthy gruesomeness on the pages of otherwise cheerful publications. Schiavo's story replicated others, on and off the front pages, that have been going on for more than 30 years. Death, once again, is changing in America, and we have been arguing about how to handle these changes since they began decades ago.
Euthanasia Confusion... Newspaper accounts of end-of-life debates too often muddle the issues.

8mm

---
To: 8mmMauser
It is in the mail with Kerry's military record.
11
posted on
02/02/2007 4:27:21 AM PST
by
bmwcyle
(If no one buys illegal drugs, we win the war on drugs)
---
To: 8mmMauser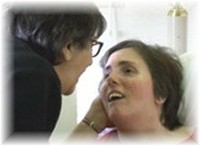 Terri Schiavo Before dehydration
God Bless you Terri and may you forever rest in peace
Let everyone who said your beautiful smile was fake be haunted by it for the rest of their days.
1,059
posted on
03/27/2007 8:37:10 AM PDT
by
baubau
(BOYCOTT businesses that hire 3rd world illegal aliens.)
---
FreeRepublic.com is powered by software copyright 2000-2008 John Robinson