---
To: Calpernia; Spiff; wagglebee; Jim Robinson; WhistlingPastTheGraveyard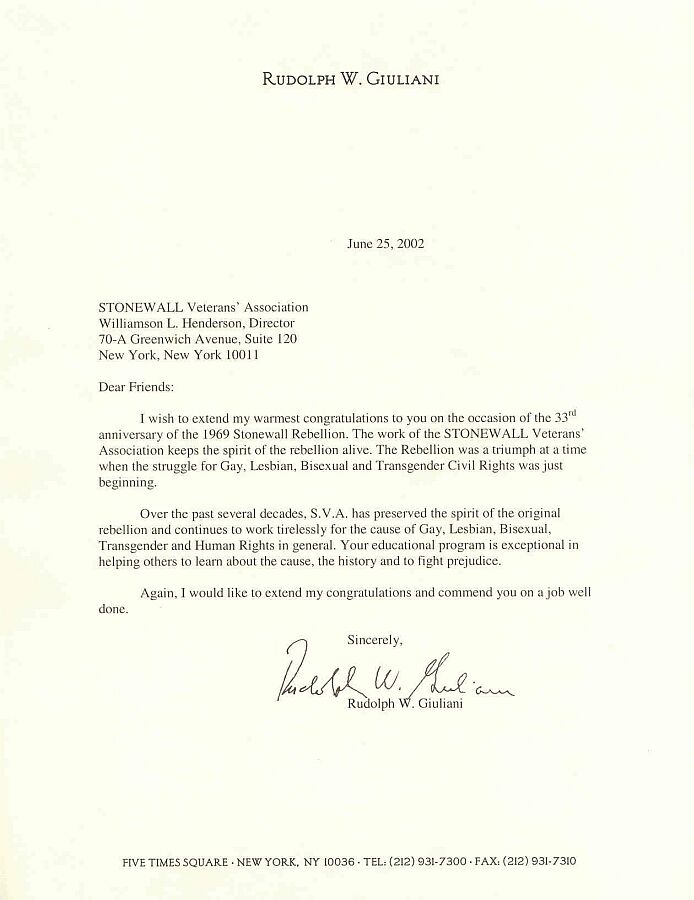 ---
Cal, please note the code word "SPIRIT" mid-letter.
Spirit of SOS.
So those who insisted Rudy "saw the light" after 9-11 and wasn't so pro-homosexual, well... this certainly disputes that.

---
To: cgk
---
To: cgk
Spirit of the Rebellion.

And, as per the history I posted in the bolded text, HISTORY, that was when NAMBLA was born.
---
To: cgk
The Stonewall Inn has been made a National Historic Landmark and is now listed with U.S. National Park Service.

The Stonewall Rebellion occurred due to a raid in 1969. It operated without a liquor license, had ties with organized crime (Mafia Owned), and offered scantily clad go-go boys as entertainment.

The STONEWALL Veterans' Association ("S.V.A.") is comprised of the actual, surviving, active veterans of the famous 1969 Gay, Lesbian, Bisexual and Transgender ("GLBT") Stonewall Rebellion in Greenwich Village, New York, U.S.A.

Members


Liz J. Abzug, Rebuild Our Town Downtown, Co-Chair
www.Abzug.com
N.Y.C. Mayor Michael R. Bloomberg
www.MikeBloomberg.com
N.Y.C. Councilmember James E. (Jed) Davis, In Memorium
www.Council.nyc.ny.us
Congressmember Geraldine A. Ferraro
www.search.Britannica.com
Borough President C. Virginia Fields
www.NewYorkers4Fields.com
America's Mayor Rudy W. Giuliani
www.GiulianiPartners.com
B. Thomas Golisano, Paychex, President
www.Paychex.com
N.Y.C. Public Advocate Betsy F. Gotbaum
www.PubAdvocate.nyc.gov
Robert F. Kennedy, Jr.
www.Riverkeeper.org
Councilmember Margarita L. Lopez
www.MargaritaLopez.com
Martha Reeves, Motown Singer & Detroit Councilwoman
www.STONEWALLvets.org/songsofStonewall-7.htm
N.Y.S. Attorney General Eliot L. Spitzer
www.Spitzer2006.com
Steven L. Wesler, R.D.P. Group, President
www.RDPgroup.com
N.Y.S. Assemblymember Keith L.Wright
www.WrightForTheFuture.com
---
To: cgk
Rudy needs to just be outta here.
99
posted on
03/10/2007 8:35:05 AM PST
by
dforest
(Liberals love crisis, create crisis and then dwell on them.)
---
FreeRepublic.com is powered by software copyright 2000-2008 John Robinson