---
Lancers get to know Iraqis on patrol
Multi-National Forces-Iraq ^
Posted on 03/04/2007 12:59:41 PM PST by SandRat


MAYSAAN -- While patrolling the Iraq and Iran border as a reconnaissance unit, the Queen's Royal Lancers (QRL), have also been engaging with local Iraqi farmers and villagers in an attempt to build bonds and win hearts and minds. It seems they are getting a warm welcome.
Along the 175 kilometre stretch of the Iran/Iraq border that the QRL carry out their reconnaissance missions, they meet plenty of local people, many of whom are farmers or simple Bedouin folk, nomads like themselves.
"The people out here have very little. But it's amazing, you can turn up in a new place where you think there is nobody at all and within minutes there is a shepherd who'll walk by with a flock of sheep or a herd of camels," said Lt. Col., the QRL's commanding officer.
On one patrol to a nearby village soldiers from the QRL called on a local farmer and his family. The troops received what was by any standards a friendly welcome. Children swarmed around the vehicles taking whatever goodies were on offer from the soldiers. The women brought out the very young children, and the soldiers happily played with them. A local interpreter bridged the communication gap, enabling the soldiers to converse freely.
Before too long the farmer appeared in the distance on an old tractor. When he arrived, he invited Nixon-Eckersall to take tea. A mat was immediately brought out and laid on the ground. This was quickly followed with a kettle of hot, sweet tea and some glasses.
"Around here, in the border area, we've found the people to be extremely friendly. It's very much a case of us being treated as guests, and despite the fact they have very little, they are very generous when they see us," Nixon-Exkersall said. "We in turn do everything we can to provide blankets, any extra rations that we might have. We stop off and spend time talking with the people. They also make very nice bread and the soldiers are always keen to stop and try and get hold of some."
Sergeant Mark Owen, 37, enjoys the "hearts and minds" aspect of the QRL's work, something he sees as vital if the mission is to succeed.
"Doing this shows that Multi-National Forces actually care about the locals, as opposed to them just seeing us driving past and taking no particular interest. We need to get out into the villages, and show that we do care. Hopefully it also helps to build a bond between us and the locals," Owen said.
"They bring out their local produce, stuff like goat's milk, we've tried that. The local bread is very nice; the boys try and get that as often as they can because it's something we don't have," added Owen, a communications specialist whose job in Maysaan is to look after the Bowman radio system.
"It's really important that we are able to do this, being able to stay out here in the desert like we do; it's unique because no other regiments do it out here. And it helps the locals to know that we are around, that we're in the area," Trooper Jay Ulyatt said.

---
TOPICS: Foreign Affairs; United Kingdom; War on Terror
KEYWORDS: frwn; iraqis; lancers; patrol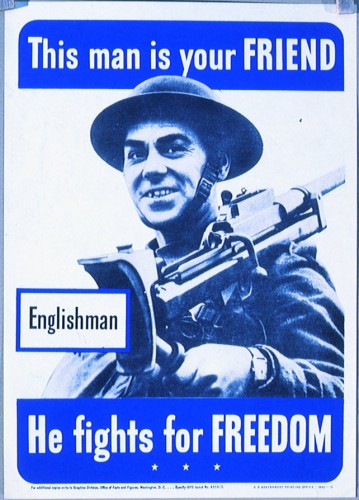 ---
To: 91B; HiJinx; Spiff; MJY1288; xzins; Calpernia; clintonh8r; TEXOKIE; windchime; Grampa Dave; ...
FR WAR NEWS!

WAR News at Home and Abroad You'll Hear Nowhere Else!

All the News the MSM refuses to use!

Or if they do report it, without the anti-War Agenda Spin!
2
posted on
03/04/2007 1:00:11 PM PST
by
SandRat
(Duty, Honor, Country. What else needs to be said?)
---
To: SandRat
OH NO! Not hearts and minds! The armchair generals here won't like this.
---
To: Valin
PISHAW on the armchair generals.
4
posted on
03/04/2007 1:46:52 PM PST
by
SandRat
(Duty, Honor, Country. What else needs to be said?)
---
To: Valin
: )

LOL, ain't that the truth!

---
FreeRepublic.com is powered by software copyright 2000-2008 John Robinson