---
To: Continental Soldier
>"What in the world does Nazi Germany have to do with evolution?"
Eugenincs, or selective breeding to produce a race of super humans. Survival of the fittest. Selective reproduction of the fittest. Manmade evolutionary changes.
Mmmmmkay! Now be quiet and study!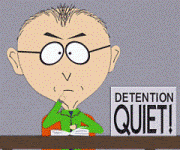 24
posted on
03/20/2007 2:36:31 PM PDT
by
rawcatslyentist
(Compromise with Islam means you will submit to them killing you!)
---
To: rawcatslyentist
Eugenics or selective breeding has nothing to do with evolution. While breeding for selected traits has had some success in animals, there is really no such thing as "man-made evolutionary changes." And, as to the survival of the fittest, where is Goebels today? In fact, where is that legendary Third Reich? Time now for you to be quiet and to take up study.
---
FreeRepublic.com is powered by software copyright 2000-2008 John Robinson