---
Walter Reed Freep #100 - March 16, 2007 - 100 Weeks in a Row
March 19, 2007 | Tom the Redhunter


Posted on 03/20/2007 7:00:26 PM PDT by Tom the Redhunter

Neither snow nor rain nor sleet nor gloom of night, nor all four combined can keep the Freepers from our appointed duty.

A special THANK YOU to everybody who came in from out-of-town to be with us! Many of you I know came from areas far north where the weather was much worse. Many people I spoke with told me that it was snowing that morning in their hometown when they left, and that the driving was tough the whole way down. Many I'm sure were not able to come at all. THANK YOU and we hope to see you again!

This Friday was doubly special because it was the 100th week that Free Republic has been holding rallies outside of Walter Reed! It started as a simple counter to Code Pink by a few intrepid FReepers, and has grown into a weekly pro-troops rally that we would keep doing even if the Pinkos stopped holding their protests entirely.

It started out as rain, turned into sleet, and by 8 it was snowing steadily. It rained during the day, which by evening had turned into a mixture of sleet and snow. Temps dropped from the mid-30s to just below freezing, which is about typical for this time of year for the DC area.

We decided to start an hour early because Code Pink announced that they would start at 6pm instead of their usual 7. Since we didn't want them anywhere near the entrance to the hospital, we wanted to make sure we had people there early.

When I got there at about 6:30 there were already over 20 people there with all four corners well staffed by patriotic volunteers. Here's the sight that greeted me as I drove up. The grainyness of the photo conveys the weather conditions. Thankfully I always carry a poncho in the car for just such situations.
I hoped out and quickly made my way to the "main" corner where we set up shop. There were almost a dozen people on that corner alone and I went around and spoke with each of them. It seemed that almost everybody had come in from out-of-town, the majority from places north. Impressive, given that it was much worse up in New Jersey/Pennsylvania/New York.
As you can see everyone was in their raingear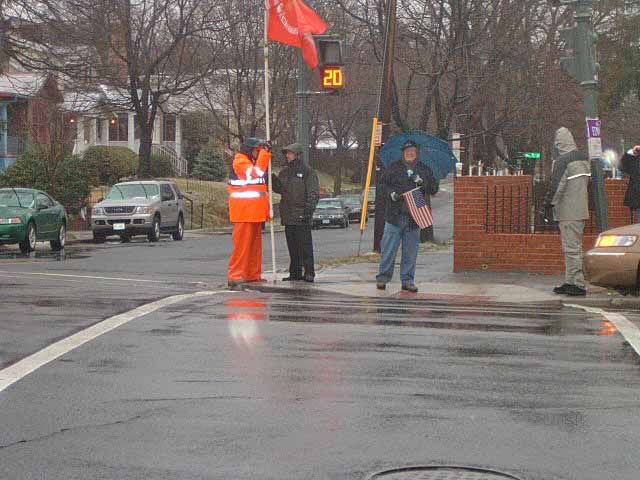 We quickly got our signs out and went to work! As usual we got a huge response from people in their automobiles. Maybe they were just amazed at our dedication, being out there in the rain and sleet, but it seemed that we got a higher number than usual of honks and waves that night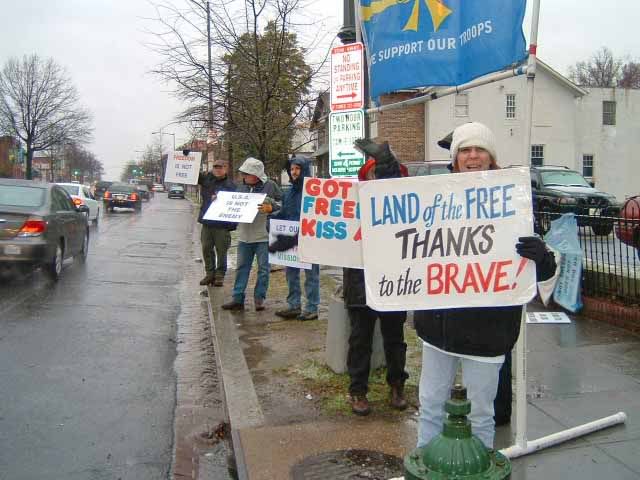 I counted heads on our side at around 8:00 and came up with about 60 people. Usually we have anywhere from 15-30, the higher number when a group like the GW College Republicans show up. 60 was a very good turnout given that the weather was so bad and that many of our regular folks stayed at home getting our flags and banners ready for Saturday's Gathering of Eagles on the Mall.
After awhile I took out my notebook and tried to record names, but had to stop after just one corner. The rain just about soaked the pages, and cold just about froze my fingers. People also came and went so I'm afraid any list will be incomplete. I thought about just trying to list the regulars but didn't want to slight folks who took the effort to come in from out-of-town. My apologies and I hope no one is offended.
Here are a pair of intrepid FReepers who came in from out of town to join us
This patriot isn't going to let a little bad weather stop her from showing the flag
About the time the sun went down the rain had turned to sleet and we had snow mixing in with the lot. It was wet snow so the flakes were large. You can even see them in this next photo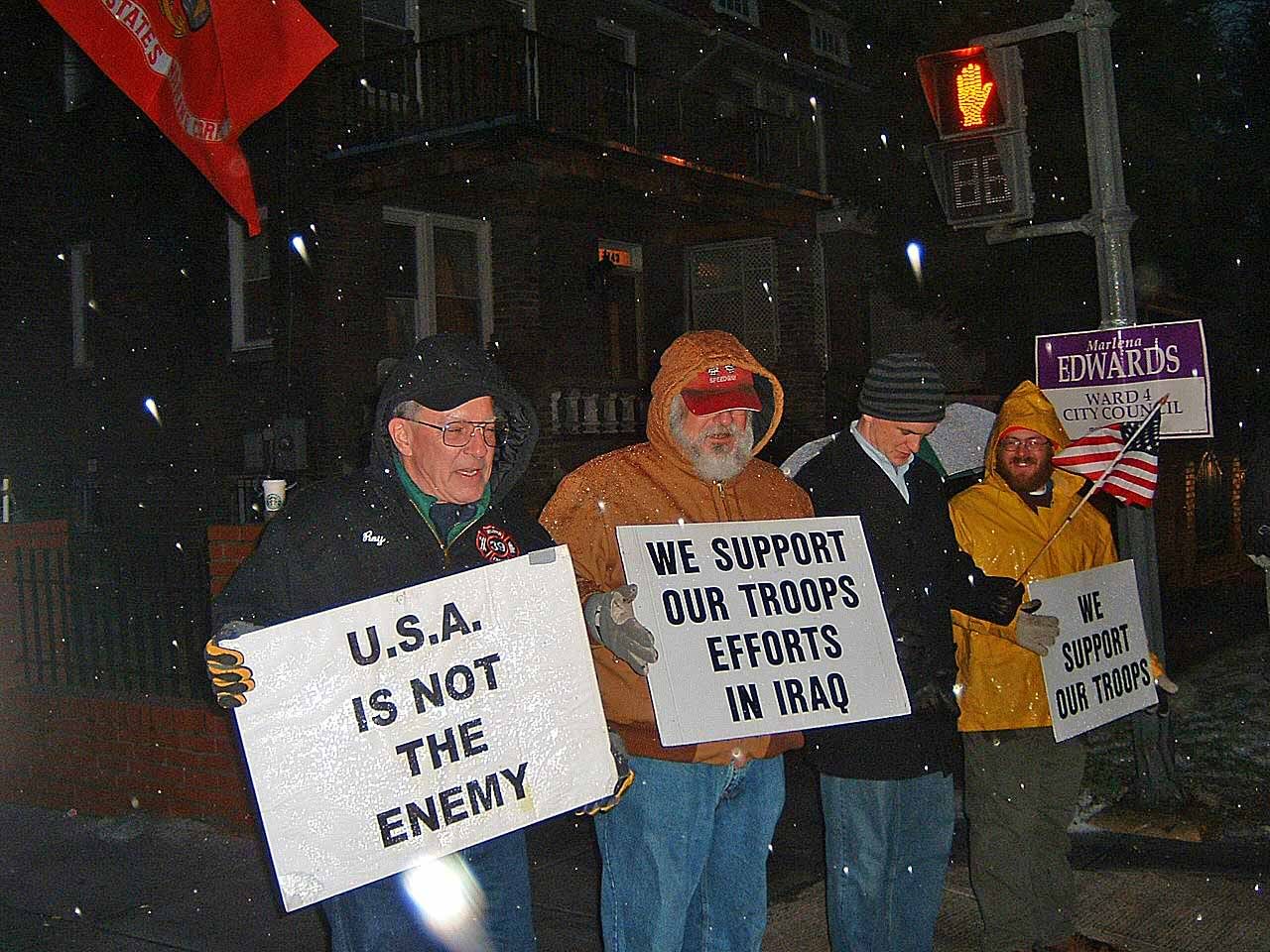 Sometime during the evening we saw the long-time Pinko we call "Squeeje Man" walk past us to join his gang of traitors. Several of us decided to follow him down and see how many of them there were. We counted about 12, which was kind of surprising. I figured that they'd have more people in town too for the events on Saturday. I guess they just couldn't take the weather, or are just demoralized from being sidelined for so long. Probably both.
Here then is the obligatory shot of the sad bad of Pinkos down the street.
One thing we've noticed is that their leaders are almost never with them. On only a few occasions have Code Pink founders Medea Benjamin and Gael Murphy been spotted, and they rarely seem to stay the entire time. That's one good reason, I am sure, that their numbers have steadily dropped. I guess Medea and Gael figure they're too important.
Kristinn Taylor, on the other hand, is present from beginning to end at almost all of our FReeps. If you want to make something a success you have to lead by example, and I'd certainly say our Walter Reed FReeps have been successful.
Here are some more of our friends from out-of-town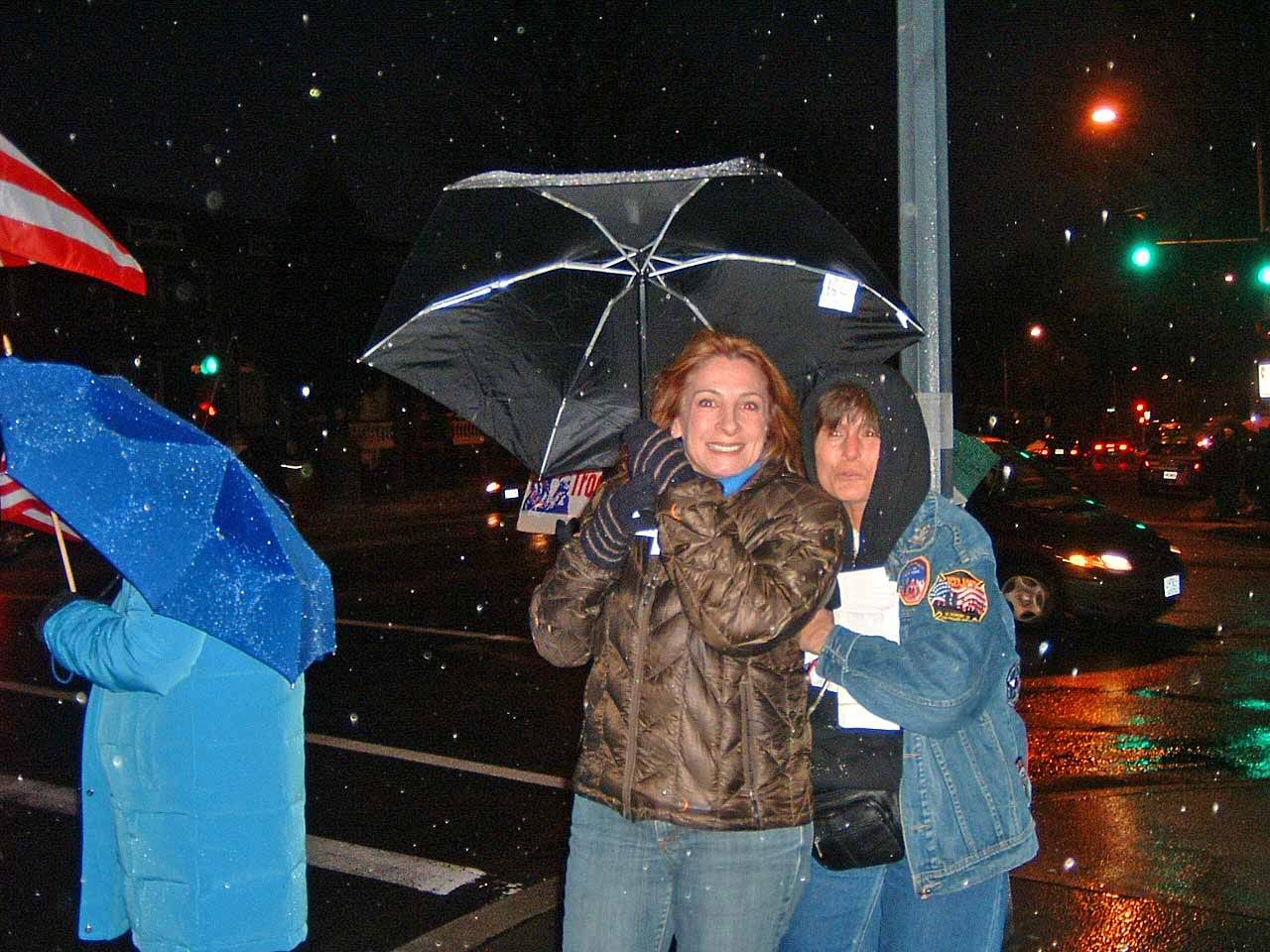 Bad weather didn't stop this FReeper from carrying three flags and a sign
I know this next one is grainy but poor Mrs Trooprally didn't want to use her good camera and for excellent reason. Water damage doesn't do a camera well! It's just as well though because I think the way the photo came out rather conveys the feeling of being in a mixture of sleet and snow after dark
And unless I am very much mistaken this is Jim Robinson, the founder of Free Republic, who came out to join us
Thank you once again for everyone who came out to be with us this evening! In selecting photos I tried to get the folks from out-of-town who aren't usually with us.
And for all the rest of you, we realize that it may not ever be possible for you to join us in person, but that you are here in spirit. We very much appreciate your thoughts and prayers. All I would do is encourage you to seek ways in your community to show your support for our troops. Most of you probably already participate in various programs.
Until next time...
Acknowledgements and More
Don't be shy! We'd love to have you with us one evening. If you'd like details on location, parking, etc, please send FReepmail to me or any of the other DC chapter members. You can also reach me by email at redhunter43@yahoo.com
* A special Thank You to Mrs Trooprally for taking the photos for this AAR. You can find all of the photos she took for this FReep on her Photobucket site
* Thank you to BufordP for maintaining the BIG LIST of all Walter Reed FReeps.
* Thank you always to Kristinn and tgslTakoma for all the work they do to keep these FReeps happening.
* Tom the Redhunter blogs at The Redhunter

---
TOPICS: Activism/Chapters; Foreign Affairs; News/Current Events
KEYWORDS: codepink; gatheringofeagles; gwot; troopsupport; walterreed
---
Navigation: use the links below to view more comments.
first 1-50, 51-68 next last
---
---
---
---
---
---
---
---
---
---