---
Still Basking in the Afterglow at Walter Reed
3/27/2007 | PleaDeal


Posted on 03/27/2007 8:01:55 PM PDT by PleaDeal

-- Walter Reed FReep Week #101 With No Let Up In Sight!

Washington, DC, March 23, 2007-- A very happy crowd gathered tonight to celebrate our heroes and continue our opposition to the Hate America First crowd waaaaaay down the block. Code Pink showed up in larger than usual numbers (13) most likely due to their humiliation at the hands of the patriots who joined the Gathering Of Eagles last weekend on the Mall. We had 25 patriots that filled all 4 corners at the gate quite nicely!

First, an update from the Gathering of Eagles.
FReeper TFroatz had not one, but 2 potentially health-threatening encounters with rabid moonbats at the rally!

The WaPo posted this video showing a deranged hippie spitting on TFroatz! It happens about 1:50 minutes into the video. Unfortunately for our Fearless FReeper, he was not protected by the "Spit Shield" at the time due to it's faulty construction. (oops! my bad...)

The most horrific attack came while the cameras weren't rolling.

TFroatz was trying to talk to two moonbats when one of them became completely unhinged and bit him in the arm! He gives his report in this video.

It should be noted that at NO TIME did TFroatz react with the violence that these idiots so richly deserved.

Hats off to a real gentleman!
| | |
| --- | --- |
| For once the flags aren't whipping in a furious freezing wind! | The FReepers and FRiends who gathered tonight were still basking in the glow of the Gathering of Eagles success! We all related stories of meeting some fantastic people and hearing heart wrenching and heartwarming stories from Vietnam, Korean, and even WWII veterans. These strong souls had traveled from far and wide to show that they would not allow anyone to desecrate the memorials constructed to honor their brethren who had fought and died for this great country. The passion and determination of thousands of patriots to show the anti-war, anti-American left that they won't go unopposed in trying to turn the GWOT into another Vietnam defeat was still being felt a week later. |
For those of you who have been following all the posts on FreeRepublic but may not have seen some of the excellent reporting on FReeper's blogs, here are a few notables:
Walking the assembled MOAB out to the street.

A special guest joined us tonight. Author Phil Kiver (182 Days in Iraq, Word Association Publishers, 2006) hung out with us and talked about his fund raising efforts for Fisher House. He's currently organizing a $1,000 per plate dinner on Fisher Island off the coast of Miami on May 5th. If anyone's interested in attending the event, ... uh ...can I borrow some money? Just kidding!
Using the skills he learned as an Army Reporter, the intrepid journalist couldn't pass up a chance for an up-close-and-personal encounter with "The Enemy".

Phil was talking with a Pinko who claimed to be a Vet when Comrade Bruce rudely interrupted the conversation to complain about Phil's cigar smoke. Phil said later that he would have put the offensive stogie out but he objected to Bruce's hostile manner.

Large Marge became inhospitable to FReeperMedia's attempt to digitally record the scene. She told the photographer "That's enough pictures. You need to go back up to your own area!" Well!

The photographer went across the street and snapped off a dozen more pics with the "bright" flash. Heh.

Code Pink has said that it is no longer involved in the Walter Reed "vigils", yet this is on their official website for the GoE weekend.

Friday, March 16, 6-9pm, Walter Reed Vigil. CODEPINK continues its two-year long campaign outside the army hospital calling for funding to support the troops' wellbeing, not continuation of the war.

And, as the pictures show, they are still participating!
*** *** *** *** *** *** *** *** *** *** *** ****** *** *** ***
Troop supporter Bob drives down from Niagara Falls every 3-4 weeks and takes a couple of wounded warriors out to dinner or wherever they want to go. Tonight he decided to stop by with his dinner guests and say "hello". Bob's dedication to the wounded heroes prompted us to say THANK YOU!!

D.C. Police taking report.

One dark spot in an otherwise bright evening was the theft of a pair of license plates from a FReeper's car. It's well known that Walter Reed sits in the midst of a pretty rough neighborhood, but this brazen act took us by surprise.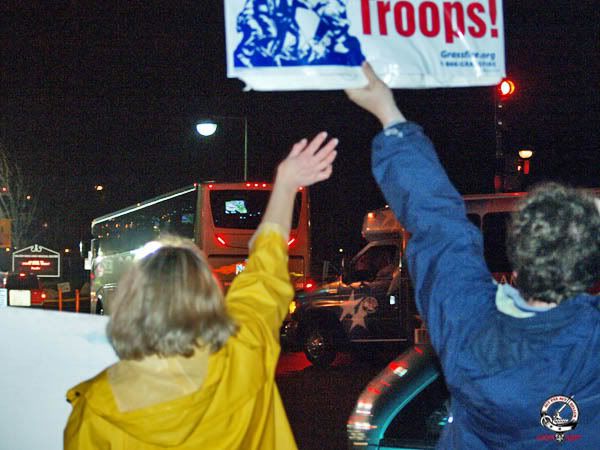 The buses filled with wounded warriors and family coming back from
the weekly Fran O'Brien's dinner as seen through
Ethel* and Fraxinus.
The whole list of FReepers & FRiends in attendance last Friday (If I missed anyone - please let me know!): Al & Mary from MD*, Billf, Bill from MD*, Cindy-True-Supporter, Citizen SMASH, Danang68, Fraxinus, George & Ethel*, Hoodlum91, Jimmy Valentine's Brother, Just A Nobody, Kristinn, Mark from MD*, PleaDeal, Taco Mamma, TFroatz, tgslTakoma, Tom the Redhunter, VAFlagWaver. Special guests Bob from NY and his dinner guests Craig and David, along with author Phil Kiver.
You can see the whole collection of pics from the night here.
We'll be back out at Walter Reed Friday night, March 30th, from 6:30 until at least 9:30 at the intersection of Georgia Avenue and Elder Street, NW in Washington, D.C.
The wounded warriors inside the hospital are heartened by the sight of ordinary citizens cheering for them and displaying our thanks for the service and sacrifice they've made on our behalf.
A couple hours this Friday night is very little to give compared to what they've contributed!
If you can't get to D.C. to join us but would like to do something for the wounded, you can find a wealth of ideas by FReepmailing Albion Wilde, Cindy-True-Supporter, VAFlagwaver or PleaDeal.
Keeping the BIG LIST: All DC Chapter Walter Reed FReeps - c/o BufordP.

---
TOPICS: Activism/Chapters; Foreign Affairs; US: District of Columbia; War on Terror
KEYWORDS: codepink; gatheringofeagles; troopsupport; walterreed
---
Navigation: use the links below to view more comments.
first 1-20, 21-40, 41-57 next last
---
---
---
---
---
---
---
---
---
---
---
---
---
---
---
---
---
---
---
---
---
Navigation: use the links below to view more comments.
first 1-20, 21-40, 41-57 next last
---
---