---
To: xjcsa
I've been saying that Newt was a closet Global Socialist for over ten years.
40
posted on
04/10/2007 1:38:50 PM PDT
by
c-b 1
(Reporting from behind enemy lines, in occupied AZTLAN.)
---
To: c-b 1
This is what always bugged me about him: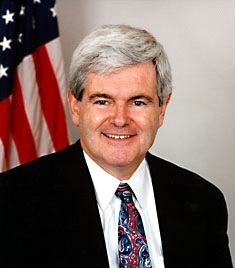 Top - Milosevic; Bottom - Newt
45
posted on
04/10/2007 1:48:42 PM PDT
by
Eagle of Liberty
(The United States of America is the only country strong enough to go it alone.)
---
To: c-b 1
I've been saying that Newt was a closet Global Socialist for over ten years.
Joined at the hip with Grover Norquist. Have you heard about their environmental non profit with Gale Norton? It was going before Gale was named sec. of Interior.
http://www.sourcewatch.org/index.php?title=Council_of_Republicans_for_Environmental_Advocacy History
CREA was founded in 1998 by Gale Norton, George W. Bush's Bush's Secretary of the Interior.
In a profile of Norton, the Natural Resources Defense Council wrote of CREA that "true pro-environment Republicans, the Republicans for Environmental Protection, have called her group a 'green scam'."
1. BACK SCRATCHING AND GREENWASHING
http://thehill.com/thehill/export/TheHill/News/Frontpage/030105/DOJ.html
The Council of Republicans for Environmental Advocacy, a nonprofit organization founded by Interior Secretary Gale Norton and Grover Norquist, has been subpoenaed by "an interagency criminal task force investigating former lobbyist Jack Abramoff." Abramoff and associates are being investigated for "their dealings with Indian tribes." CREA received significant contributions from tribes represented by Abramoff, as a quid pro quo for help with "the tribes' lobbying of the Interior Department," according to anonymous sources. CREA is a "staunch supporter of the Bush administration's environmental policies," and has been called a "greenscam" by Republicans for Environmental Protection, for taking mining, logging, chemical and coal industry money.
SOURCE: The Hill, March 1, 2005
http://www.organicconsumers.org/politics/prwatch30305.cfm

68
posted on
04/10/2007 2:15:29 PM PDT
by
AuntB
(" It takes more than walking across the border to be an American." Duncan Hunter)
---
To: c-b 1
Newt is not suggesting govt regulations but incentives..I am with Newt on this...he is brilliant. IMO, more reading between the lines and LESS headline gasps are a must!
"Regulation and litigation are the least effective ways of getting solutions," the former Speaker said. "Reshaping markets with incentives are the fastest way."
---
FreeRepublic.com is powered by software copyright 2000-2008 John Robinson