---
PATRIOT GUARD RIDERS STOP BY: Week 68 - Olney,MD 4-14-07: Operation Infinite FReep
April 16,2007


Posted on 04/16/2007 6:13:50 PM PDT by trooprally

Local PGR Members Ted and Ann (BELOW) stopped by on their way to Walter Reed to chat for a while. They visit WR twice a week, bring the troops something each time. This week they had a donated California Redwood cane inscribed with a wounded soldier's name. It is beautiful. The below photo does not do it justice. They are going to try to make it by the Walter Reed FReep this Friday.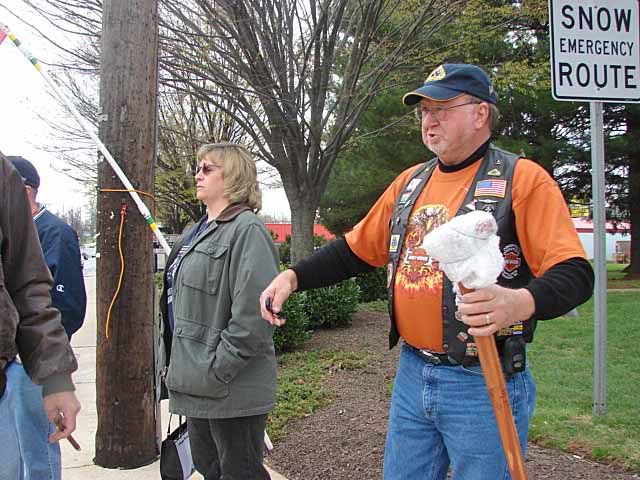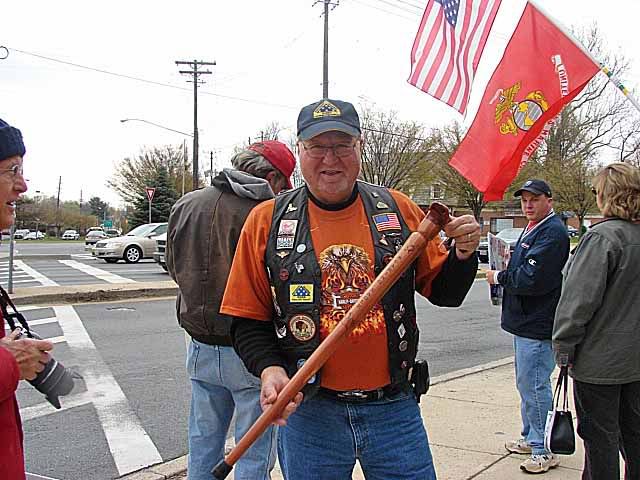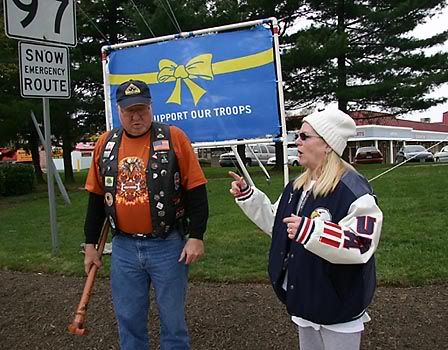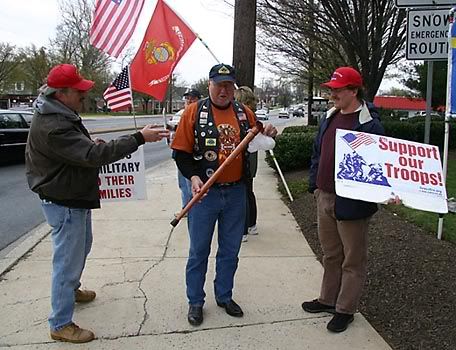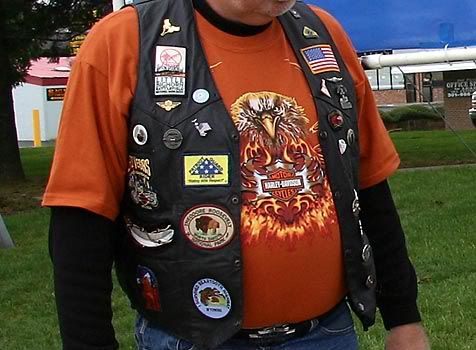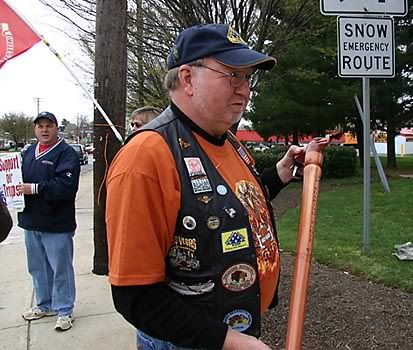 We also had Legionnaire Halsey FReeping with us this week. Halsey gave a definite majority, 8 FReepers and Lurkers, over the moonbats 5.
BELOW LEFT: [Mrs] T, Cindy_True_Supporter, and Halsey. They all got a laugh after Halsey hug both. With Halsey being their American Legion Post Commander , a cry of 'fraternizing' was heard. BELOW RIGHT: [Mrs] T with Halsey talking to Lurker Bill.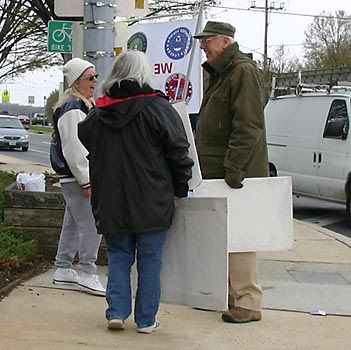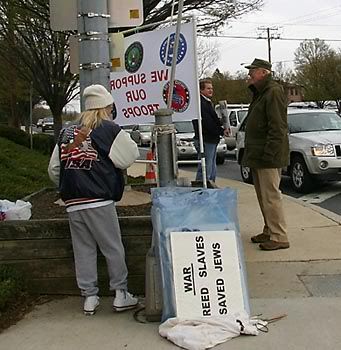 I think the media age for the moonbats today was above 70 (More below). Their numbers are dwindling and only the older ones come out. And there were no male types today. But even when the male types come, they are wimpy. There was ONE representative of MOBlizing Mothers. For those who haven't read past Olney FReeps, the "MOB" of MOBlizing Mothers stood for Mothers Opposing Bush. But since Bush won a second term, they had to change their name. HeeHeeHee
AND, Barking Waveman has not been out for quite a while. He was one of the moonbats' standard bearers, holding his idiotic "Impeach Bush" sign. I guess that since doesn't look like it will happen, even with the Rats having control of both Houses, he's sulking in his car.
But enough gloating about once again getting the upper hand over the moonbats.
Besides Halsey, others in attendance on our side today were Cindy_True_Supporter, (CTS), Fraxinus, iMacMan, (iMM), Lurker Bill, (aka Lurker Bill from MD on Walter Reed AARs), Olney-Keith, (O-K), Trooprally (Mrs T) and myself (Mr T).
BELOW LEFT: Me with O-K. BELOW RIGHT: [Mrs] T and Lurker Bill. I'm showing a lot of pics of [Mrs] T because with summer coming up, [Mrs] T will be the only one taking pics, and not of herself. iMacMan will be busy with his summer things and won't be with us. He is a "cold weather" FReeper.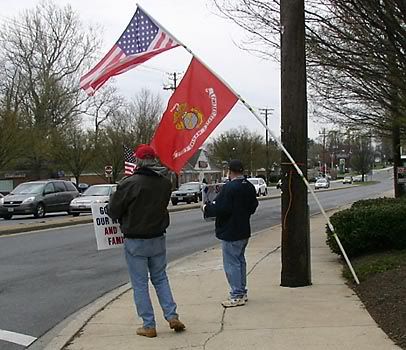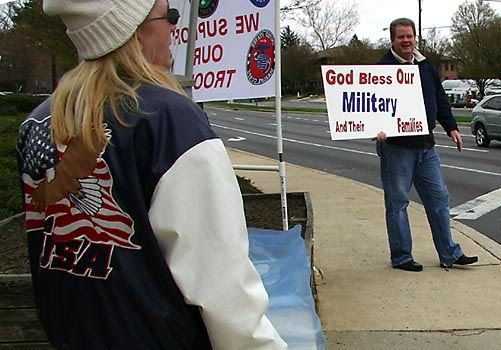 BELOW LEFT: Fraxinus and iMM under Big Flag. BELOW RIGHT: iMM and his new sign and Fraxinus.
BELOW LEFT: O-K tying down red banner. There seems to always be a good breeze coming down Md. Rte. 108. BELOW RIGHT: O-K manning my normal position on our right flank.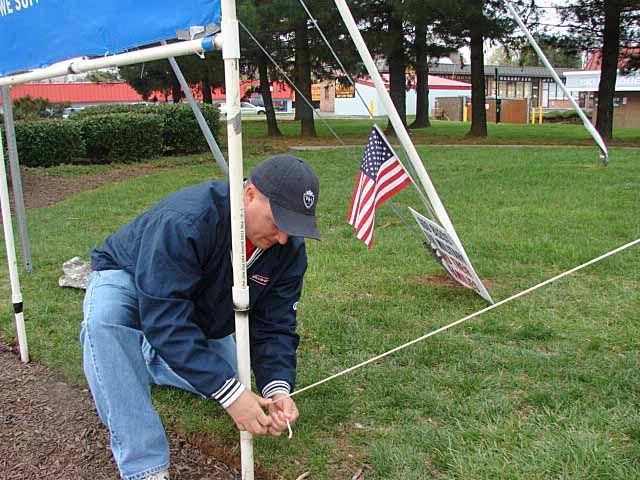 BELOW LEFT: CTS talked to this lady for about a half hour about the state of our Country. The lady's father was in WWI. BELOW RIGHT: This group were in practice for the Cancer Run. CTS explained how Code Pink stole their pink ribbon for their anti-war cause. Halsey looks on.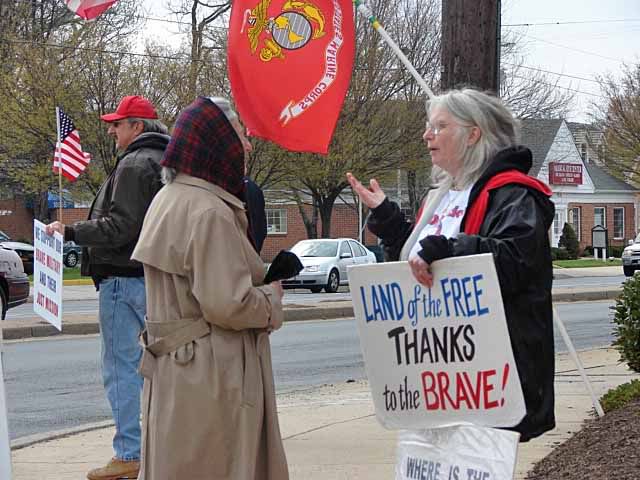 BELOW LEFT: Lurker Bill' s big smile. BELOW RIGHT: New banner donated to the D.C. Chapter by VAFlagWaver. tgslTakoma made the supports. Thanks to both. Lurker Bill is the 'keeper' of the banner for here and Walter Reed. That's Fraxinus and iMM in back ground.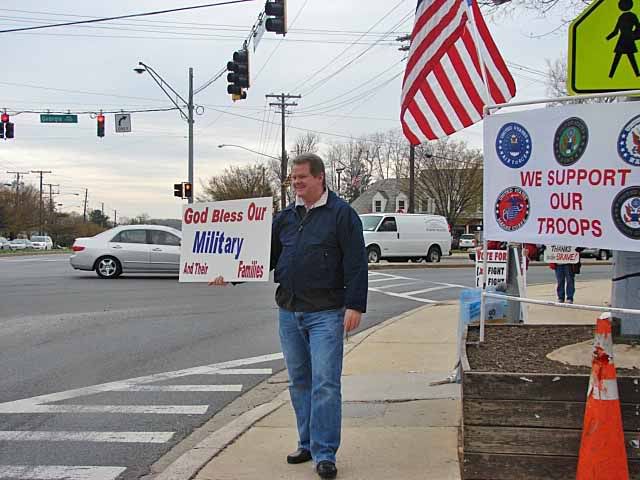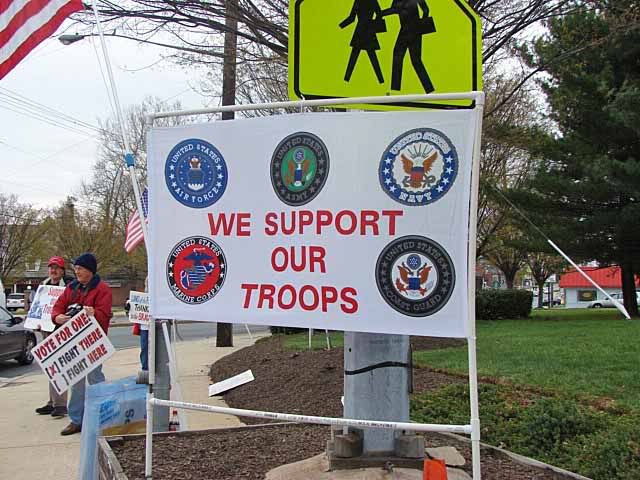 We had some real good pics again today of passing cars and trucks showing their support of our troops. Thanks iMacMan.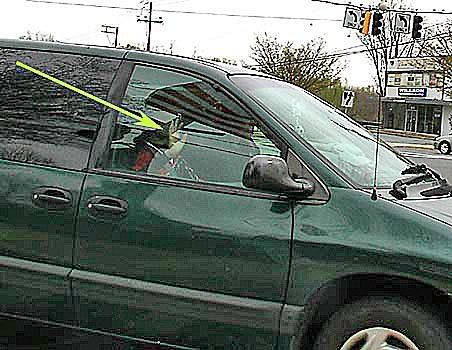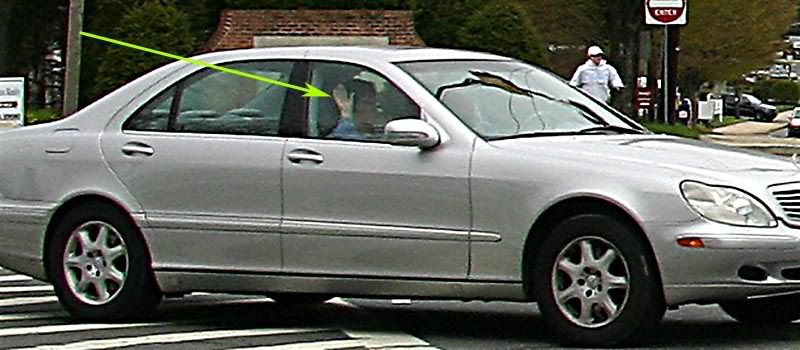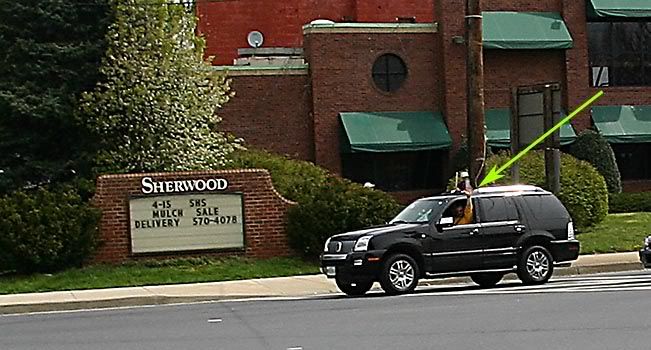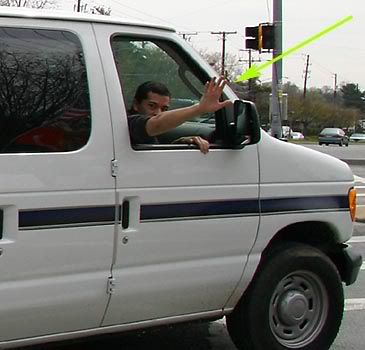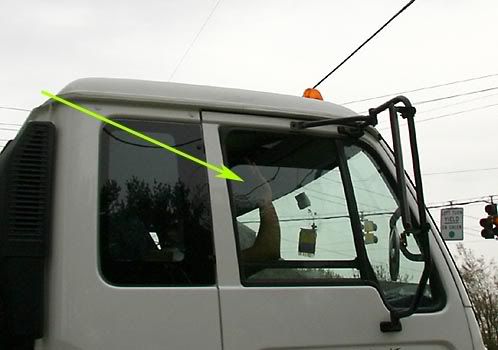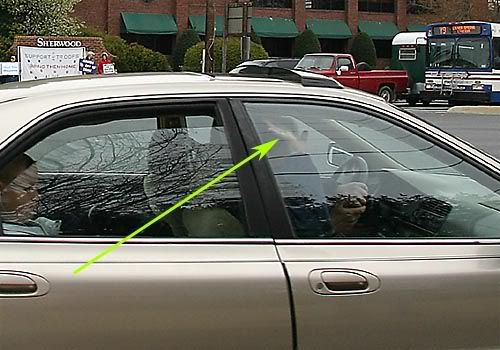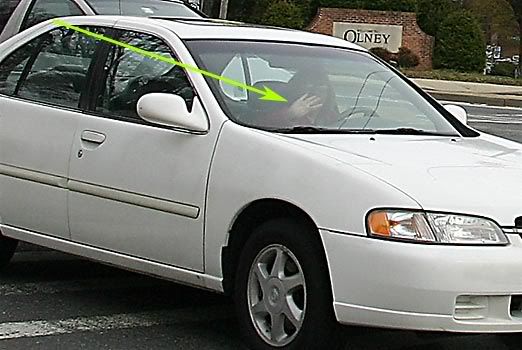 And an ever shrinking contingent of moonbats were there.
BELOW TOP: It took these two moonbats 20 minutes to figure out how to set up their banner. And then it took them 15 minutes to take it down. Several other moonbats had to walk back to them to see if they needed help. BELOW BOTTOM: The 5 moonbats who attended. Just like at Walter Reed, the main stay of their group are showing up less and less.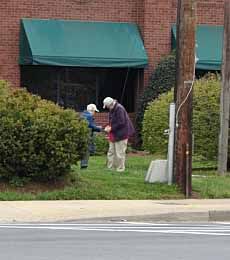 To get you back into a "right-minded" mood after the moonbat pics, here are some interesting shots. All-in-all, this Saturday ranks among the TOP Olney FReeps.
BELOW: We have our own cherry blossoms in Olney. One route from our house to Olney goes under these 40 year old trees. BELOW BOTTOM: If the Rats get the Gitmo detainees moved onto U.S. soil, we'll be seeing more of this walking around.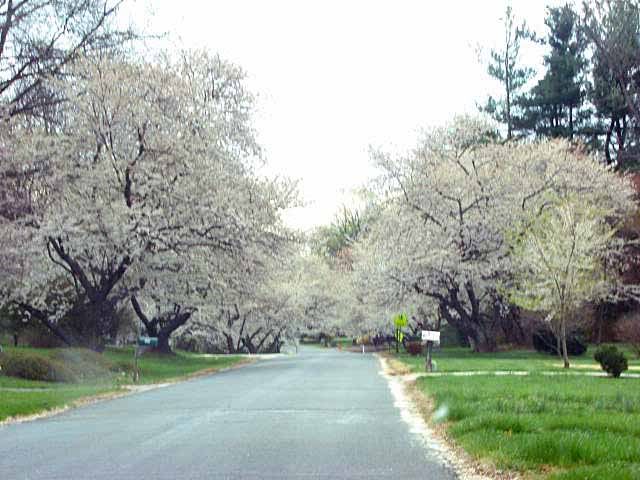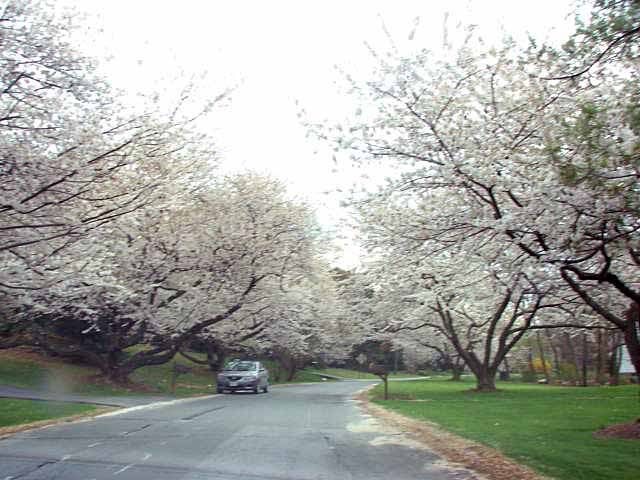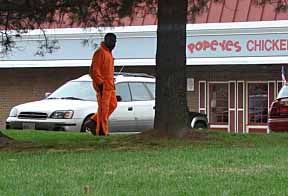 REMEMBER
Next Saturday, same place, Georgia Avenue, MD Rte. 97 and MD Rte. 108 in Olney
NEW TIME - 10:15 AM to 11:45 AM


As always, the D.C. Chapter's rules for protesting will be in effect. Briefly, they are: No violence, no profanity, no racism, no provocations, obey the law and treat all law enforcement officers with respect.

---
TOPICS: Activism/Chapters; US: Maryland; US: Virginia
KEYWORDS: mobilizingmothers; opinfinitefreep; peaceactionmc; quakers
---
Navigation: use the links below to view more comments.
first 1-20, 21-22 next last
---
---
---
---
---
---
---
---
---
---
---
---
---
---
---
---
---
---
---
---
---
Navigation: use the links below to view more comments.
first 1-20, 21-22 next last
---
---