---
Walter Reed FReep #106: Healers and Heroes (Special early start time this Friday; Update at #34)
4/30/2007 | PleaDeal


Posted on 04/30/2007 5:35:05 PM PDT by PleaDeal

Edited on

05/02/2007 12:16:29 PM PDT

by Lead Moderator. [history]

Walter Reed FReep #106: Healers and Heroes

Washington, DC, April 27, 2007-- It was a small crowd tonight despite the wonderful weather. The weather readers predicted thundershowers which precluded putting up the MOAB (Mother Of All Banners), but the rain stayed away until after we had put away the banners and flags and called it a night. Tonight's list of FReepers & FRiends in attendance (If I missed anyone - please let me know!): BillF, Bill from MD*, Cindy-True-Supporter, Fraxinus, Jimmy Valentine's Brother, Kristinn, Laura B from VA, PleaDeal, PrezUSA222, R.T. Delta, tgslTakoma, TJ from GoE, Tolerance Sucks Rocks, and VAFlagWaver.

The delightful evening brought us some fantastic company with visits by our wounded heroes and even one of their terrific docs. As we were waving flags and yelling "Thank You!" to the cars and trucks leaving the hospital, one car pulled over to the curb in front of the folks on the MOAB corner. The driver, dressed in fatigues and an Under Armour® T-shirt, got out and started shaking our hands and saying "Thanks" to us!

It was none other than Walter Reed's Chief of Neurosurgery, Dr. Leon Moores.

Col. Moores is one of the miracle workers at Walter Reed. He was recognized by Deputy Secretary of Defense Paul Wolfowitz at the 2005 TRICARE Conference. Below is an excerpt from the speech.
Dr. Leon Moores is chief of neurosurgery and also a veteran of Operation Iraqi Freedom. He, too, has been involved in life-saving procedures on wounded soldiers and Marines. And I should also explain that Dr. Moores brings a special empathy to their care. He began his own career as a cadet at West Point and served both as an infantry officer and with the 82nd Airborne. Only then did he enroll in the Uniformed Services medical school.

Back home at Walter Reed, he has continued to work with the wounded who have been evacuated. One of his patients is here with us today, Army Spec. Hugo Gonzalez, who grew up in Puerto Rico.

I met Hugo last summer shortly after he entered the hospital. He'd been injured in June as the gunner on a humvee in Iraq. They rode into an ambush. He was hit with shrapnel from an IED [improvised explosive device] and suffered a life-threatening injury to his head. He received emergency surgery in Baghdad, including a craniotomy, to relieve the swelling.

He was evacuated, first to Germany, then to Washington, where I first met him. They preserved a piece of his skull inside his body in a procedure that some of you are probably familiar with. And a few days ago, Dr. Moores reversed the procedure by carrying out a cranioplasty. That operation brings Hugo one step closer to recovery. And yesterday, I'm happy to say, he was discharged from the hospital.

Hugo is with us this morning, together with his mother, who's visiting from her home in the Dominican Republic. I'd like to ask all four of them, including Mrs. Gonzalez, to stand and let us recognize their service. [Prolonged applause]

Thanks to all of you, including Hugo's mother. I must say, the families of these patients are part of our medical care system, and it makes such a difference when they are there with their loved ones.
Last month's Esquire magazine featured a story about one of Dr. Moores' patients. Titled Sgt. Wells New Skull, the article tells the story of one of our wonderful soldiers from the day he was shot by a terrorist sniper near Baghdad, thru the long and torturous road to recovery. The part where Dr. Moores does his stuff is excerpted below.

Dr. Moores flanked by PrezUSA222 and Cindy-True-Supporter

Before Colonel Leon Moores opens Wells's skull, he holds his pseudo-skull in his hands, turning it upside down and sideways, studying the hole and planning his attack. Rouse crafts another piece of resin matching the missing piece of skull. This is built up with modeling wax into the precise shape and checked against the skull model for final adjustments. The piece is used to make a plaster mold, which is filled with polymethyl methacrylate, a plastic mixed into a putty. Within several years, doctors hope to make these implants from hydroxyapatite, the building block of our bones. Over time, bone cells would invade and alter the bioactive implant, which would slowly become natural bone, leaving the skull whole again. But for now, the plastic is the best thing going, and harder than bone. Encased in the mold, the implant cures in a pressure cooker for twenty-four hours, and then Wells's new head is ready. Nurses wheel him into the operating room on a Friday morning, and Michelle paces and fidgets and waits. Colonel Moores, a former infantry officer and now chief of neurosurgery at Walter Reed, slits open Wells's scalp and starts peeling back the flap. In the five months since the skull pieces were removed, the skin and scar tissue have fused to the dura, a millimeter-thick protective sac that envelops the brain. Moores runs his knife between dura and scalp, much as you might skin an animal or clean a fish. But this is much, much slower, a millimeter at a time. Delicate work, and the risks are severe. The dura is also fused to the brain, already injured and prone to bleeding. A wrong move with the scalpel can cause a hematoma, stroke, or seizure. And there's the ever-present threat of infection, a risk multiplied if Moores pierces the dura. For more than an hour, he works at Wells's scalp, gently tugging it back, exposing the rim of bone around the giant hole in his head. The skull model sits nearby for reference. Of more than a hundred cranioplasties the Army has performed since the beginning of combat in Afghanistan and Iraq, this is one of the biggest, so big it's done in two pieces.

Moores and his team set the sterilized implant pieces. Sometimes the skull has grown in the time between the scans and surgery, so the bone must be shaved. But here there's a perfect fit, just like the model. The implant won't actually touch the brain, and while there's always a danger of rejection, that hasn't been a problem in the operations performed thus far in the war.

Using a half dozen titanium plates a centimeter long and three millimeters wide, Moores joins skull to implant, fastening the bridges with titanium screws anchored in bone and plastic. He runs sutures through holes in the implant and into the dura, pulling up the sac. This will prevent blood clots from forming between the dura and the plastic. He pulls the sutures slowly, over many minutes, to keep from tearing the delicate brain tissue that clings to the dura. Moores also runs sutures through the temporalis, a fan-shaped muscle that normally runs from the cheekbone to the side of the skull. This is cosmetic. Wells's jaw would work fine without it, but the side of his head would look dented.

Three hours down and Moores is done. The scalp flaps are pulled up and stapled shut. Wells has his new head.
Wounded Warrior Howard S. spent most of the evening with us. He is a really pleasant young man who has been at Walter Reed since late Dec. 2006. Like most of the soldiers here, he would much rather be with his buddies in Iraq and feels the strong need to be taking care of them.

Howard seen here with tgslTakoma and Jimmy Valentine's Brother.
We also were happy to meet William and his wife who accepted our invitation to the FReeper Canteen and ate some pizza with us while discussing military and political topics. William has created a website called The Caucasian Rights Foundation which focuses on, well... the lack of equality for the majority in this country. From the website:
The Caucasian Rights Foundation is not a hate group. The Caucasian Rights Foundation believes that everyone should be proud of where they come from and the history of their ancestors. We do not believe that this history makes a person better or worst that anyone else, only unique, and that a person should not be judged by the color of their skin, but the content of their character.
Some pics...
| | |
| --- | --- |
| TJ of Gathering of Eagles. | A boisterous gang of Patriots. |
| | |
| | |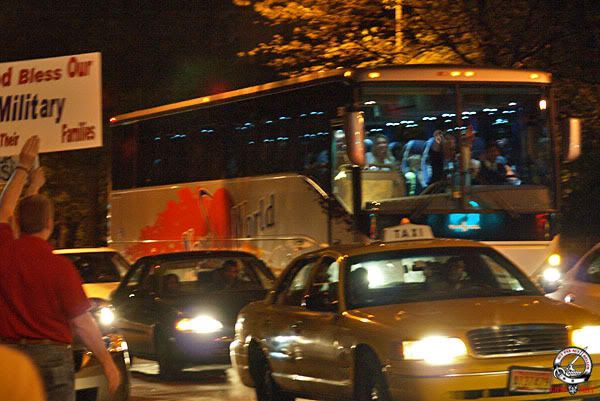 The bus filled with wounded warriors and family coming back from
the weekly free dinner. It was early for a change!
A few more pics in the collection can be viewed here.
We'll be back out at Walter Reed Friday night, May 4th, from 6:30 until at least 9:30 at the intersection of Georgia Avenue and Elder Street, NW in Washington, D.C.
The wounded warriors inside the hospital are heartened by the sight of ordinary citizens cheering for them and displaying our thanks for the service and sacrifice they've made on our behalf.
A couple hours this Friday night is very little to give compared to what they've contributed!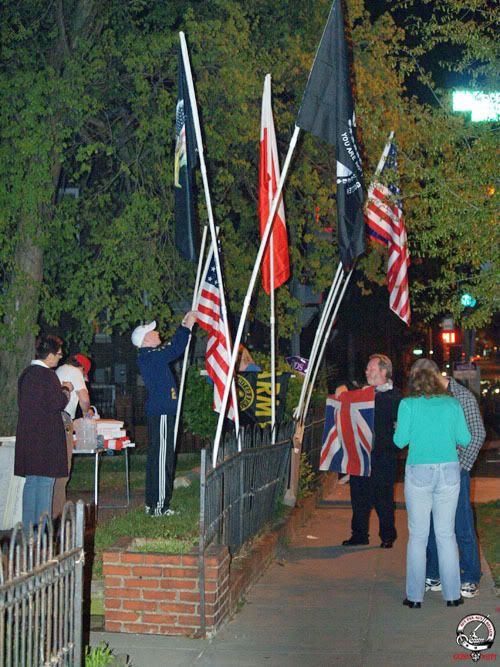 Tearing down
If you can't get to D.C. to join us but would like to do something for the wounded, you can find a wealth of ideas by FReepmailing Albion Wilde, Cindy-True-Supporter, VAFlagwaver or PleaDeal.
Keeping the BIG LIST: All DC Chapter Walter Reed FReeps - c/o BufordP.

---
TOPICS: Activism/Chapters; Foreign Affairs; US: District of Columbia; War on Terror
KEYWORDS: codepink; dcchapter; troopsupport; walterreed; woundedwarriors
---
Navigation: use the links below to view more comments.
first previous 1-20, 21-40, 41-43 last
---
To: PleaDeal
Hi all - I attended a couple Walter Reed Freeps the summer of 2005 - has it been that long? Although I have no "excuse" for not attending I do have a couple "reasons" - Friday night football practices and many other kid-centric activities that never seem to end. Like I said - no excuses though.
I do want to attend again - but there seems to be no let up for Friday nights for me for the next 6-8 weeks. I know how rewarding WR Freeps can be. It means so much to me as a citizen that you all take your time to support our military. A heart-felt thanks to each and every one of the regulars, semi-regulars and visitors. You are all true patriots!
I hope to see you in the coming weeks - I know you will be there!
---
To: kristinn
42
posted on
05/03/2007 6:11:36 PM PDT
by
Landry Fan
(Support our Troops)
---
To: skip2myloo
43
posted on
05/17/2007 3:41:11 PM PDT
by
trooprally
(Never Give Up - Never Give In - Remember Our Troops)
---
Navigation: use the links below to view more comments.
first previous 1-20, 21-40, 41-43 last
---
---
FreeRepublic.com is powered by software copyright 2000-2008 John Robinson