So, while I do agree that on the one level "macroevolution" would be acceptable to creationist, it would not follow that this type of macroevolution accounts for producing the huge structural changes that would be required to fulfill the claims of naturalistic evolution. This type of macroevolution has not been observed.
See below:
This is a transitional. Note its position in the chart which follows (in the upper center).
(This chart is a "best guess" approximation of the macroevolution of hominids over the past 3-4 million years.)
Creationists have had trouble classifying this specimen to either man or ape, with some major figures favoring man and some favoring ape.
Scientists also have disagreed as to its exact taxonomic place. The difficulty in deciding just where to place this specimen (as it shares traits of both earlier and later specimens) is one line of support for its transitional status.
---
Fossil: KNM-ER 3733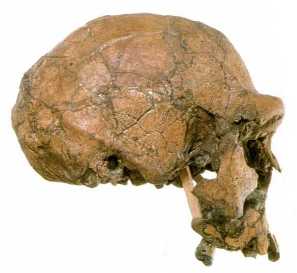 Site: Koobi Fora (Upper KBS tuff, area 104), Lake Turkana, Kenya (4, 1)
Discovered By: B. Ngeneo, 1975 (1)
Estimated Age of Fossil: 1.75 mya * determined by Stratigraphic, faunal, paleomagnetic & radiometric data (1, 4)
Species Name: Homo ergaster (1, 7, 8), Homo erectus (3, 4, 7), Homo erectus ergaster (25)
Gender: Female (species presumed to be sexually dimorphic) (1, 8)
Cranial Capacity: 850 cc (1, 3, 4)
Information: Tools found in same layer (8, 9). Found with KNM-ER 406 A. boisei (effectively eliminating single species hypothesis) (1)
Interpretation: Adult (based on cranial sutures, molar eruption and dental wear) (1)
See original source for notes:
Source: http://www.mos.org/evolution/fossils/fossilview.php?fid=33
Source: http://wwwrses.anu.edu.au/environment/eePages/eeDating/HumanEvol_info.html