---
---
Well, Bless you too, Sir!
In front of a portrait of Iran's late revolutionary founder Aytaollah Khomeini, supreme leader Ayatollah Ali Khamenei, delivers his speech to a group of clerics in the city of Mashhad, 540 miles (900 kilometers) northeast of the capital Tehran, Iran, Wednesday, May 16, 2007. Iran's spiritual leader, Ayatollah Ali Khamenei, on Wednesday said he supported U.S.-Iran talks in Baghdad about improving Iraq's security, state-run television reported. But he warned that the talks would only focus on American responsibilities in Iraq - not Iranian influence in its neighboring country - and said they were not a change in Tehran's policy toward Washington. (AP Photo/Fars News Agency,Javad Moghimi)

2
posted on
05/16/2007 11:53:00 AM PDT
by
NormsRevenge
(Semper Fi ... In FReeP We Trust ...)
---
To: NormsRevenge
I wonder if those carrier groups had anything to do with it.
3
posted on
05/16/2007 11:53:02 AM PDT
by
manic4organic
(Send a care package through USO today.)
---
To: NormsRevenge
WONDER WHICH AMERICANS THE WANT TO MEET?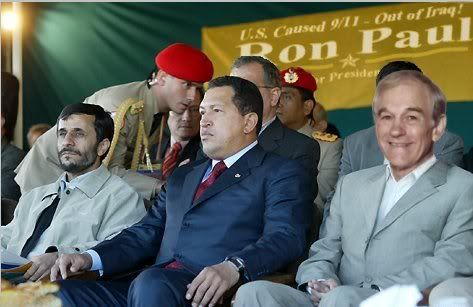 ---
To: NormsRevenge
That's because Iran's economy is heading towards collapse with inflation averaging 20% / year the last 7 years. I know. I have a fellow co-worker who has family there, it's bad.
---
To: NormsRevenge
Anything coming from the terrorist exporting Tehran dictatorship is a con, a stall game which only arch-leftist Dems would willingly fall for.

7
posted on
05/16/2007 12:50:50 PM PDT
by
M. Espinola
(Freedom is never free)
---
FreeRepublic.com is powered by software copyright 2000-2008 John Robinson