---
Joe: Team Embarrasment" (Paterno Sentences Entire Team to Clean Beaver Stadium After Home Games)
Philly.com ^ | May 22, 2007 | Bernard Fernandez


Posted on 05/22/2007 3:20:01 PM PDT by FlJoePa

Joe: 'Team embarrassment'By BERNARD FERNANDEZ fernanb@phillynews.com

Associated Press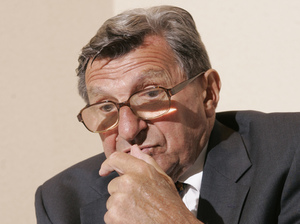 Joe Paterno speaks with reporters last night in King of Prussia. Penn State coach Joe Paterno issued his strongest denunciation yet of an off-campus incident that resulted in felony charges being filed against six of his players, two of whom - starting junior safety Anthony Scirrotto and sophomore defensive tackle Chris Baker - are still facing prosecution. Meeting with the media yesterday prior to a Nittany Lion Club gathering in King of Prussia, Paterno described the incident as a "team embarrassment" and he outlined some of the steps he intends to take to "prove to people we're not a bunch of hoodlums."
Those steps include the mandatory cleaning of Beaver Stadium by all members of the Penn State football team on Sundays after home games this fall "because we're in this together," and making some of those involved "work with the Special Olympics, so they can see how lucky they are."
Still others could be suspended for one or more games, or placed lower on the depth chart.
"I don't condone it," Paterno said of an argument that escalated into a brawl at a State College apartment. "Our guys were wrong. I just hope people don't overreact to it.
"We've had problems in other offseasons. It hasn't been easy, obviously. I've got parents calling me and they're upset. They want to know what's going on. Others are saying, 'My kid really wasn't involved.' I have to stay out of it. I really don't want to take sides."
By that, Paterno meant that he would not attempt to influence the internal investigation by the university's judicial affairs office, or the due process involving Baker, who was charged with felony counts of burglary and criminal trespass, plus four related charges, and Scirrotto, who was charged with burglary and criminal solicitation.
The four other players originally cited - junior cornerbacks Justin King and Lydell Sargeant, junior linebacker Tyrell Sales and sophomore linebacker Jerome Hayes - had the charges against them dropped on May 4 by prosecutor Steve Sloane, a Centre County assistant district attorney.
State College police said Scirrotto and his girlfriend got into an altercation with three men on a State College street on April 1 and followed them into an apartment building where a party was being held. Scirrotto called his brother and some friends to join him, but they were not let into the party right away.
Scirrotto then called a teammate and met up with some players who also arrived at the party, authorities said. A group of men, including all six players, rushed into the apartment. In the ensuing melee, one man was hit in the head and knocked unconscious, and another was punched and kicked in the face. At least five students were struck, and at least two required treatment at a hospital.
Paterno said ramifications of the fight are "my biggest concern right now," which is saying a lot considering he also has had to deal with the premature end of redshirt junior guard Elijah Robinson's football career, due to medical reasons, and his own recovery from leg injuries sustained in a sideline collision during a game at Wisconsin on Nov. 4.
"I've already told the [university] president [Graham Spanier] that everybody on the team is going to do 10 hours of community work, and we're going to clean out the stadium on Sunday after every home game," Paterno said.
"That's probably not enough for a couple of the kids, but that's up to the university to determine. I just hope that they treat [the players] like any other students. But until I hear that, I'm not sure where this is going."
Paterno said he has spoken to Scirrotto, who led the Big Ten in interceptions last season, "I know his side of the story," Paterno said. "He got into a little skirmish downtown, became irate, called up a couple of his buddies and said, 'Come on down.' They went over there and got into a fight.
"I was more upset with the kids who could have said, 'Hey, come on. Knock this off. We don't need this.' That bothers me. I'd be dishonest if I told you otherwise."
Robinson, who was running with the first offensive unit at left guard during spring practice, was injured during a drill. A subsequent examination by team doctor Wayne Sebastianelli revealed that he had a "tight spinal canal" and that another blow to his neck could result in paralysis.
"A shame," JoePa said. "He was a really good prospect, and a good student. He was pulling out, blocking, and somehow he got caught the wrong way. He went down. He knew he was hurt."
Paterno, 80, said he expects to be on the sideline for the Sept. 2 season opener against Florida International.
"I can't run yet, but I'm going to," he insisted. "I can walk. I don't have quite the stamina that I had, but the other day I walked 55 minutes up and down some hills. I was sore that night, but I'm fine.
"I usually walked an hour and 15 minutes [before he suffered a broken left leg and torn knee ligaments]. I'm going to work my way back up to that."

---
TOPICS: Culture/Society; Front Page News; US: Pennsylvania
KEYWORDS: football; joepaterno; pa; psu
---
Navigation: use the links below to view more comments.
first 1-20, 21-24 next last
---
---
---
---
---
---
---
---
---
---
---
---
---
---
---
---
---
---
---
---
---
Navigation: use the links below to view more comments.
first 1-20, 21-24 next last
---
---