---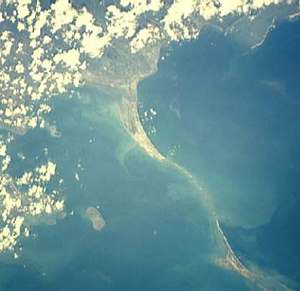 Adam's Bridge.

---
To: CarrotAndStick
The Sethu-Samudram Shipping Canal Project proposes linking the Palk Bay and the Gulf of Mannar between India and Sri Lanka by creating a shipping canal through the shallow sea sometimes called Setu Samudram, and through the island chain of Rama's Bridge, also known as Adam's Bridge. This would provide a continuous navigable sea route around the Indian Peninsula. The project involves digging a 44.9 nautical mile (83 km) long deepwater channel linking the shallow water of the Palk Strait with the Gulf of Mannar. Conceived as early as 1860 by Alfred Dundas Taylor, it recently received approval of the Indian government.
A ferry service linking the island and port of Rameswaram in India with Talaimannar in Sri Lanka has been suspended for some time due to the fighting between Sri Lankan government forces and the Sri Lankan Tamil separatist group, the LTTE.
History
Possibly conceived in 1860 by Commander A. D. Taylor of the Indian Marines, the project has been reviewed many times over the years but no decision was ever made. It was part of the election manifestos of all political parties during elections. The Union Government of India appointed the Sethu Samudram Project Committee in 1955, headed by Dr. A. Ramasamy Mudaliar, which was charged with the duty of examining the desirability of the project. After evaluating the costs and benefits, this committee found the project feasible and viable. Several reviews of the proposals followed. Finally, the United Progressive Alliance Government of India headed by Prime Minister Manmohan Singh announced the inauguration of the project on June 2, 2005.
2
posted on
06/09/2007 1:39:34 AM PDT
by
CarrotAndStick
(The articles posted by me needn't necessarily reflect my opinion.)
---
To: CarrotAndStick
I found this on Wikipedia:
"Recently the Government of India has approved a multi-million dollar Sethusamudram Shipping Canal Project that aims to create a ship channel across the Palk Strait. The plan is to dredge the shallow ocean floor near the Dhanushkodi end of Rama's Bridge to create enough leeway allowing ships to pass through the channel instead of having to go around the island of Sri Lanka. It is expected to save nearly 30 hours' shipping time by cutting over 400 km off the voyage."
400km divided by 30 hours = 13.33 kmp/h = 7.2 kts. So it sounds like we're talking about dredging a channel for dhows and not real ships. Doesn't look worth it to me.
---
To: CarrotAndStick
...and, I "care" because....???
WTF.
---
FreeRepublic.com is powered by software copyright 2000-2008 John Robinson