---
To: DogByte6RER; Slings and Arrows; Glenn; republicangel; Bahbah; Beaker; BADROTOFINGER; etabeta; ...
5
posted on
06/29/2007 8:05:10 AM PDT
by
Slings and Arrows
(Gaza: Your one-stop schadenfreude entertainment center.)
---
To: Slings and Arrows
Our 11 month old Tabby (rescue cat) disappeared a week ago.
He has disappeared 4 times so far including this time. Two times, we were called by animal control services due to the chip implant. One time, he was roaming another neighborhood and we found him at our synagogue and carried him home. Later out we found that one of our neighbors said he was hanging out around a neighbor a few blocks away. This time though, it looks like he may be gone for good.
You can't tell me that this cat domesticated himself. (that %$#@* cat).

---
To: Slings and Arrows; DogByte6RER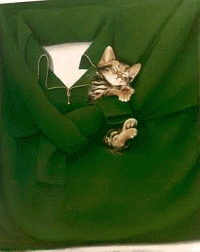 CATS RULE


---
To: Slings and Arrows
Now I know why food is viewed by cats as "love", because it goes back to the days of the ancient near east when they worked the fields.
163
posted on
06/30/2007 3:36:29 AM PDT
by
Biggirl
(A biggirl with a big heart for God's animal creation.)
---
To: DancesWithCats
Here's a good one. See post #5. :)
183
posted on
07/06/2007 2:05:42 PM PDT
by
To Hell With Poverty
(For evil to win, it is only necessary for Jimmy Carter to be considered a role model.)
---
FreeRepublic.com is powered by software copyright 2000-2008 John Robinson