Main Topic:
What is your favorite breakfast?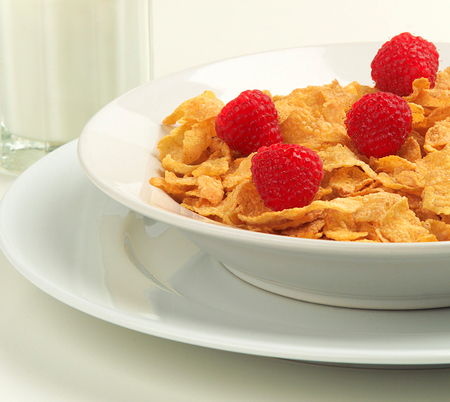 A bowl of cereal?
The word cereal derives from Ceres, the name of the Roman goddess of harvest and agriculture. Cold cereal is largely an American invention, but its popularity has spread throughout the world.
Some YUMMY waffles?
Waffles were first introduced to North America in 1620, by pilgrims who brought the method from Holland. Thomas Jefferson brought a waffle iron from France, and waffle frolics or parties became popular in the late eighteenth century. Waffles were eaten with both sweet (molasses or maple syrup) and savory (such as kidney stew) toppings.
Blueberry Pancakes!
The first pancake-type foods were eaten by ancient peoples, and were not the same pancakes we eat today. The simple, fried concoctions of milk, flour, eggs and spices were called "Alita Dolcia" (Latin for "another sweet") by the Ancient Romans.
Depending upon the proportion of ingredients and method of cooking, the finished product might have approximated pancakes, fritters, omlettes, or custard. Some of these dishes were sweet (fruit, nuts, honey); others were savory (cheese, fish, meat). These ancient recipes are also thought to be the relatives of waffles, cakes, muffins, fritters, spoonbread and doughnuts. Pancakes, as we Americans know them today, were "invented" in Medieval Europe.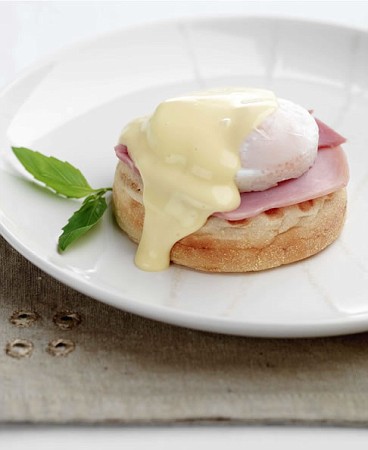 Eggs Benedict, true indulgence
There are differing accounts as to the origin of Eggs Benedict.

In an interview in the "Talk of the Town" column of The New Yorker in 1942, the year before his death, Lemuel Benedict, a retired Wall Street stock broker, claimed that he had wandered into the Waldorf Hotel in 1894, hoping to find a cure for his morning hangover, and ordered "buttered toast, poached eggs, crisp bacon and hollandaise". Oscar Tschirky, the maître d'hôtel and legendary "Oscar of the Waldorf", was so impressed with the dish that he put it on the breakfast and luncheon menus, but substituted ham and a toasted English muffin for the bacon and toast.
Craig Claiborne, in September 1967, wrote a column in The New York Times Magazine about a letter he had received from Edward P. Montgomery, an American then residing in France. In it, Montgomery related that the dish was created by Commodore E.C. Benedict, a banker and yachtsman, who died in 1920 at the age of 86. Montgomery also included a recipe for eggs Benedict, stating that the recipe had been given to him by his mother, who had received it from her brother, who was a friend of the Commodore.

Breakfast Burritos, some pan-fried potatoes and eggs sunny side up!
Southwestern cuisine, New Mexican cuisine in particular, has popularized the breakfast burrito. An entire American breakfast can be wrapped inside a 15-inch flour tortilla, accompanied by field-fresh, often very hot, green chile. Southwestern breakfast burritos may include scrambled eggs, potatoes, onions, chorizo, guisado, or bacon. Tia Sophia's, a Mexican café in Santa Fe, New Mexico, claims to have invented the original breakfast burrito in 1975, filling a rolled tortilla with bacon and potatoes, served wet with chili and cheese.
The WORKS!
Many regions of the U.S.A. have local breakfast specialties that are less popular nationally. In the South, homemade biscuits served with country-style gravy (also called sawmill gravy), country ham and red eye gravy and grits are one traditional breakfast menu.
The Southwest has huevos rancheros and spicy breakfast burritos; scrapple is a favorite in the Mid-Atlantic states; pork roll is rarely available outside New Jersey and Philadelphia; and New Englanders still occasionally indulge in fried salt-pork, and pie. Specialty sausages also vary in popularity regionally, such as linguiça in Hawaii and southern New England, andouille in Louisiana, and chorizo in the Southwest.
Come tell us about your favorite Breakfast!!
FR CANTEEN MISSION STATEMENT~Showing support and boosting the morale of our military and our allies military and the family members of the above. Honoring those who have served before.

Please remember: The Canteen is a place to honor and entertain our troops. The Canteen is family friendly. Let's have fun!
We pray for your continued strength, to be strong in the face of adversity.
We pray for your safety, that you will return to your families and friends soon.
We pray that your hope, courage, and dignity remain unbroken, so that you may show others the way.
God Bless You All ~ Today, Tomorrow and Always