---
Sept 2005: Web special: Dumond case revisited A reminder of Huckabee's role in his freedom
The Arkansas Times ^ | September 1, 2005 | Murray S. Waas


Posted on 12/01/2007 10:59:30 PM PST by 2ndDivisionVet
---
Navigation: use the links below to view more comments.
first previous 1-20, 21-24 last
---
To: HAL9000
If this were my forum, I'd be going back and deleting all of those old DuMond threads for the sake of my friends and long-time members who were misinformed on this issue at the time. If Huckabee wins the nomination, the Dems could have a field day with those old comments - to Hillary's benefit and our regret.
With that statement, I hope Jim is busy this morning; the 'Hills' have eyes...

21
posted on
12/02/2007 6:39:34 AM PST
by
Amalie
(FREEDOM had NEVER been another word for nothing left to lose...)
---
To: HAL9000
Agreed; everyone on the site bought into the story that dumond was framed by the clintons.
I have seen huckabee at freeper presidential galas singing in his rock group. So I wouldn't be surprised if he read the stuff on free republic about dumond. and decided a pardon was in order.
while I distrust Huckabee on his border illegals policies...ie I think he'll sell the country out slowly as a concession to the chicken interests in Arkansas...I don't think its appropriate for anyone at FR to say anything against him on the dumond case.
---
To: HAL9000
You're right, but I sure NEVER suggested it. I'm from Memphis and I knew the real story. Many on FR were saying Drummond was innocent and being railroaded by Clinton because the victim was a cousin.
23
posted on
12/02/2007 12:30:30 PM PST
by
packrat35
(Politicians would be less worthless if they were edible, or useable for packing wheel bearings.)
---
To: 2ndDivisionVet
Look here what ABC's GMA said this morning: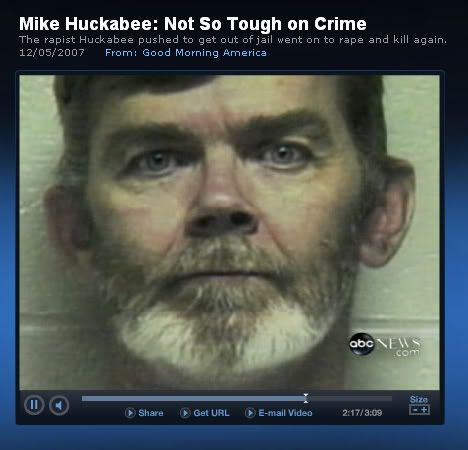 Click on the picture to go the video from this morning's Good Morning America report by Brian Ross on Mike Huckabee and Wayne Dumond.
Look especially at Huckabee's denial of having a role in Dumond's release and the statement by Charles Chastain, a former parole board member, saying that Huckabee made "a personal appeal for Dumond's release." Also, at the end of the report, Ross says this, "After first denying that these letters were genuine, a spokesman for the Governor confirmed last night that at least one was received by the Governor's office, but he went ahead anyway."
What will Huckabee say now?

---
Navigation: use the links below to view more comments.
first previous 1-20, 21-24 last
---
---
FreeRepublic.com is powered by software copyright 2000-2008 John Robinson