---
To: Fred
Hey Myth have fun changing your mind on this one tonight.
2
posted on
01/06/2008 2:32:18 PM PST
by
Fred
(McCain..'HIS EGO IS WRITING CHECKS HIS BODY CAN'T CASH')
---
To: Fred
GO FRED... second down, three to go....GO DEEP!
---
To: Fred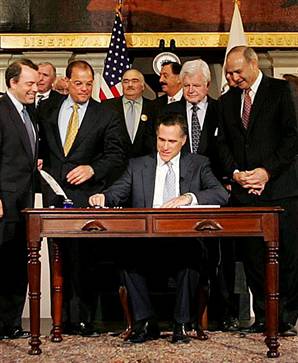 RINO Romney signs his RomneyCARE (=HillaryCARE) socialized medicine (no citizen vote allowed)
surrounded by beaming Democrats who cannot believe their luck at owning such a fine and docile RINO.
Sen. John Kerry to Don Imus on RomneyCARE: "I like this health care bill".
Sen. Hillary Clinton on RomneyCARE: "To come up with a bipartisan plan in this polarized environment is commendable."

15
posted on
01/06/2008 2:45:21 PM PST
by
Diogenesis
(Igitur qui desiderat pacem, praeparet bellum)
---
To: Fred
One more time. RomneyCare is nationalized health care insurance and the first step towards socialized medicine. It's mandated, subsidized and controlled by the government. Forcing people to purchase a service against their will is called tyranny. Subsidizing the premiums for those who can't afford it, is called socialism.
94
posted on
01/06/2008 3:39:58 PM PST
by
Reagan Man
(FUHGETTABOUTIT Rudy....... Conservatives don't vote for liberals!)
---
To: Fred
Fred better get in gear or he is toast.
---
FreeRepublic.com is powered by software copyright 2000-2008 John Robinson