---
THE ONLY DRAFT IN THIS WAR—A HOSPITAL GOWN: WALTER REED PATIENT TELLS OFF LEFTIES, Wk 143, 1/11/08
DC Chapter | January 18, 2008 | Albion Wilde, with photos by PleaDeal and [Mrs] Trooprally


Posted on 01/18/2008 1:55:56 PM PST by Albion Wilde

Washington, January 11, 2008— Whatta FReep! While Metro Police "observed" our regular Friday night rally in support of the wounded, a soldier strolled out of the Walter Reed gates in a hospital gown and skimpy robe — in January. Battle fatigued? Not at all. This guy is all muscle and grit, had just had major surgery that morning, and his missions were twofold: first, to shake hands with the DC Chapter FReepers outside the gates, and second, to "go tell the lefties that I want to go back to Iraq!"

He had heard about the anti-war protesters down the street, and about our weekly "support the troops, support the mission"rally that had thrown the lefties away from the gates—and keeps them away. Walter Reed remains the site of some of the most front-edge technology in restorative medicine: a small, sutured incision was the only evidence of his total disc replacement surgery that morning—that, and his hospital-issue back-opening nightgown, covered with a thin cotton robe.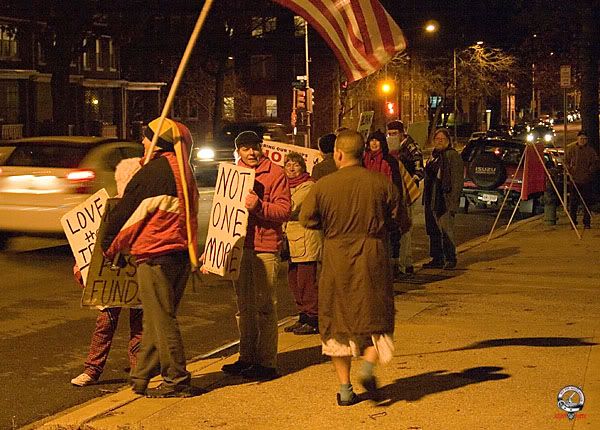 In slippers and a hospital gown, Walter Reed patient Joel tells the anti-war demonstrators down the street, whom he termed "the unbathed, jobless left-wingers," that he is eager to return to Iraq. His opinion of them may be only partly true: we know that some of them have union jobs, and some of them shave — even some of the women. Photo by PleaDeal.
Joel, an 82nd Airborne Iraq veteran who hails from New Jersey, made the rounds of our four corners to shake hands with the DC Chapter FReepers, then headed down to confront the Bush Derangement Sufferers, led by Bruce Wolf of the AFL-CIO affiliate, OPEIU Local 2. FReeper PrezUSA222 preceded Joel with a huge flag on a pole. "I'm on high-security detail," Prez joked. On the way back, Joel recounted with surprise the lefties' tame responses, in contrast with the bird-flipping at wounded troops we have documented during other soldiers' visits to the leftist camp when CodePink was in charge. "They didn't call me a babykiller or anything," he remarked. Thanks to our influence, Bruce put away his "Maimed for a Lie" sign early on — we haven't seen him holding it since 2005.
Walter Reed patient Joel with FReepers VictoryNY and PrezUSA222 in front of the MOAB (Mother of All Banners). At left in background, Fraxinus and Lurker Mom of PrezUSA222. While VictoryNY shouted plenty of her usual "We love our brave SOLDIERS!" slogans from the northeast corner, tonight she and Satin_Patriot also sang an inspired rendering of "God Bless America," with harmony by nearby FReepers. Photo by PleaDeal.
Several students from one of the nation's top hotbeds of campus radicalism, Oberlin College, strolled by our FReep. They were on a winter-break lobbying trip to the Nation's Capital. Although their lobbying mission centered on the use of coal as fuel, one of their stricken-faced members recited verbatim the MorOn.org talking points about our soldiers not having enough supplies and equipment. When we countered with facts, such as the length of time it takes to fully supply a fighting force and the cuts in funding throughout the Clinton administration leading up to the War on Terror, or various politically-motivated awards to substandard defense contractors, she scuttled away quickly to rejoin the lefties.
Two other Oberliners, students in enviro studies and history, remained courteous and stayed to chat awhile longer. We explained that we support the free-speech rights of the protesters down the street, but their thinking is stuck in the 60s, as is that of the major media executives who spread opinion of the WOT. Bottom line, the Pinkos' choice of Walter Reed as the site for their protests is as as inappropriate as a thong bikini at an Amish wedding.
Oberlin College lefties-in-the-making refresh their free-floating sense of outrage by hangin' with the lefties. Photo by [Mrs] Trooprally.
DC Metro Police's Finest Lurkers
DC Metro Police vehicles were parked in several locations around this night's FReep. Not only a squad car, but also a motorcycle with a sidecar from the elite unit that escorts Presidential motorcades, stayed throughout the evening in the church parking lot behind our main banner. Meanwhile, some "beat" cops in the six-lane Georgia Avenue artery that runs alongside Walter Reed seemed to be there just to nab speeders.
The two officers in the parking lot were from the Special Operations unit that is responsible for monitoring demonstrations in the District of Columbia. Ours, they said, is on a regular rotation of demos to be observed from time to time, and they got an eyeful of soldiers visiting us and FReepers warming up in our cars or stopping by our coffee stand in the parking lot, plus a joyful earful from passing cars beeping and shouting support and FReepers singing, woo-hooing and waving. The officers were approachable and friendly and we welcomed them to have some refreshments, which they declined; but one of them took Satin_Patriot on a sidecar ride all around the residential streets to the east of Walter Reed before the FReep began.
The sidecar motorcycle and officer. Welcome back any time, Metro Police officers! Photo by PleaDeal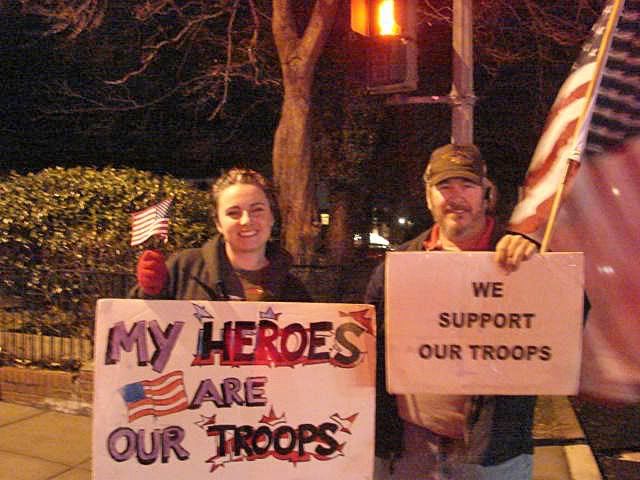 When Satin_Patriot and Gathering of Eagles' Chief ogled the sidecar motorcycle, the officer explained that the sidecar gives stability in wet weather, then took Satin_Patriot for a sidecar ride, a community-relations gesture they do for lucky citizens "as conditions permit."Photo by [Mrs] Trooprally.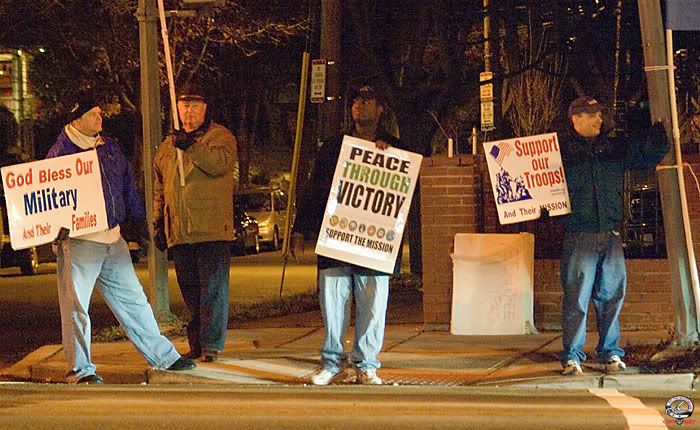 Left to right: Lurker Bill from MD, KBuri, Coby of VetsforFreedom.org, Tom the Redhunter. Photo by PleaDeal
A PDA for the Troops
We always stay until the bus arrives bringing recovering soldiers and their families back to the WR base after a dinner on the town, courtesy of volunteer donations through the Aleethia Foundation and Fran O'Brien's restaurateur Hal Koster. We could go into the base and greet them out of sight; but as we explained to the Metro Police monitors, we want the public to see us greeting them and cheering them. Soldiers and their families have told us many times how much they appreciate this PDA — Public Display of Affection — from citizens.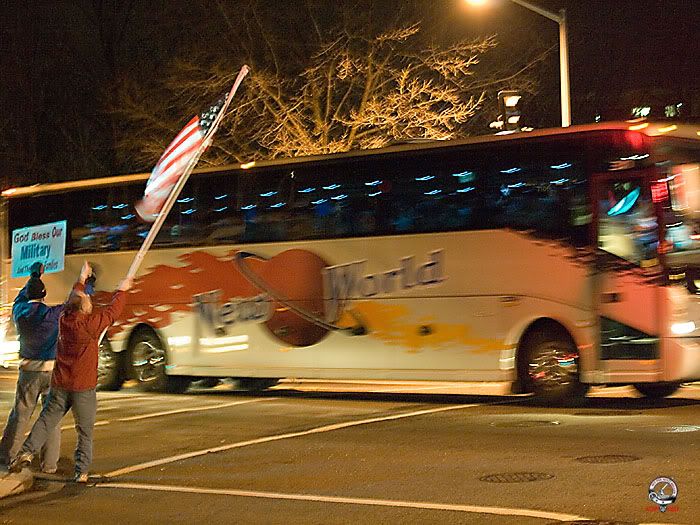 Lurker Bill from MD and RonGKirby are shown on the southeast corner as the bus approaches the gates of Walter Reed. They are just two of the two dozen FReepers and lurkers who were waving and shouting their greetings from all four corners. Photo by PleaDeal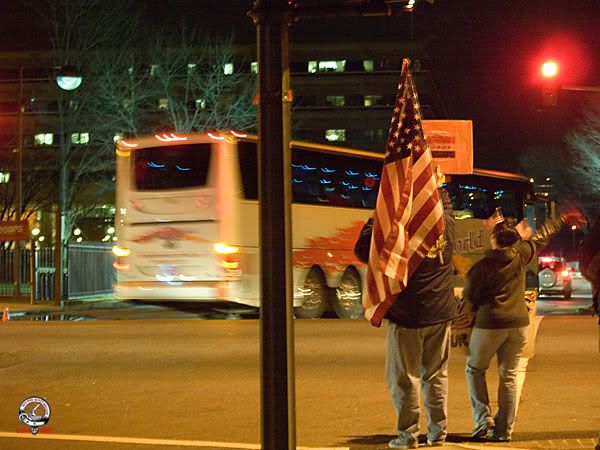 Hoo-ah! Chief and Satin_Patriot on the northeast corner hail the bus as it enters the gates. Photo by PleaDeal
This Week's Honor Roll:
FReepers: Albion Wilde, BufordP, Cindy-True-Supporter, Fraxinus, Jimmy Valentine's brother, KBuri, PleaDeal, PrezUSA222, RonGKirby, Satin_Patriot, Tom the Redhunter, TroopRally [Mr & Mrs], VAflagwaver, VictoryNY.
Lurkers: Alicia, Bill from MD, Chief, Coby of Vets for Freedom, Mom of PrezUSA222 and Steve, plus two soldiers from WRAMC = 23 for our rally, vs. an uncharacteristically large number, 14, for the anti-war "vigil."
• • •
Links:
To view all of PleaDeal's photos of this FReep, Click here.
To view all of [Mrs] Trooprally's photos of this FReep, Click here.
To view BufordP's archive of all past Walter Reed FReeps, Click here.
Want some ideas of what you can do for the wounded at Walter Reed? FReepmail Albion Wilde, Cindy-True-Supporter, PleaDeal or VAFlagWaver.
Directions to our Walter Reed freep location from the Takoma metro station


.

---
TOPICS: Activism/Chapters; US: District of Columbia; US: Maryland; US: Virginia
KEYWORDS: aar; dcchapter; draft; hospitalgown; rally; walterreed
---
Navigation: use the links below to view more comments.
first 1-20, 21-40, 41-60, 61-80, 81 next last
---
---
---
---
---
---
---
---
---
---
---
---
---
---
---
---
---
---
---
---
---
Navigation: use the links below to view more comments.
first 1-20, 21-40, 41-60, 61-80, 81 next last
---
---