---
I wonder how Condi Rice or Chris Hill of the world would track down these hidden facilities and force N. Korea to declare them as nuclear sites.
We can argue about whether this operation is for producing weapon's grade uranium or not. Still, we cannot be certain until outsiders go there and inspect it in person.
There could be other well-concealed nuclear facilities whose existence outsiders have never heard about, even as a mere rumor.
Here is the map of the location in question. The blue rectangle is the city of Hoiryong, and the black circle below is Obong Mountain. I suspect Obong-dong Valley is part of this mountain.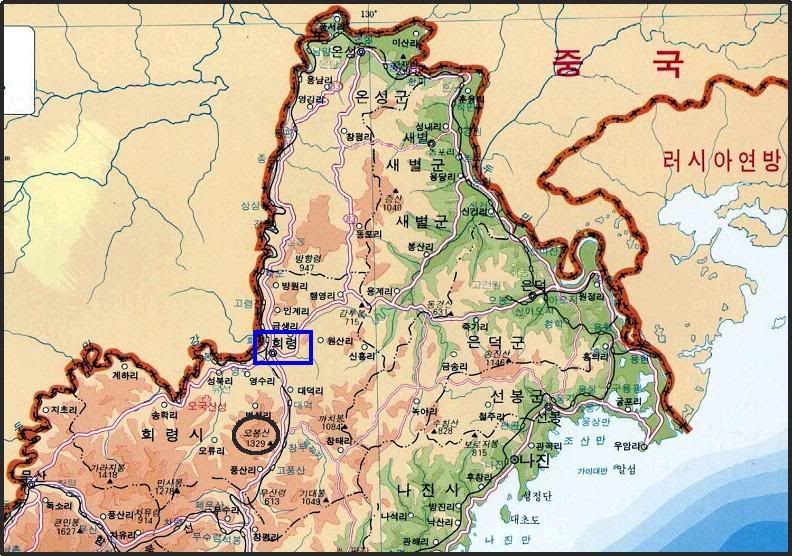 ---
To: TigerLikesRooster; AmericanInTokyo; Steel Wolf; nuconvert; MizSterious; nw_arizona_granny; ...
2
posted on
02/06/2008 5:14:37 AM PST
by
TigerLikesRooster
(kim jong-il, chia head, ppogri, In Grim Reaper we trust)
---
To: TigerLikesRooster; AmericanInTokyo; Jet Jaguar; monkapotamus; All
3
posted on
02/06/2008 9:54:22 AM PST
by
SevenofNine
("We are Freepers, all your media belong to us, resistence is futile")
---
To: TigerLikesRooster
A long time ago in mining school they told us we had no choice about where to put a mine. If we want to mine uranium we have to mine where the uranium is.
4
posted on
02/06/2008 9:56:19 AM PST
by
RightWhale
(oil--the world currency)
---
To: TigerLikesRooster
Free Republic
is something I really enjoy and find informative and engaging.
Therefore it makes it of more significance to put it aside for a few weeks. Accordingly, I am "giving up" FR for the Lent Season. (Not to mention I am also disgusted by the RINO takeover of the GOP back in the States and do not have much more to add to things here for awhile--and need some time to think about things).
Well, see you all some time after March 16th or so.

5
posted on
02/06/2008 5:54:17 PM PST
by
AmericanInTokyo
(Today's weather in Tokyo is spectacular. Cold (contradicts Al Gore) but clear as a bell!)
---
FreeRepublic.com is powered by software copyright 2000-2008 John Robinson