---
March 15,'08 Support the Troops March - D.C. Chapter Does it's Part
March 18,2008


Posted on 03/18/2008 6:01:05 AM PDT by trooprally

While http://www.freerepublic.com/focus/f-news/1987246/postsOlney was being held down by regular FReepers iMacMan and Eager, and 5 Legionnaires from a local Post, the rest of the Chapter headed to D.C.

All pics are by [Mrs] T. She and Lurker Ethel couldn't make the whole march so they cut out at 7th Street and waited for us at our post-march gathering location and got some good pics.

BELOW: Some pics that you may not have seen on all the blogs and other postings covering the march.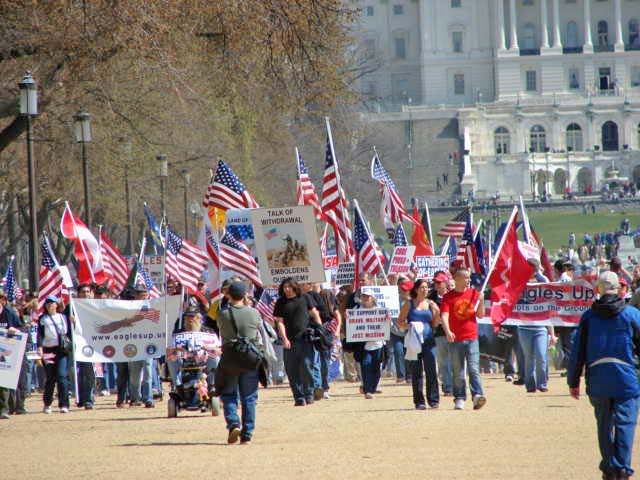 BELOW LEFT: Laura Youngblood, Gold Star Wife, and good friend, with Fraxinus. BELOW LEFT: A familiar "face" from past Support the Troops Rallies.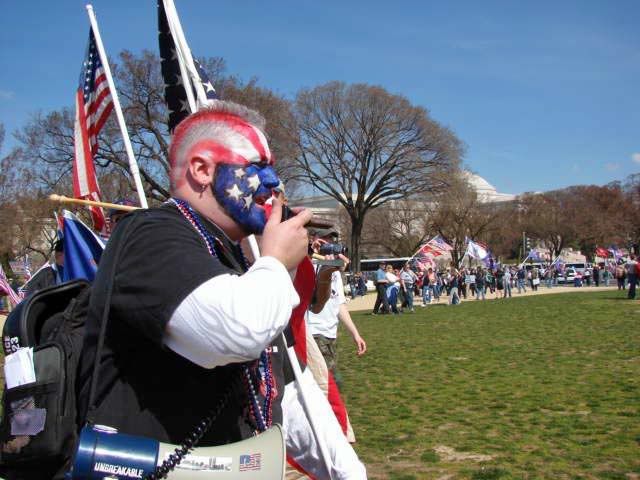 Back at the Washington Monument before the march the D.C. Chapter hung around the Chapter tent. Freepers were moving all around and we didn't get pics of everyone.
BufordP said he was there in spirit, but the sign was made with slightly wording. Several troop supporters thought our tent was a memorial tent for BufordP. I apologize for the confusion.
BELOW LEFT: That's Lurker Ethel holding a Walter Reed Collage poster. BELOW LEFT: Westminster FReepers Anomoly99, RockerMom2MyHero's father, RockerMom2MyHeor, her hero, and our own Olney-Keith.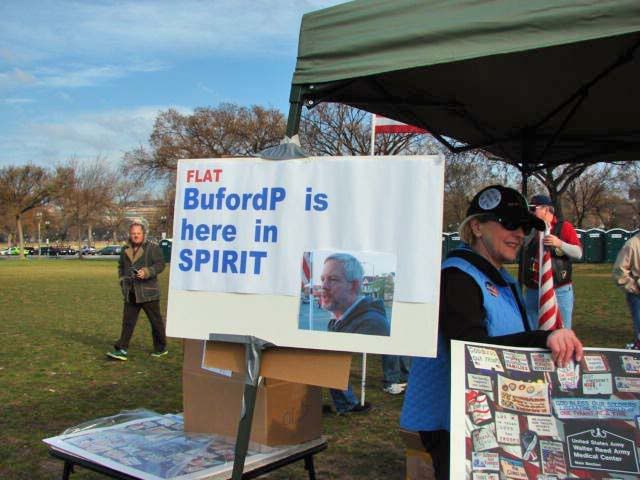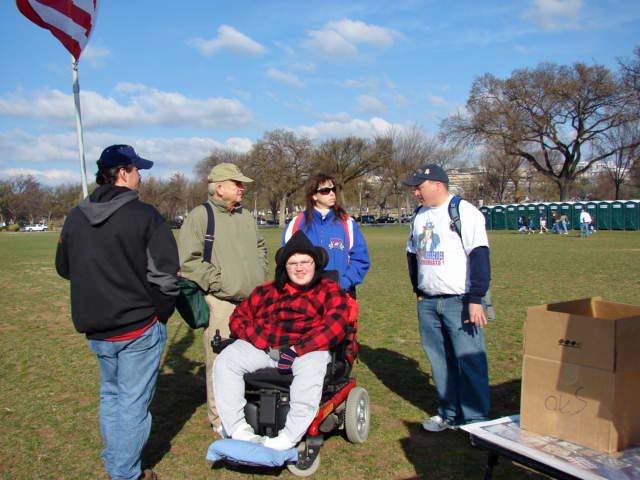 BELOW LEFT: Stand Watie and two more Westminster FReepers, PatrioticMarineMom and her USMC Vet husband. BELOW LEFT: Troop supporter, TrueBlackMan and Stand Watie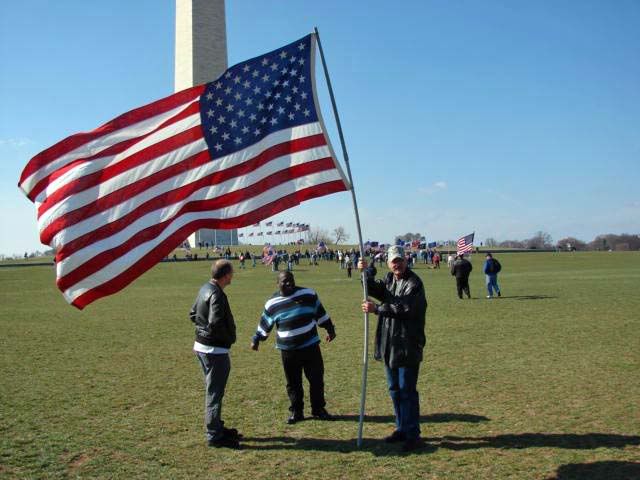 BELOW LEFT: Laura with Flib, with Lurker Ethel under tent. BELOW LEFT: Doctor Raoul rolling up with his portable sound system.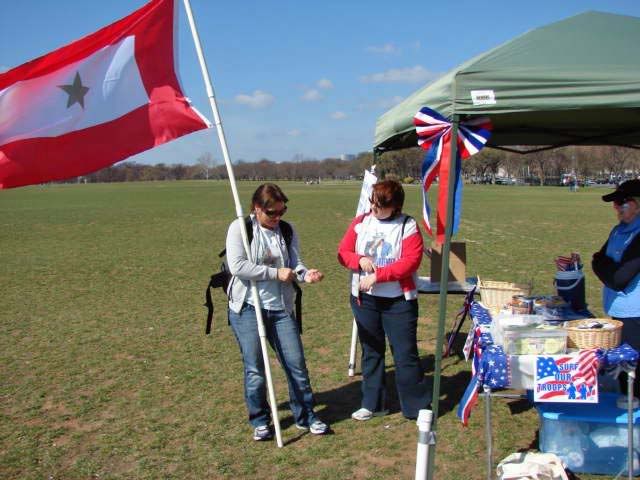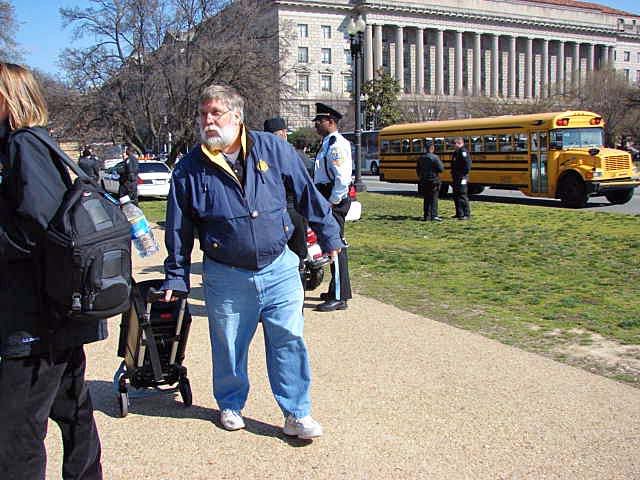 BELOW LEFT: [Mr] T and Lurker Bill with supporter. BELOW LEFT: Supporter with Jimmy Valentines Brother at corner of Constitution and 15th Street collecting waves and honks from passing cars.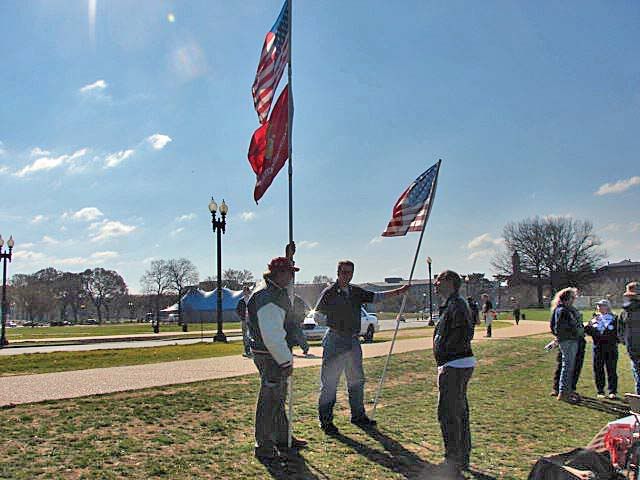 BELOW LEFT: Satin Patriot and Kburi (right) talking to supporter while helping Lurker Ethel man the D.C. chapter tent. BELOW LEFT: Cindy_True_Supporter and Kristinn talking with fellow supporters. The new Gathering of Eagle's flag sure looks good.
BELOW LEFT: VAFlagWaver and [Mr] T at left of pic and far away, thru the tent, you can see Jimmy Valentines Brother's yellow Vietnam ribbon flag at corner. Lurker Ethel is in blue vest.BELOW LEFT: A sea of flags as Eagles and FReepers and troop supporters gather.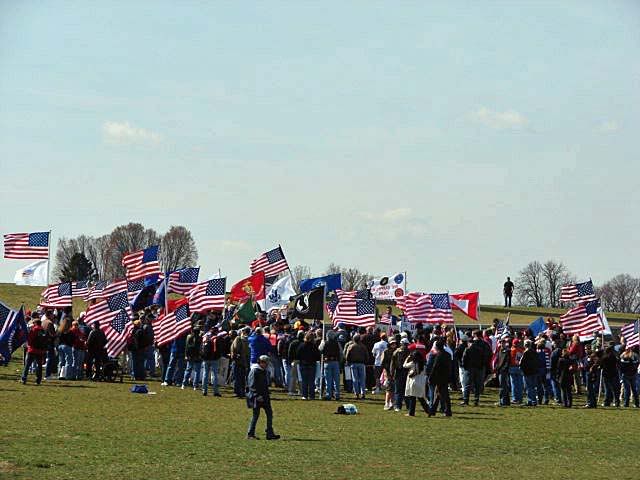 [Mrs] T's full photo file here

---
TOPICS: Activism/Chapters; Free Republic; US: Maryland; US: Virginia
KEYWORDS: aar; dcchapter; eaglesup; gatheringofeagles; march152008; rally; supportthetroops; washingtondc
---
Navigation: use the links below to view more comments.
first 1-20, 21-40, 41-46 next last
---
---
---
---
---
---
---
---
---
---
---
---
---
---
---
---
---
---
---
---
---
Navigation: use the links below to view more comments.
first 1-20, 21-40, 41-46 next last
---
---