---
Day In The Life Of President Bush (with photos) ~~ 3-22-08
White House website, Yahoo News, Misc. ^ | 3-22-08 | Starwise


Posted on 03/22/2008 4:21:15 PM PDT by STARWISE

Enjoy your visit to Sanity Island
PHOTO(s) OF THE DAY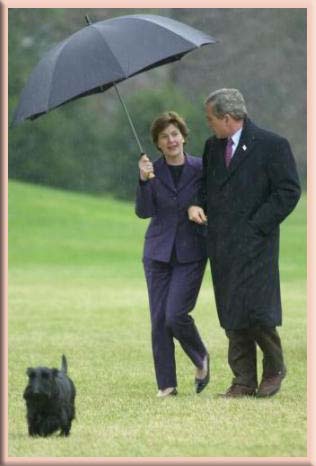 President George W. Bush and First Lady Laura Bush (and Barney)
QUOTE(s) OF THE DAY
President's Radio Address ~ March 22, 2008
Good morning. This weekend, families across America are coming together to celebrate Easter. This is the most important holiday in the Christian faith. And during this special and holy time each year, millions of Americans pause to remember a sacrifice that transcended the grave and redeemed the world.
Easter is a holiday that beckons us homeward. This weekend is an occasion to reflect on the things that matter most in life: the love of family, the laughter of friends, and the peace that comes from being in the place you call home. Through good times and bad, these quiet mercies are sources of hope.
On Easter, we hold in our hearts those who will be spending this holiday far from home -- our troops on the front lines. I deeply appreciate the sacrifices that they and their families are making. America is blessed with the world's greatest military, made up of men and women who fulfill their responsibilities with dignity, humility, and honor. Their dedication is an inspiration to our country and a cause for gratitude this Easter season.
On Easter, we remember especially those who have given their lives for the cause of freedom. These brave individuals have lived out the words of the Gospel: "Greater love has no man than this, that a man lay down his life for his friends." And our Nation's fallen heroes live on in the memory of the Nation they helped defend.
On Easter, we also honor Americans who give of themselves here at home. Each year, millions of Americans take time to feed the hungry and clothe the needy and care for the widow and the orphan. Many of them are moved to action by their faith in a loving God who gave His son so that sin would be forgiven. And in this season of renewal, millions across the world remember the gift that took away death's sting and opened the door to eternal life. Laura and I wish you all a happy Easter.
Thank you for listening.
Statement by the President on the Taiwan election
I congratulate the people of Taiwan on the successful conclusion of their March 22 presidential election. Once again, Taiwan has demonstrated the strength and vitality of its democracy. I also congratulate Mr. Ma Ying-jeou on his victory.
Taiwan is a beacon of democracy to Asia and the world. I am confident that the election and the democratic process it represents will advance Taiwan as a prosperous, secure, and well-governed society.
It falls to Taiwan and Beijing to build the essential foundations for peace and stability by pursuing dialogue through all available means and refraining from unilateral steps that would alter the cross-Strait situation. I believe the election provides a fresh opportunity for both sides to reach out and engage one another in peacefully resolving their differences.
The maintenance of peace and stability in the Taiwan Strait and the welfare of the people on Taiwan remain of profound importance to the United States. We will continue to maintain close unofficial ties with the people on Taiwan through the American Institute in Taiwan in accordance with our long standing one China policy, our three Joint Communiqu s with the People's Republic of China, and the Taiwan Relations Act.
The President leaves the Oval Office for his Easter weekend trip to Camp David and leaves in the Presidential helicopter.
Camp David
Camp David serves the President, providing the First Family and their guests with a healthy, safe and uniquely private place to work or relax. Established as "Shangri-La" by President Franklin Delano Roosevelt, it was subsequently renamed Camp David by Dwight Eisenhower.
During times of conflict and strife, from World War II to more recent events, Camp David has offered solitude and tranquility. A majority of Presidents have used Camp David to host visiting foreign leaders, with Prime Minister Winston Churchill of Great Britain being the first, during May 1943.
President George W. Bush delivers his weekly radio address to the nation from Camp David, Saturday, Sept. 15, 2001.
Dec. 24, 2005 ~~ Q&A: Laura Bush on Camp David (article and video)
(According to Time): Camp David, A Palatial Retreat
A 30-min. helicopter ride from Washington, which is 75 miles to the southeast, Camp David is a 143-acre compound of more than a dozen buildings, perched on a 1,880-ft. hilltop in Maryland's Catoctin Mountains. The heavily wooded setting, teeming with deer and raccoon, blue jays and snowbirds, and an occasional pileated woodpecker, provides Presidents a spot for total seclusion. Sadat's visit last week marked the 20th time that a foreign chief has joined in that peace and quiet—Churchill's five trips were the most numerous.
As befits such guests, Camp David boasts the kinds of services that could make King Solomon envious. Operated with military efficiency by about 100 Navy men and Marines, it can provide almost anything a President might want: a free-form heated swimming pool, a sauna, two clay tennis courts, a one-hole, three-tee golf course, a two-lane bowling alley, a trout stream, skeet-shooting and archery range, movie facilities, a wide selection of music (Richard Nixon used to stand in front of the stereo speakers and "guest conduct" his favorite symphonies fortissimo). *snip*
Along with all the diversions, Camp David also provides—at the bottom of an elevator shaft sunk 100 ft. into the mountain—a fortress where the President could repair in time of war. Even in peaceful times, security is tight. Rifle-bearing Marines keep watch behind a double row of barbed-wire-topped fences.
More, at link above.
Prime Minister Blair visits with President Bush at Camp David to discuss the war, March 27, 2003.
President Bush and Russia's President Vladimir Putin talk during their meeting at Camp David, Maryland, Friday, Sept. 26, 2003.
President Bush and White House Chief of Staff Josh Bolten at Camp David Saturday, June 21, 2007.
President George W. Bush talks during Christmas Eve telephone calls to members of the Armed Forces at Camp David, December 2003.
President George W. Bush and First Lady Laura Bush complete a four mile walk with brother Marvin Bush, left, Chief of Staff Andy Card and wife Kathleene after undergoing a colorectal screening procedure at Camp David, Saturday morning, June 29, 2002.
Please
Pray for President Bush ~~ Day 2746
For those who can't comprehend "A Day In The Life of President Bush," we who gather here admire, respect and support our President. This is OUR "Sanity Island," so, please remember that .. and maybe think 3 times before you jump in with any junk or offensive comments. The Mods are on patrol, and will toss out an offender in a heartbeat. Thank you.
---
TOPICS: Front Page News; Government; News/Current Events
KEYWORDS: bush; campdavid; cheney; easter; laurabush; presbush; sanityisland; whitehouse
---
Navigation: use the links below to view more comments.
first 1-20, 21-40, 41-60, 61-68 next last
---
---
---
---
---
---
---
---
---
---
---
---
---
---
---
---
---
---
---
---
---
Navigation: use the links below to view more comments.
first 1-20, 21-40, 41-60, 61-68 next last
---
---