---
To: All
So....you want change ? You have no idea what this guy has planned
---
To: cd jones
---
To: cd jones
Jimmy Carter, 1979:
"I'm asking you for your good and for your Nation's security to take no unnecessary trips, to use carpools or public transportation whenever you can, to park your car one extra day per week, to obey the speed limit, and to set your thermostats to save fuel."
B. Hussein Obama, 2008:
"We can't ... keep our homes on 72 degrees at all times ... "
This is just further proof B. Hussein Obama is a complete amateur when it comes to politics. To say something so Carteresque is just stupid. The comparisons will come.
Candidates are not supposed to admonish, they are supposed to inspire.
Now if McCain has any cojones, and if there is video or audio of B. Hussein Obama saying this, he will create an ad with the Carter clip, the Obama clip, followed by a Reagan inspirational "yes we can" kind of clip from the 1980 campaign, followed by a positive clip from one of his campaign events.

---
To: cd jones
Re:
"We can't drive our SUVs and eat as much as we want and keep our homes on 72 degrees at all times ... and then just expect that other countries are going to say OK," Obama said.
and
So....you want change ?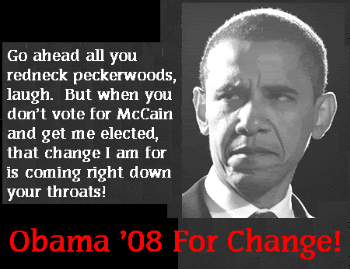 136
posted on
05/18/2008 8:20:42 PM PDT
by
Bender2
("I've got a twisted sense of humor, and everything amuses me." RAH Beyond this Horizon)
---
To: cd jones
I think the whole country has gone nuts for evil obomba.

---
To: cd jones
CD —— it's obviosu what this guy has planned. All you have to do is look at Wilson and Roosevelt. That pretty much sums it up.
---
FreeRepublic.com is powered by software copyright 2000-2008 John Robinson