---
Fox Removes E.D. Hill and Her Show
THEODORE'S WORLD ^ | 16 June 2008 | Chrissie


Posted on 06/16/2008 4:15:56 PM PDT by radar101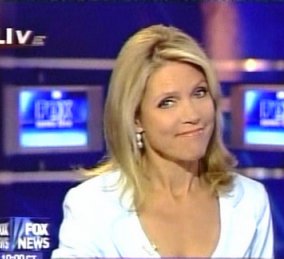 E.D. Hill and her show, "America's Pulse" has been removed from her time slot at Fox, because of something she said in her news presentation . On June 6th last, on her former program, "America's Pulse," E.D. Hill teased in a segment about body-language about Obama's fist bump with his wife Michelle.
Obama supporters and the leftist blogs on the web were in a rage and an uproar about the comments, and George Soros' "Media Matters" began a campaign encouraging people to contact Fox and complaint about what is in their view an unforgivable slight of Obama and Michelle.
They called for E.D. Hill's resignation.
Media Matters blog:
http://mediamatters.org/items/200806060007?f=h_top
Fox and O'Reilly agreed that she was out of line,.typical of moderate O'Reilly who has stated many times he is not a Republilcan or a Democrat
She apologized for her comments, which apparently that didn't even help the situation . She was taken off her show at Fox. Fox caved in to the opposition, (Obama and Mediai Matters, MSNBC, and CNN's ) demands and Fox quietly cancelled E.D.'s show, "America's Pulse," chastised her, and relegated her elsewhere for the time being.
Huffington is thrileld and posted about all of this with glee.
E.D. HIll was great and full of life and even though I seldom got to see her show, I used to watch her on the morning show she did before she got her show "America's Pulse".
If you have seen her show and wondered where she is and would like to send an email about all of this the information is listed below.
Here are the Fox News contacts:
Fox News toll free comments hotline: 1-888-369-4762
or you can e-mail your comments at:
yourcomments@foxnews.com
To contact Bill O'Reilly:
Oreilly@foxnews.com
To contact Brit Hume, General News Mgr at Fox News:
brit.hume@foxnews.com or at: special@foxnews.com
To contact Mis Hill and offer her your support:
americaspulse@foxnews.com

---
TOPICS: Crime/Corruption; Government; Politics/Elections
KEYWORDS: 527groups; edhill; fired; fistbump; foxnews; marines; mediamatters; michelleobama; obama; soros
---
Navigation: use the links below to view more comments.
first 1-20, 21-40, 41-60, 61-80 ... 101-117 next last
---
---
---
---
---
---
---
---
---
---
---
---
---
---
---
---
---
---
---
---
---
Navigation: use the links below to view more comments.
first 1-20, 21-40, 41-60, 61-80 ... 101-117 next last
---
---