---
To: reasonisfaith
What do the evolutionists say—to those who would like to be certain that their belief in evolution is based on firm science—about the lack of fossil evidence for transitional forms?
The claim that there are no transitional forms is creationist propaganda. They refuse to see those transitionals, hence they don't exist.
This is an example of a transitional:
---
Fossil: KNM-ER 3733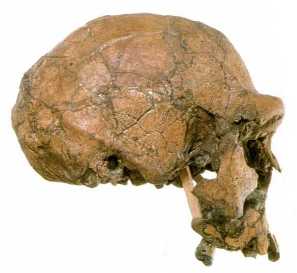 Site: Koobi Fora (Upper KBS tuff, area 104), Lake Turkana, Kenya (4, 1)
Discovered By: B. Ngeneo, 1975 (1)
Estimated Age of Fossil: 1.75 mya * determined by Stratigraphic, faunal, paleomagnetic & radiometric data (1, 4)
Species Name: Homo ergaster (1, 7, 8), Homo erectus (3, 4, 7), Homo erectus ergaster (25)
Gender: Female (species presumed to be sexually dimorphic) (1, 8)
Cranial Capacity: 850 cc (1, 3, 4)
Information: Tools found in same layer (8, 9). Found with KNM-ER 406 A. boisei (effectively eliminating single species hypothesis) (1)
Interpretation: Adult (based on cranial sutures, molar eruption and dental wear) (1)
See original source for notes:
Source: http://www.mos.org/evolution/fossils/fossilview.php?fid=33

47
posted on
07/05/2008 7:48:37 AM PDT
by
Coyoteman
(Religious belief does not constitute scientific evidence, nor does it convey scientific knowledge.)
---
To: Coyoteman
57
posted on
07/05/2008 8:32:51 AM PDT
by
AnalogReigns
(Philosophies of science have a religious foundation.)
---
To: Coyoteman
I've seen this example provided by you in a previous thread. If I remember correctly, you never replied to my refutation. To illustrate the inadequacy of this example, I would ask you how many genetic mutations were involved in the evolution of this species from the previous one, and what are the corresponding phenotypes?
This one questionable example of yours is like trying to stop a hurricane with a single bag of sand.
In order to give a minimum amount of credibility to evolutionism, fossil evidence of transitional forms must be found at least in the tens of thousands, but preferably in the tens of millions.
I challenge you to provide just ten separate examples of transitional forms.
59
posted on
07/05/2008 8:38:55 AM PDT
by
reasonisfaith
(Liberalism is service to the self disguised as service to others.)
---
To: Coyoteman
Holy cow. It's like I'm stuck in the Twilight Zone.
131
posted on
07/06/2008 12:18:49 PM PDT
by
DaveLoneRanger
(Gun-free zones aren't. Visit ConcealedCampus.com for more)
---
FreeRepublic.com is powered by software copyright 2000-2008 John Robinson