---
To: devolve; Kleebo151; ntnychik; dixiechick2000; FARS; antceecee; Ernest_at_the_Beach; Seadog Bytes; ..
48
posted on
07/20/2008 7:52:57 PM PDT
by
potlatch
(MICHELLE OBAMA - The gift that just keeps on giving....!)
---
To: potlatch; All; 1COUNTER-MORTER-68; 1035rep; 1curiousmind; 4woodenboats; 2ndDivisionVet; 5Madman2; ..
Terrorists to Guard Obama in palestine!! He is already THEIR selected president. They elect terrorists for themselves and want one for America. Might even get one unless someone checks out the falsified COLB Obama presents.
http://noiri.blogspot.com/2008/07/terrorists-to-bodyguard-obama.html
AntiMullah has compiled four top links to prove Obama's false COLB which can be used if you wish to send a single link instead of four to your congressman, HOmeland or FBI and ask them to check him out.
Though it may end up doing Hitlery a favor, if Obama gets disqualified, the irate Obamaists may react by voting McCain into the Oval Office.
http://noiri.blogspot.com/2008/07/obamas-birth-certificate-definitely.html
---
To: potlatch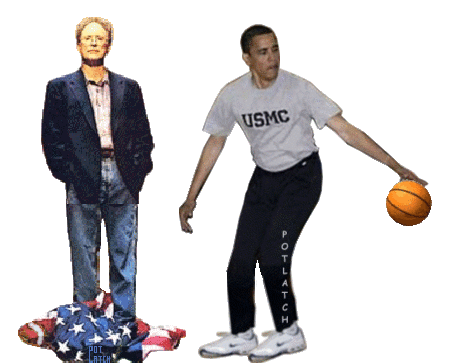 58
posted on
07/20/2008 11:31:41 PM PDT
by
devolve
( "Pot had helped, and booze; maybe a little blow when you could afford it." - Elect a cokehead *08 !)
---
FreeRepublic.com is powered by software copyright 2000-2008 John Robinson