---
Let's tell the Democrats how we feel about Oil!
Self | August 6, 2008 | Self


Posted on 08/06/2008 8:12:03 PM PDT by ncfool

Let's tell Nancy, Harry and Barack and the rest of the Democrats how Americans really feel about the oil crisis.

We have told them many times to Drill Here, Drill Now for American Security. Now its time to have stickers printed and everytime you pull up to a Gas pump you discreetly

It's time to engage in Guerilla marketing. Let your fellow drivers know when they pull up to the pump who to call in Washington. The Democrats will play games in misleading the public so we need to let them see the truth every time they pull up to the pump.

Wouldn't it be amazing to see the gas pump stickers on every gas and diesel pump in America.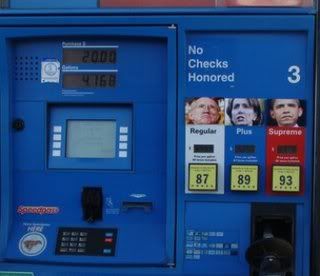 ---
TOPICS:
KEYWORDS:
---
---
---
---
---
---
---
---
---
---