---
To: TitansAFC; meandog; onyx; MARTIAL MONK; GulfBreeze; Kuksool; freespirited; Salvation; furquhart; ...
The McCain List.

With new polls here and in North Carolina, the last of the solid GOP states have fallen away from Obama.

Montana
McCain 53%
Obama 42%
31
posted on
09/09/2008 2:55:26 PM PDT
by
Norman Bates
(Freepmail me to be part of the McCain List!)
---
To: Norman Bates
VERY good to see the once endangered MT is off the table now.
I still want to see some NH polls!!!!!!!!! Also, another MI and perhaps larger PA sample.
36
posted on
09/09/2008 2:57:16 PM PDT
by
TitansAFC
(In 2008, please vote GOP and show us that you love your country more than you hate John McCain)
---
To: Norman Bates; All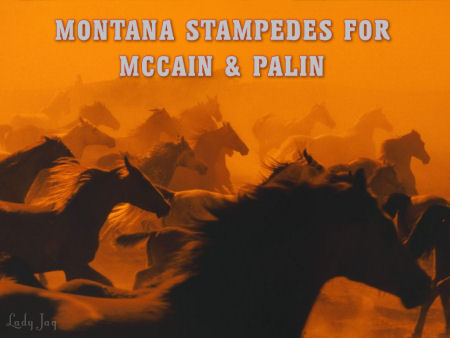 65
posted on
09/09/2008 3:40:25 PM PDT
by
Lady Jag
(Donate to FR anytime at https://secure.freerepublic.com/donate)
---
FreeRepublic.com is powered by software copyright 2000-2008 John Robinson