---
Slate Writer Already Celebrating Obama Election Victory
NewsBusters ^ | October 8, 2008 | P.J. Gladnick


Posted on 10/08/2008 9:12:12 AM PDT by PJ-Comix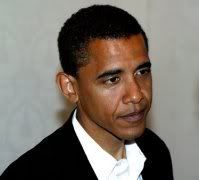 You know that old saying about "Don't count your chickens until they hatch?" Well, Slate senior writer, Timothy Noah, decided to discard that advice and gloat over the "inevitable" Barack Obama victory this November. Yes, Noah's gloating does grate on the nerves but we should thank him for the enormous public service he has performed for us by providing a look at what liberals will be able to say out loud "when" Obama wins. First, you need to sit through the annoying gloating on Noah's part but I assure you the payoff will be huge when we get to the revelatory part of his article:
There's a new scent in the air. If you're a Democrat, you haven't felt it tickle your nostrils since October 1996, when everybody knew that Bill Clinton was about to beat Bob Dole. The perfume hasn't been this strong since October 1964, the eve of Lyndon Johnson's landside presidential victory. It's the sweet smell of success that you can take for granted.

With every passing day, it's harder to imagine that the next president of the United States will be a Republican—even a "maverick" Republican like John McCain. A consensus is emerging that the next president will be Barack Obama, a Democrat. Obama may not win in a landside, as some predict, but the common wisdom is that he will win and that the Democrats will expand their majorities in the House and Senate. Like the houseguests in Agatha Christie's And Then There Were None, swing states are disappearing one by one. Goodbye, Michigan; farewell, Ohio. Will Florida evaporate next? Colorado? Missouri?
And now we shall take a moment to allow Noah to savor the "victory" that has yet to happen:

(Excerpt) Read more at newsbusters.org ...
---
TOPICS: Politics/Elections
KEYWORDS: barackobama; slate
---
Navigation: use the links below to view more comments.
first 1-20, 21-24 next last
---
---
---
---
---
---
---
---
---
---
---
---
---
---
---
---
---
---
---
---
---
Navigation: use the links below to view more comments.
first 1-20, 21-24 next last
---
---