---
Moonbats Lie Again: Wk 143, Olney,MD 10-04-08: Op. Infinite FReep
Oct. 9,2008 | Lurker Bill & [Mrs] Trooprally


Posted on 10/08/2008 6:07:13 PM PDT by trooprally

The list of 7 Patriots supporting our troops were: Legionnaires Glenn (USMC - Iwo Jima), Dennis (Army - Korea), Lurker Bill, Cindy_True_Supporter, Fraxinus, USNRetired (aka Chief) and [Mrs] Trooprally, aka [Mrs] T.

Pics by [Mrs] T

Not personally being there myself, this report is being compiled from first hand reports by Lurker Bill and [Mrs] T

Lurker Bill's AAR of his occupation of our right flank where I usually stand "[brackets by me]":

"As Mr. T was on the [east or 'right'] coast getting schooled, I attempted to cover his post on our southern [right] flank. Not being aware of the role his cigars were filling keeping the perimeter secure, or maybe I'm not the ominous figure he is. Within moments of my deployment, they were lining up for a multi wave assault.

The first to make contact was a young man, college age or slightly older, who questioned what we hoped to accomplish by being out confronting those peace loving souls across the way. He informed me that he believed the administration was in the wrong and we should not be supporting it in any way. That our troops were being misused, they should never have gone to war, they should come home now regardless of consequences and without regard to sacrifices already made.

I responded, asking if all people had the right to live free or was it only for we the chosen few? If our military should walk away regardless of their desire to complete the mission? Should we ignore the progress made and give it all back to the ruthless?

His final comments were to ask if I would view a YouTube video he was sure would make me think - sorry - As I have issues remembering my kids names, I didn't stand a chance keeping the name of the video in my thoughts for over an hour… I'm sure I'll run into this young man again. I'll try and get that name and I'll view this video. It's always best to know where the opposition is coming from.

In line behind the young man, was a veteran of the US Marine Corps. He too favored the stance of those across the way. He had come to voice his displeasure that the Marine Flag was being displayed in what he felt was the support of a political statement. I explained, with the help of Fraxinus, that our signs, flags and banners were in support of our troops. We validated his belief that regardless, for or against the war, you had to support and honor those who stand up for this country and put their lives on the line. I advised that we had the backs of those who took the oath to defend against all enemies foreign and domestic.

He commented that those across the road also supported our troops and were not using military flags to support their position. Again, we responded that they had in fact used a Marine Flag in the past. That contrary to their signage, the groups they represent have in fact demeaned our troops on more than one occasion. We concluded our conversation by thanking him for his service and assuring him we were there for the troops regardless of the administration.

Mr. T is expected back this week. I'll have more respect for the task he does (or at least for his cigars)."

I'm back. Don't let Lurker Bill's modesty fool anyone. At both Walter Reed and Olney he occupies a position/corner where cars stop for traffic lights. He is always holding his own when moonbats roll down their windows to give him a piece of their mind. But he also receives kudos from supporters who Thank Him (us) for standing up for our troops.

And he is a work in action of his support of our troops. He is constantly turning towards oncoming traffic to show his "God Bless Our Troops and Their Families" sign. Not being a big talker, he usually stands his post, alone.

BELOW LEFT: Fraxinus and Lurker Bill talking with "Marine" mentioned in Lurker Bill's narrative. BELOW RIGHT: Lurker Bill waving to passing supporters on our right flank.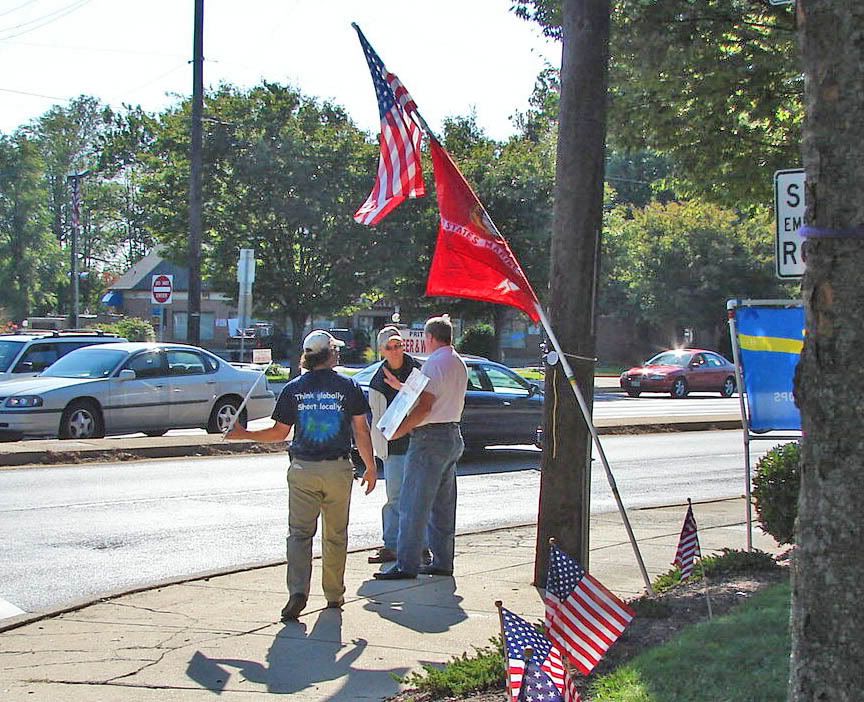 BELOW LEFT: Glenn with Fraxinus and Cindy_True_Supporter talking in the back ground.BELOW RIGHT: Better pic of Cindy_True_Supporter and Fraxinus talking.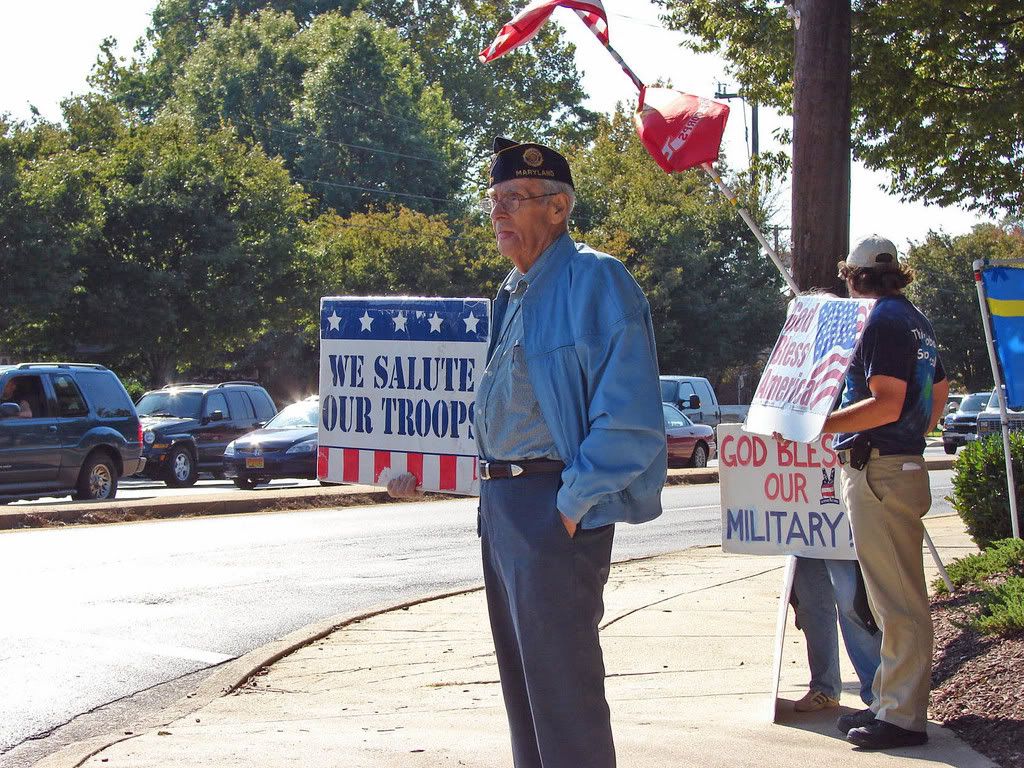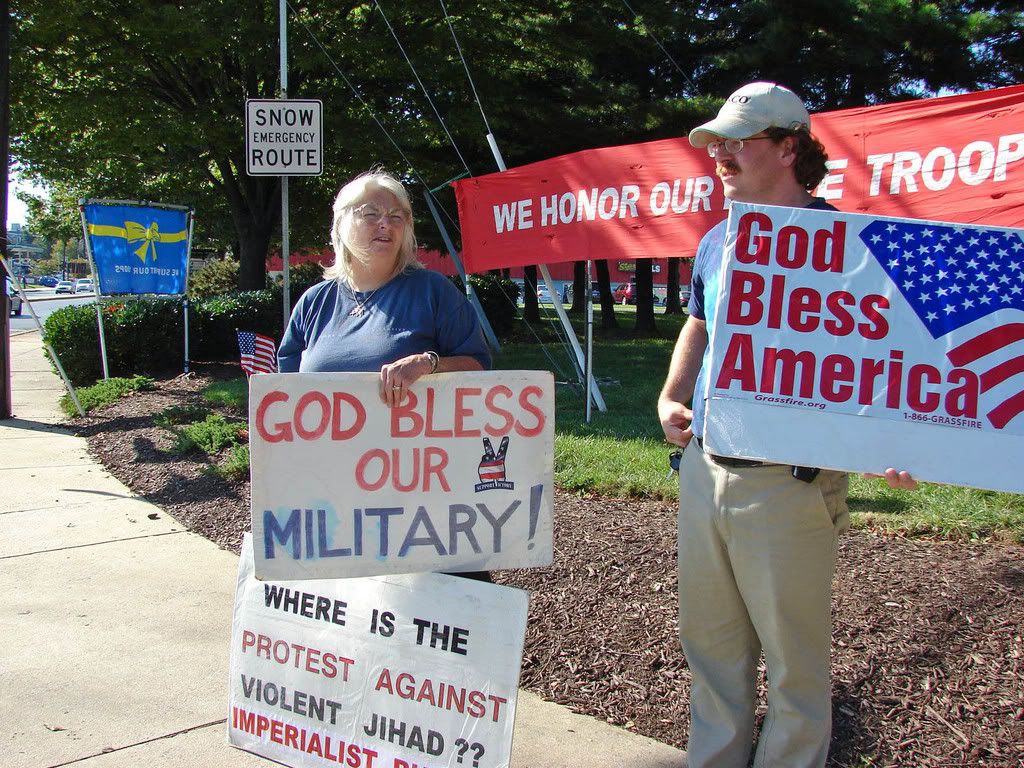 BELOW LEFT: One of Cindy_True_Supporter's signs that she uses specifically against moonbats. She puts it down when there are no moonbats in sight and holds her troop support sign. BELOW RIGHT: Lurker Bill seen on the move to best position himself towards on coming traffic.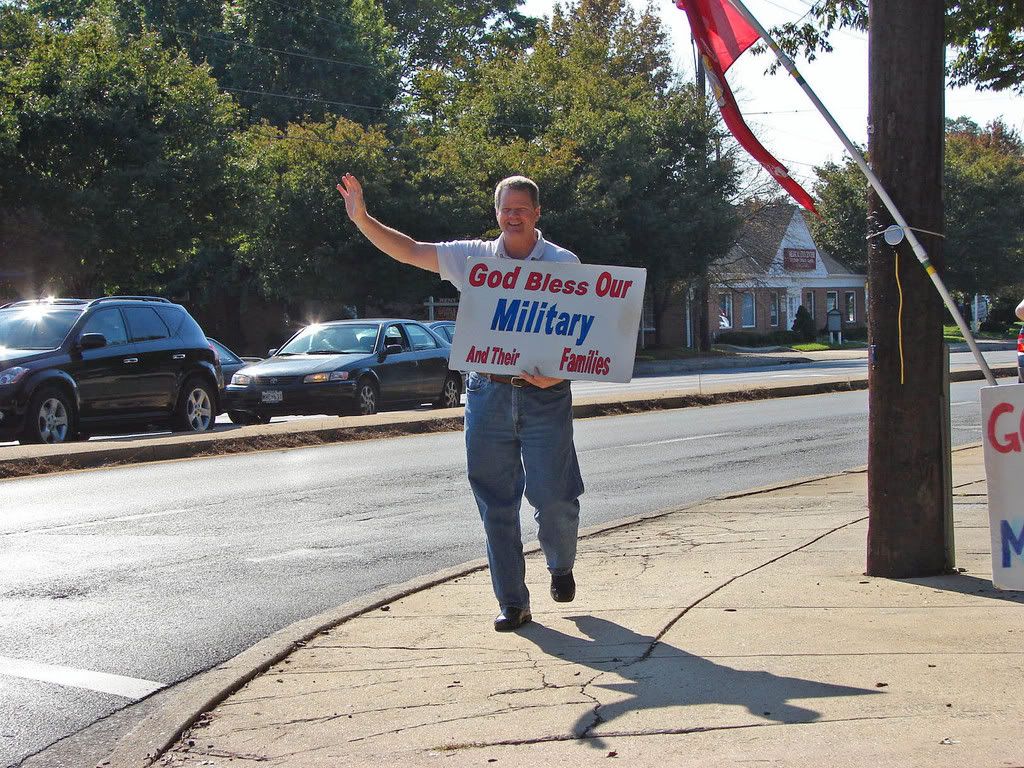 BELOW LEFT: Glenn, Cindy_True_Supporter and Chief on our left flank. BELOW RIGHT: Chief with Dennis holding his patriotic signing soldier.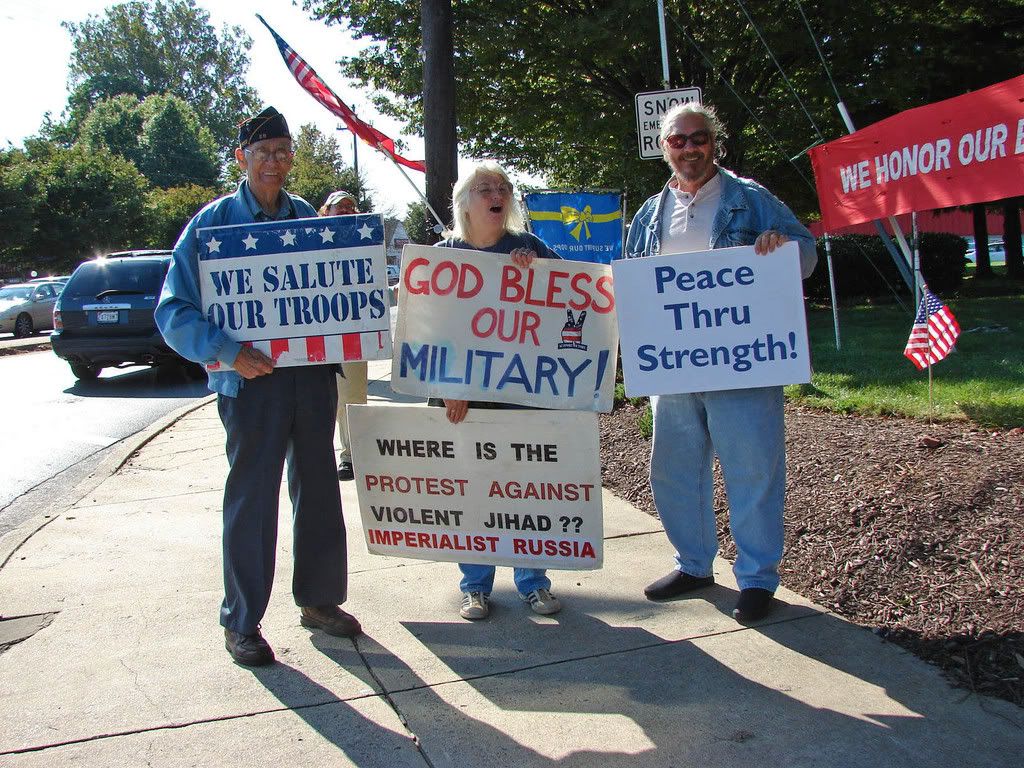 BELOW LEFT: 7 of the 9 Moonbats demoralizing our troops.. BELOW RIGHT: Moonbat sign with lie about the $$$ spent on giving millions a taste of freedom. At least they put away their other non-readable signs with misspellings and other lies.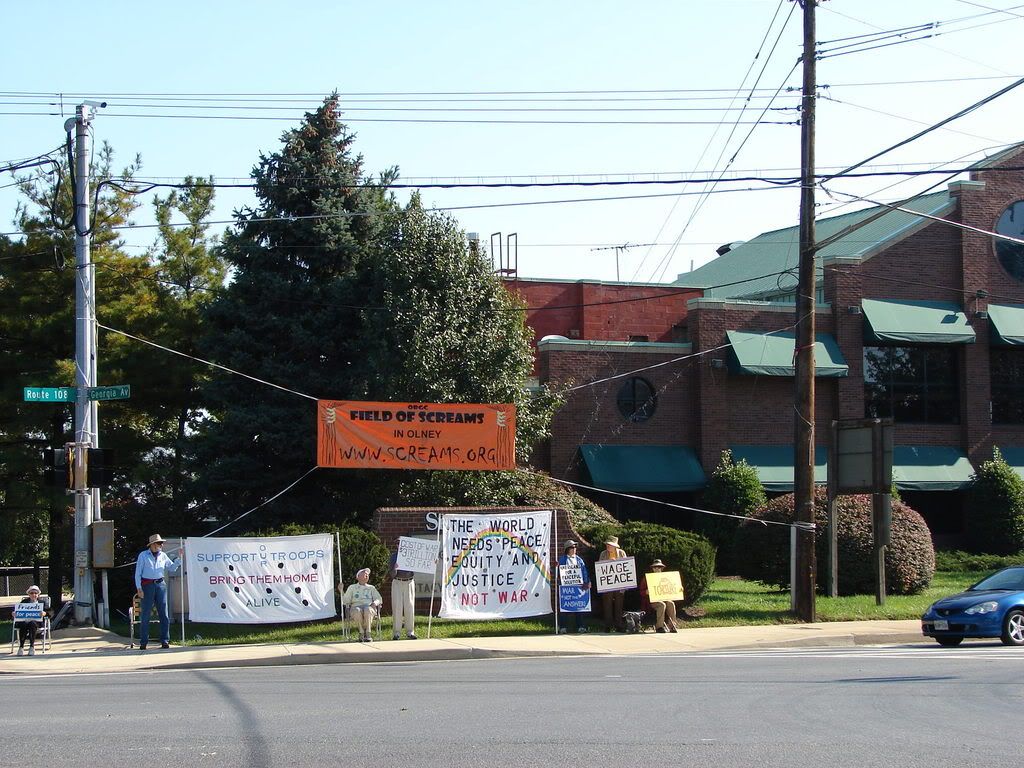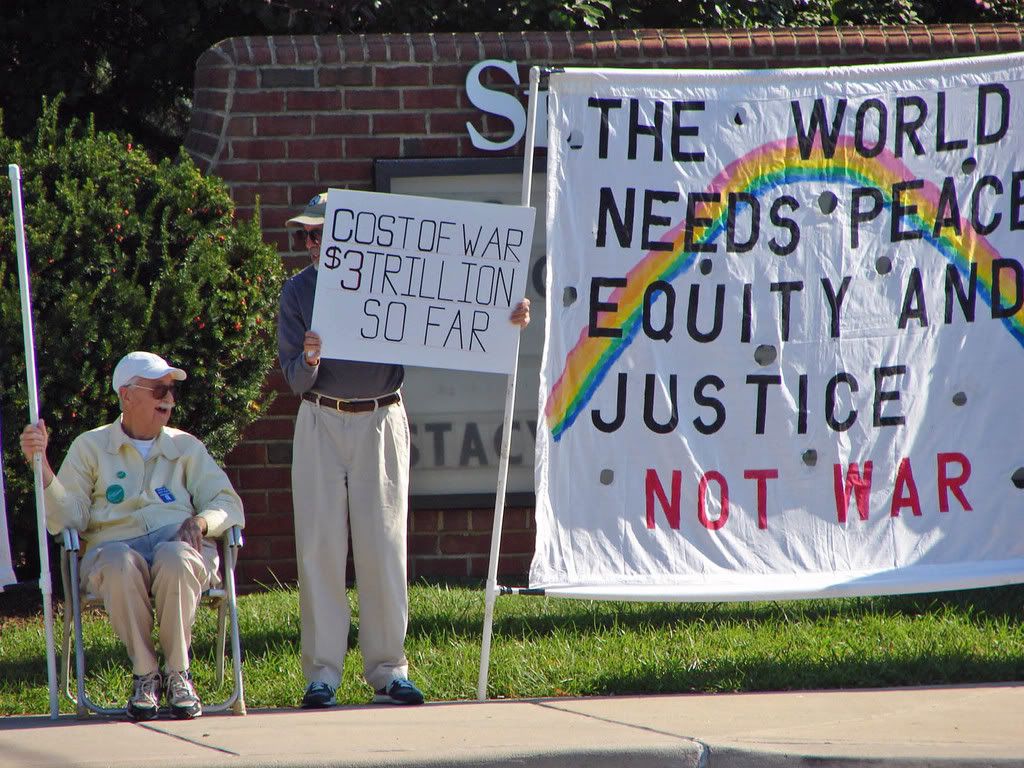 But our supporters far out weight our fewer than the moonbat's numbers. [Mrs] T caught a lot of different waves and clapping this Saturday.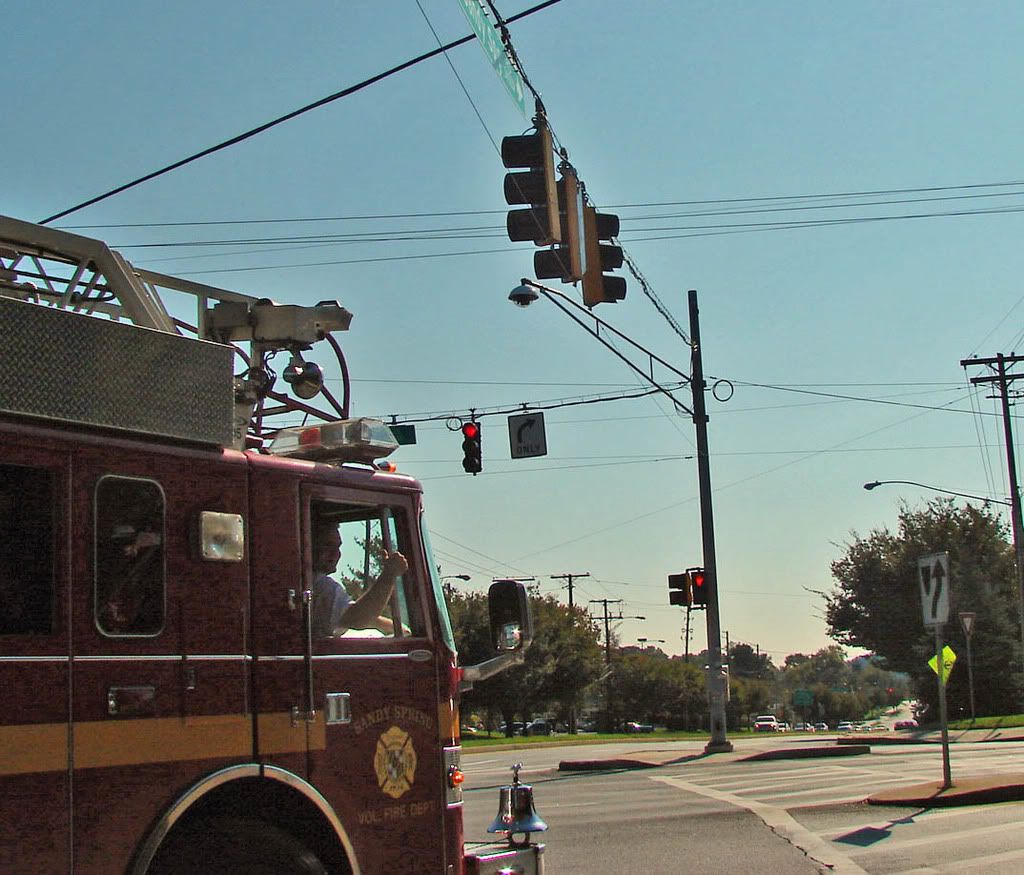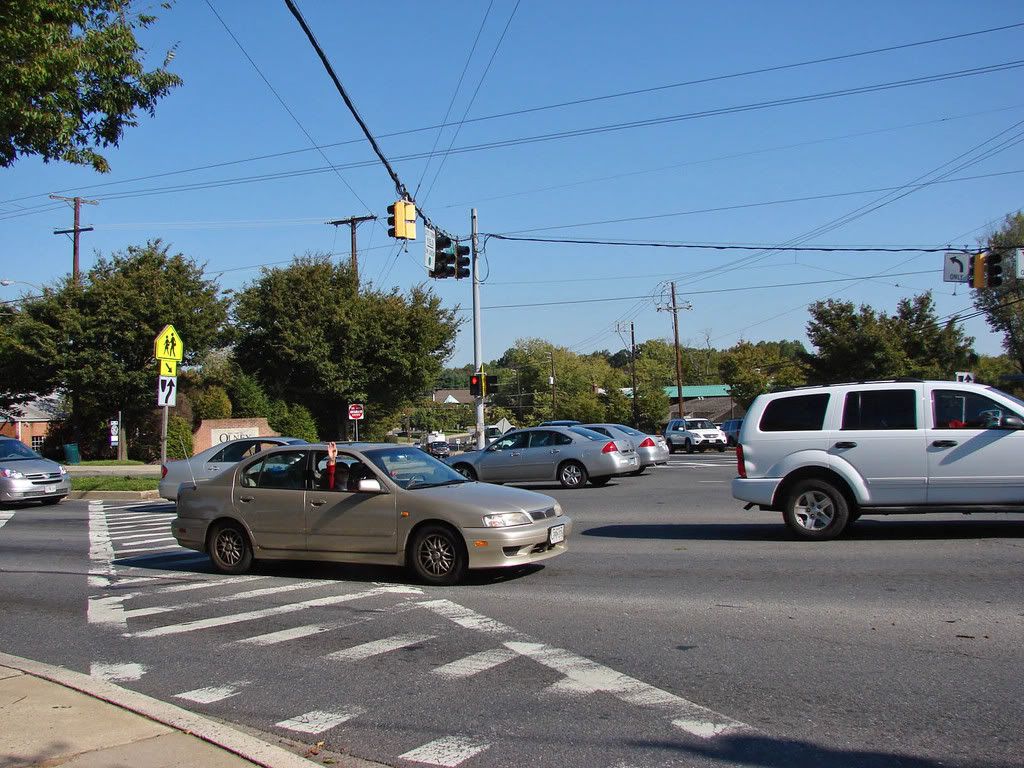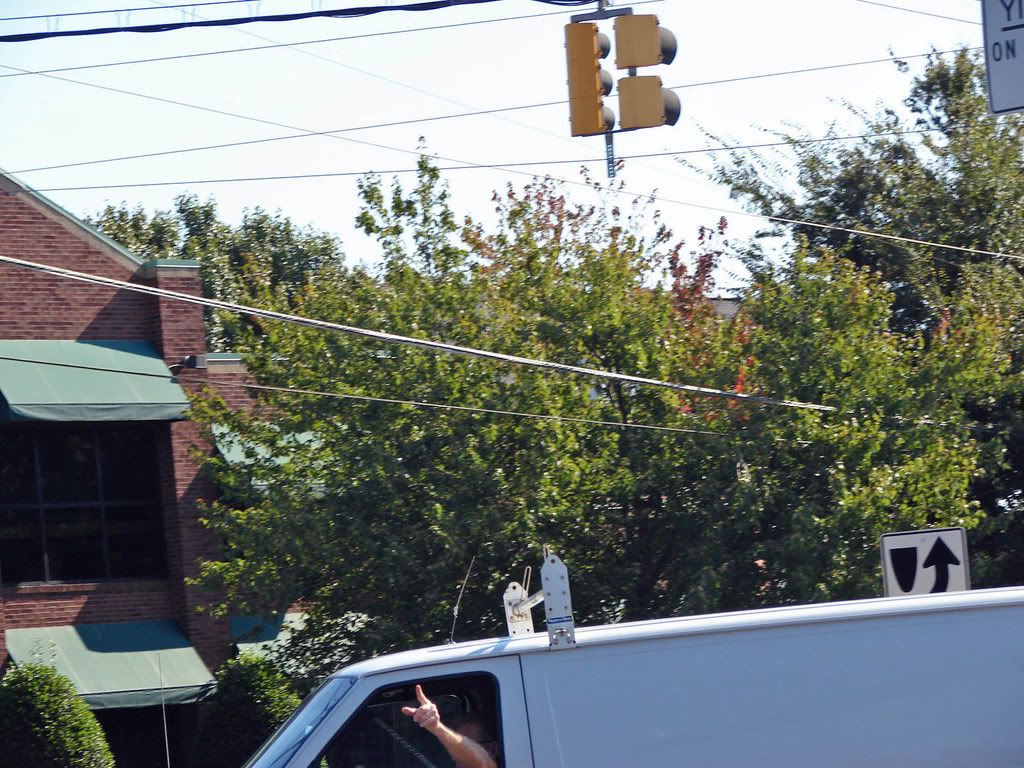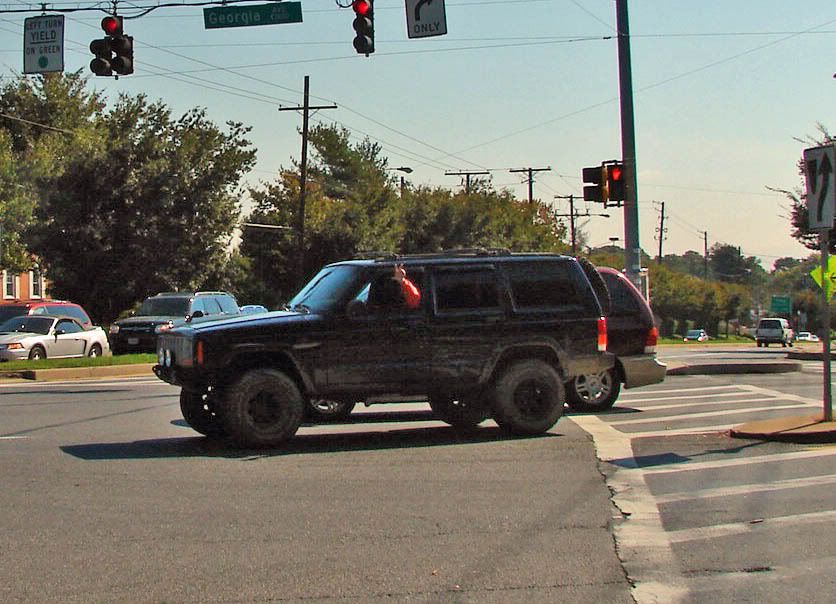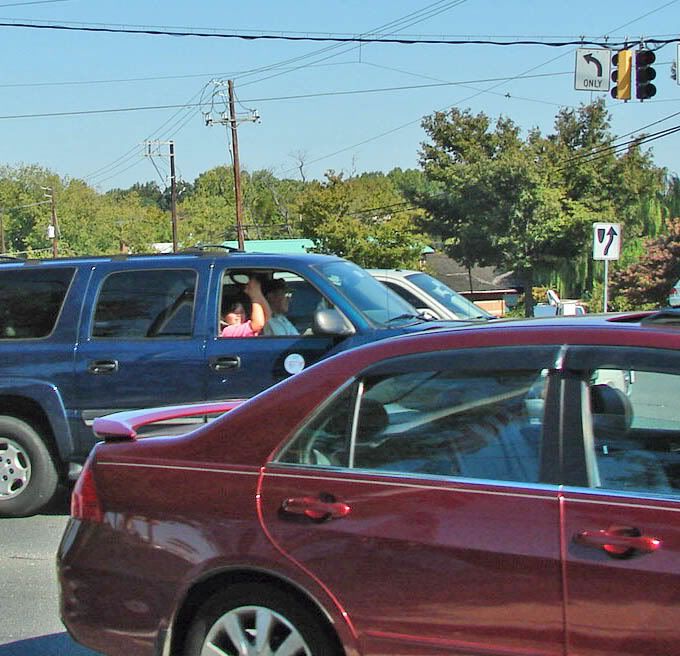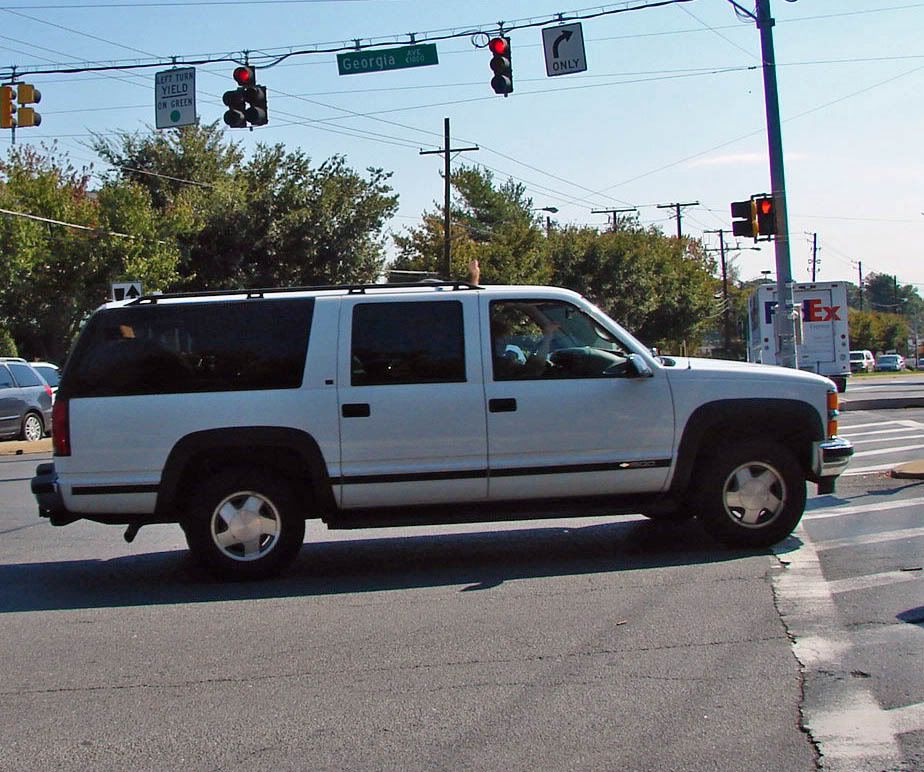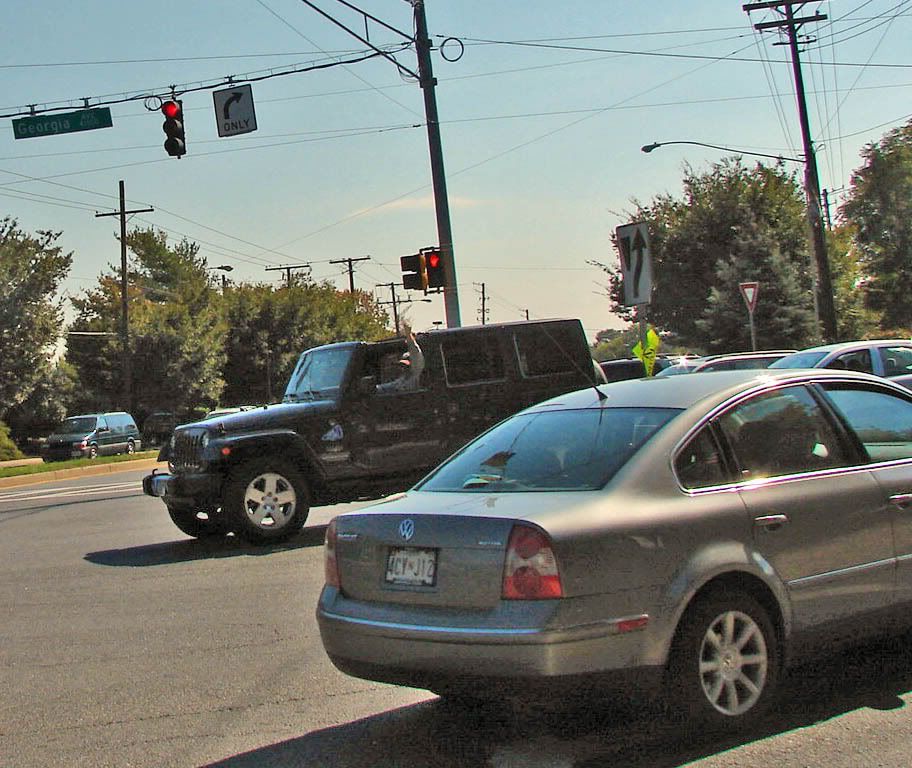 WARNING TO FREEPERS ATTENDING OLNEY - Some new money making have been installed on north bound Georgia Avenue right before you enter the main business district. Slow your speed after the light at King William Drive.




REMEMBER
Next Saturday, same place, Georgia Avenue, MD Rte. 97 and MD Rte. 108 in Olney
NEW TIME - 10:15 AM to 11:45 AM


As always, the D.C. Chapter's rules for protesting will be in effect. Briefly, they are: No violence, no profanity, no racism, no provocations, obey the law and treat all law enforcement officers with respect.
But a lot of verbal engagement in Olney is always welcome.

---
TOPICS: Activism/Chapters; Free Republic; US: Maryland; US: Virginia
KEYWORDS: mobilizingmothers; opinfinitefreep; peaceactionmc; quakers
---
---
---
---
---
---
---
---
---
---
---